Binh Duong's exports are still facing paramount problems due to a decline in purchase orders from various markets, which especially affects the key export industries. In the first 9 months of 2023, the province's export turnover was estimated to reach USD 23 billion, decreasing by 13.2% compared to the same period in 2022. Departments, branches and businesses of the province are trying to find solutions to overcome difficulties, and regain growth momentum for import and export.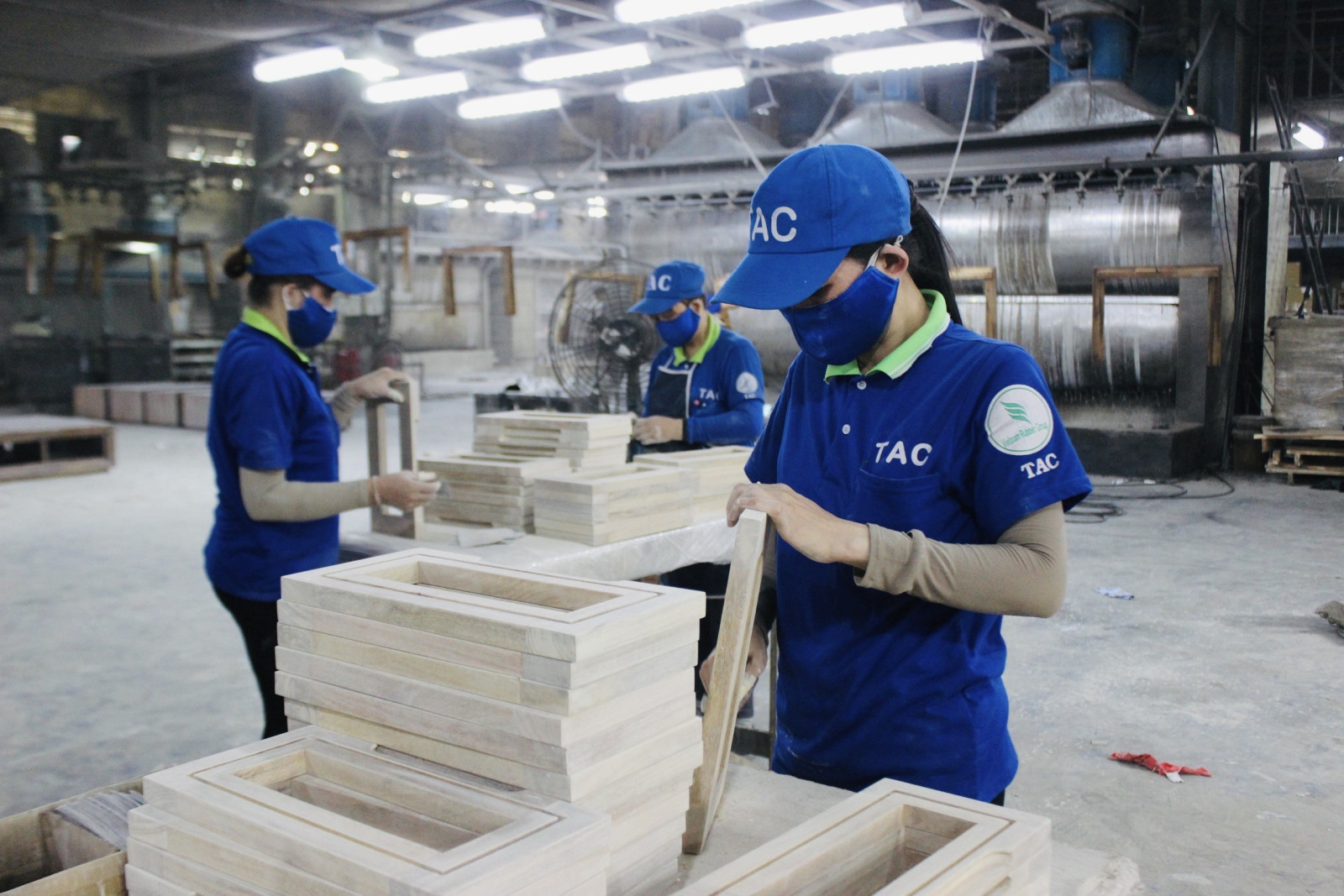 The furniture industry continues to contribute positively to the province's export sector. In the photo: Production is at Thuan An Furniture Joint Stock Company
Momentum much reduced over the same period
According to the latest data from the Department of Statistics, the province's total import-export turnover of goods by September 15, 2023 was estimated to reach more than USD 39 billion, of which, exports was estimated at USD 23 billion, decreasing by 13.2% over the same period in 2022; imports was estimated at USD 16.1 billion, decreasing by 14.8%; and trade surplus of USD 6.9 billion. The result has brought Binh Duong to third place in the country in terms of export turnover. Thus, although they have improved, import-export activities in the province are still facing great drawbacks.
Nguyen Thanh Binh, Deputy Director of Binh Duong Customs Department, said that the world economic situation is still in recession and declining as consumer demand continues to have a negative impact on Vietnam's import and export activities in general and Binh Duong in particular. Production output of some key industries decreased due to increased input production costs, leading to a decline in the number of purchase orders.
Nguyen Thanh Binh added that Binh Duong Customs Department is continuing to accompany agencies, departments and branches in the province to coordinate in implementing solutions to facilitate trade, support businesses to develop production and business operations. However, in the 9 months of the year, the total number of businesses carrying out customs procedures, the number of declarations and the value of accumulated import-export turnover of goods still decreased significantly compared to the same period in 2022.
Efforts to regain growth momentum
Notablyvcontributing to the overall growth, the foreign direct investment (FDI) sector continues to play a leading role with the total import and export value of goods in the first 9 months of 2023 by reaching nearly USD 16.6 billion. Exported goods are mainly in traditional markets such as the US, EU, Korea, Japan, Taiwan, and Hong Kong.
Luu Phuoc Loc, Vice Chairman of Binh Duong Furniture Association, said that the furniture industry is one of Binh Duong's key industries in terms of export turnover, but due to the impact of the global economic crisis affecting production and business activities of enterprises, it is forecasted that Vietnam's furniture export market in the near future will show signs of recovery as the economies in countries importing Vietnamese products show signs of growth regaining.
Currently, businesses in the province are trying to find purchase orders through organizing fairs and exhibitions at home and abroad, and promoting into new markets such as the Middle East. At the same time, the number of new orders arriving is not much but enough for businesses to endure the period. To promote export activities of businesses in the province, the province's functional agencies are implementing various solutions to facilitate businesses through promoting reforms, modernization, and shortening time and costs reduction for customs clearance procedures with focus on supporting businesses to promote e-commerce and access export information channels to find new markets, closely monitoring the situation of each market to review and identify the types of goods that countries in need of to tap.
According to Nguyen Thanh Toan, Director of the Department of Industry and Trade, the positive contribution of the province's key industries is also a premise for the industry and trade sector and businesses to strive to achieve the highest results in 2023, continuing to achieve positive results. The industry and trade sector has focused on many solutions to support import and export, continued to promote the role of connecting with the system of Vietnamese trade agencies abroad, supported associations and businesses to effectively exploit signed free trade agreements to expand and diversify the marketization, and expanded supply chains and import-export products.
Reported by Ngoc Thanh – Translated by Vi Bao