High growth in key industries
After a difficult period, most key export industries of the province have regained their pace of growth compared to the time before the pandemic. Particularly, some key products achieved high growth rates.
Two-digit growth rate
Binh Duong's export activities over the first 5 months of 2021 recorded a high growth rate compared to the same period in 2020. Up to now, most items, such as electronics, textiles, footwear, and wood processing, have regained their growth momentum, making an important contribution to the province's overall exports in 2021.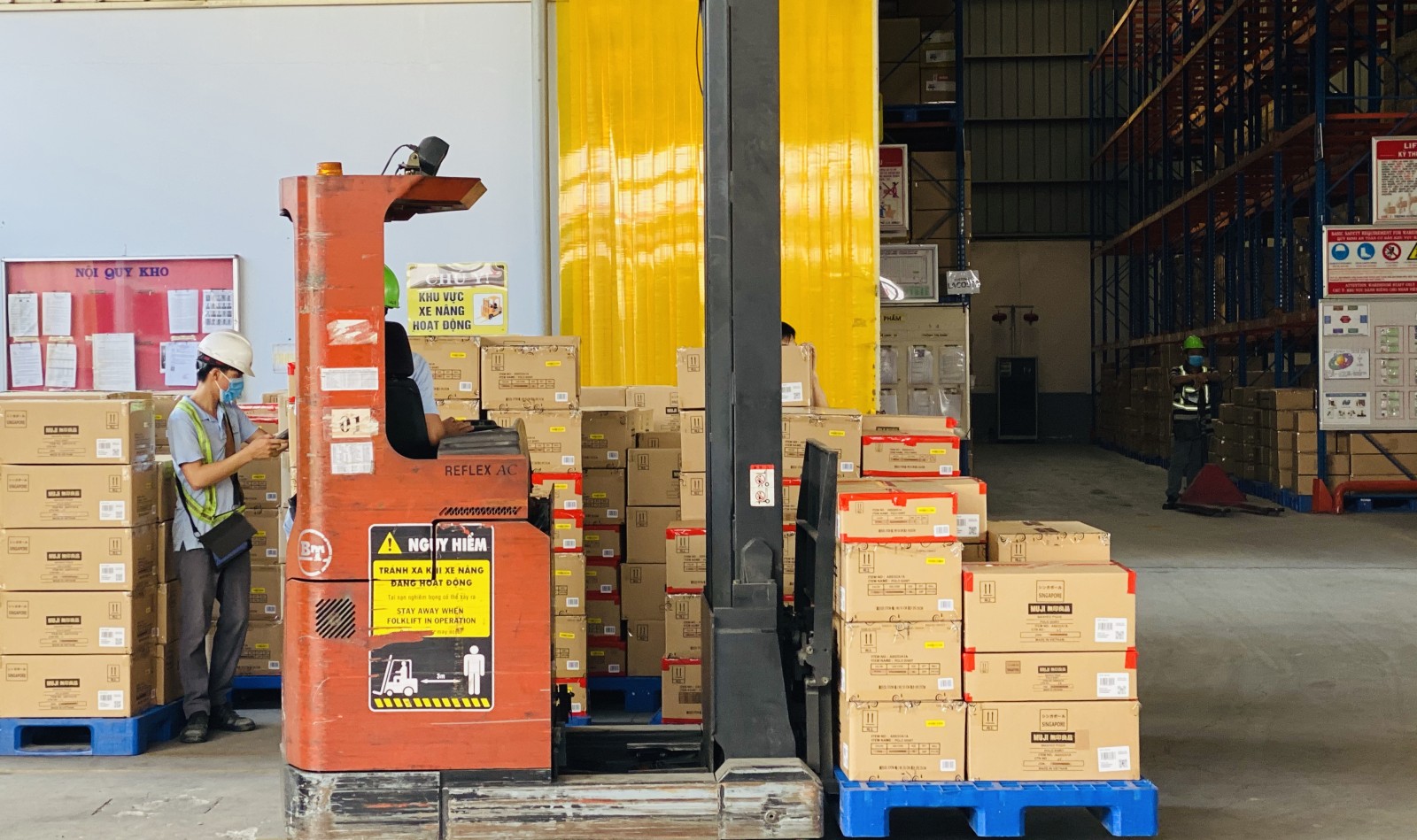 Export at Esquel Garment Manufacturing Vietnam Company (VSIP 1).
In May, export turnover of wood products was estimated at 654.9 million USD, up 0.9% over the previous month. Accumulated revenue over 5 months was estimated at 2,967.5 million USD, up 56.5% y/o/y, accounting for 20.9% of total export turnover. By this time, many wood enterprises have had POs for until the end of 2021. However, import and export activities are facing many difficulties and challenges, some companies even have to give up orders because they are worried about not meeting the requirements.
Overcoming the difficulties, textile companies also quickly transformed the structure of conventional into adaptable products such as labor protection, knitwear, and shirts to maintain production activities, thus growth rate has achieved positive results. Textile and garment export turnover of the first 5 months of 2021 is estimated at 1,181 million USD, up 16.4% y/o/y, accounting for 8.3% of total export turnover. However, POs have covered sewing lines, but the value and types of goods have changed, causing enterprises to face new risks.
In addition to efforts to innovate, gradually take advantage of new signed free trade agreements, the leather and footwear industry has gradually recovered. During the pandemic, Vietnamese leather and footwear enterprises have demonstrated their ability to do research and development, and design models, stages that bring large added value for products. As a result, footwear export turnover was estimated at 179.6 million USD in May, up 1.2% over the previous month. Accumulation of 5 months is estimated at 853.1 million USD, up 14.3% over the same period last year, accounting for 6.0% of total export turnover.
To take new opportunities
By making good use of trade agreements, Binh Duong's export is expected to continue penetrating strongly into partner markets with preferential tariffs, promoting strong growth. However, enterprises must accept and meet harsher conditions when delivery time is shortened by 30%, delivery price on board (FOB) is reduced, and the supply chain must be transparent. Điền Quang Hiệp, Chairman of Binh Duong Furniture Association, said that the good results gained in the first months of 2021 were beyond expectations. However, large number of POs have caused the wood industry to fall into a troublesome situation, demand is more than supply. Meanwhile, price of raw materials increased sharply, the lightest increase of material price was also about 50%, causing businesses to be cautious in receiving POs. Due to limited supply, it is enterprises with the industry that have to compete with each other for raw materials, thereby pushing up prices.
Currently, export companies are still quite passive in sea freight transport, because they are almost completely dependent on foreign shipping lines. Therefore, businesses wish the Government and ministries to soon intervene and work with foreign shipping lines to have certain support for Vietnamese exporters, especially in the pandemic context. From the perspective of state management agencies, the industry and trade authority recognizes that when the business community makes better use of opportunities from FTAs, it would be a positive factor promoting the export process. In particular, the continuous reform of administrative procedures creates an open corridor and has been a great driving force in the development of export enterprises as well as attracting and expanding investment.
However, import-export activities of companies are encountering many challenges, such as difficult goods transportation; many supply chains have been disrupted, market demand has not recovered evenly; input costs, such as logistics and imported materials, have increased. Therefore, the industry and trade authority recommends that enterprises themselves must strive to improve their competitiveness as well as adaptability to overcome difficulties, proactively change direction to effectively seize opportunities from the new context.
According to Nguyễn Thanh Toàn, Director of Department of Industry and Trade, in the coming time, this branch will continue to enhance activities to support businesses, reform administrative procedures related to import and export, remove difficulties related to input, provide information support, and carry out online trade promotion activities to stimulate export of goods. Currently, the industry and trade branch develop operation regulations of Steering Committee for international economic integration of Binh Duong province; contact Vietnam Chamber of Commerce and Industry to cooperate holding the workshop "Guidelines for the application of origin rules to enjoy tax incentives in the Vietnam - European Union Free Trade Agreement".
Reported by Tieu My - Translated by Ngoc Huynh