After the Covid-19 in Tan Uyen town is basically controlled, the production and business activities of enterprises have been gradually resumed. In order to ensure stability, Pioneer Workers' Team in enterprises continue to uphold the proactive spirit, grasp information on actual situation, promptly coordinate with local police to handle issues arising related to security and order.
To secure stability in businesses
Back to the "new normalcy", many enterprises operate under "three-on-site" approach in Tan Uyen town hustled with orders and gradually recovered from the pandemic. Meanwhile, the security situation at enterprises needs attention. Hence, Police of Tan Uyen town actively coordinates with Pioneer Workers' Teams of enterprises to proactively grasp the situation and develop plans to guarantee social security.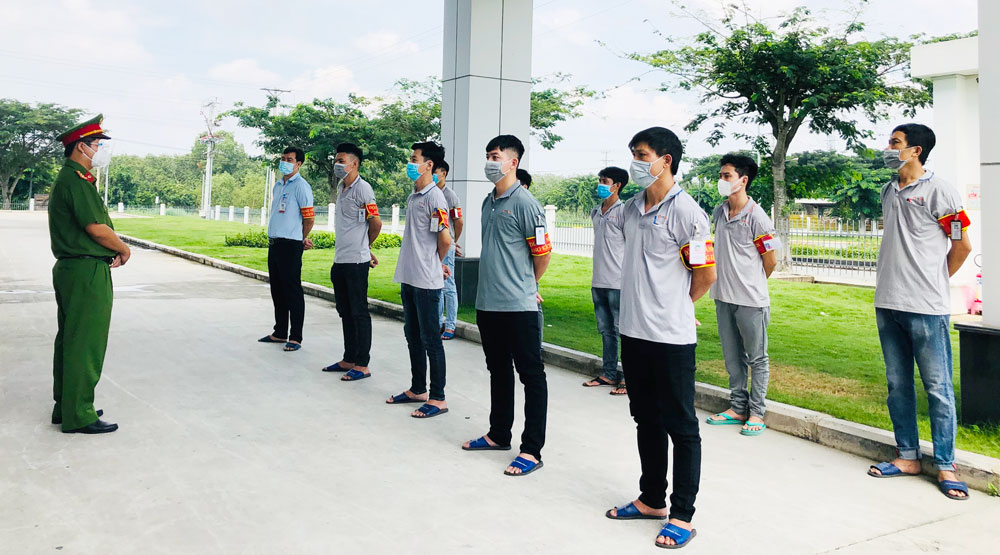 Tan Uyen town Police gives a training in Teams crime prevention skills to Pioneer Workers' at "three-on-site" enterprises.
Lieutenant Colonel Nguyen Phu Phu, Captain of Police Movement Team of Tan Uyen, said: "Entering the "new normal" period, the number of workers participating in production business activities increased again, thus the prevention and control of pandemic and securing security for companies to operate stably has been anticipated by the town police leaders, thus implementation plan was developed early. After surveys, currently Tan Uyen town has 215 Pioneer Workers' teams with more than 4,400 members. This is considered as a core force that actively participate in crime prevention, coordinate with functional forces to prevent and solve incidents arising in enterprises, contributing to protecting social security and order."
According to Lieutenant Colonel Phu, over recent years, crime prevention approaches have greatly supported the police force. Meanwhile, localities have crime prevention clubs, enterprises have Pioneer Workers' teams participating in law dissemination, patrolling and suppressing all types of crimes. These two models can be considered as the "extended arm" of the police force in maintaining security. Therefore, the town police always pay attention, help and give professional trainings to these grassroots forces.
Meanwhile, Captain Hoang Khanh Minh, Head of Police Station of Tan Uyen town Industrial Park, said that in order to prevent and fight the pandemic in the new normal situation, police force of the industrial park regularly conduct patrols on roads, coordinates with functional forces to inspect companies operating in industrial zones and clusters, such as Nam Tan Uyen, VSIP 2A... to warn of shortcomings, carry out and handle the disease prevention control, and meet, grasp thoughts, answer questions and opinions of Pioneer Workers' teams about the work of security protection.
To uphold self-defense, self-management
In order for Pioneer Workers' Teams in enterprises to develop more and more effectively, the town Police strengthens skill training in handling situations arising during the production process. Lieutenant Colonel Nguyen Phong Phu added: "We anticipated the security situation after the pandemic would be complicated, crime be more dangerous, thus the town Police builds a series of law dissemination journeys for each area, each people group. The police force also focuses on propagation among workers; skills training for Pioneer Workers teams to quickly respond to fire and explosion incidents; grasp the situation, public opinion among workers, organize reconciliation of conflicts arising during the production process and the on-site accommodation of workers as implementing "three-on-site" to prevent crime".
There are many Pioneer Workers' Teams of "three-on-site" enterprises that are operating effectively, promoting self-defense, self-management and self-protection and are appreciated by local authorities. For example, Gre Alpha Electronic Vietnam Company in VSIP 2A (Tan Uyen town). A representative of the company said, although Pioneer Workers' team in the company was established and has been active for more than a year, the team members enthusiastically involve in security protection. Many conflicts in the working process and production activities of workers have been promptly detected and handled by this force, helping the company stabilize the production. Recently, Chairman of the Provincial People's Committee recognized the company to meet the "Safety of Security" standard. Pioneer Workers' team of the company was selected as an exemplary model for functional forces of Binh Duong province and Binh Phuoc province to survey and learn experiences then to develop this model at enterprises. Pioneer Workers' team continues to be supported and strengthened by the company's leaders to help guarantee security.
Reported by H.Phuoc, T.Uyen – Translated by Ngoc Huynh