Vietnam Fatherland Front Committee of Bau Bang District has enhanced propagation, brought into play democracy and the strength of all people's great unity bloc, contributing to the successful implementation of local socio-economic development tasks.
Join hands to fight the pandemic
One of the outstanding activities of the Vietnam Fatherland Front Committee in Bau Bang district in 2021 is to actively participate in the prevention and control of the Covid-19 pandemic and encourage people to support and overcome the consequences of the Covid-19 pandemic. Standing Committee of the district Fatherland Front Committee and its member organizations promptly implemented directives and guiding documents on disease prevention control in each period in order to provide as quickly as possible information about disease prevention and control measures at grassroots level; propagated and mobilized union members and people to well implement the measures.
Fatherland Front Committee of Bau Bang district determined the importance of propagation and mass mobilization in the Covid-19 prevention and control, has carrie out propagation and communication in many forms, suitable to each stage of the pandemic. Particularly, propagation and information through Zalo and Facebook groups is done regularly; instructions of health authority on disease prevention and control were illustrated with images and messages in an intuitive and vivid way.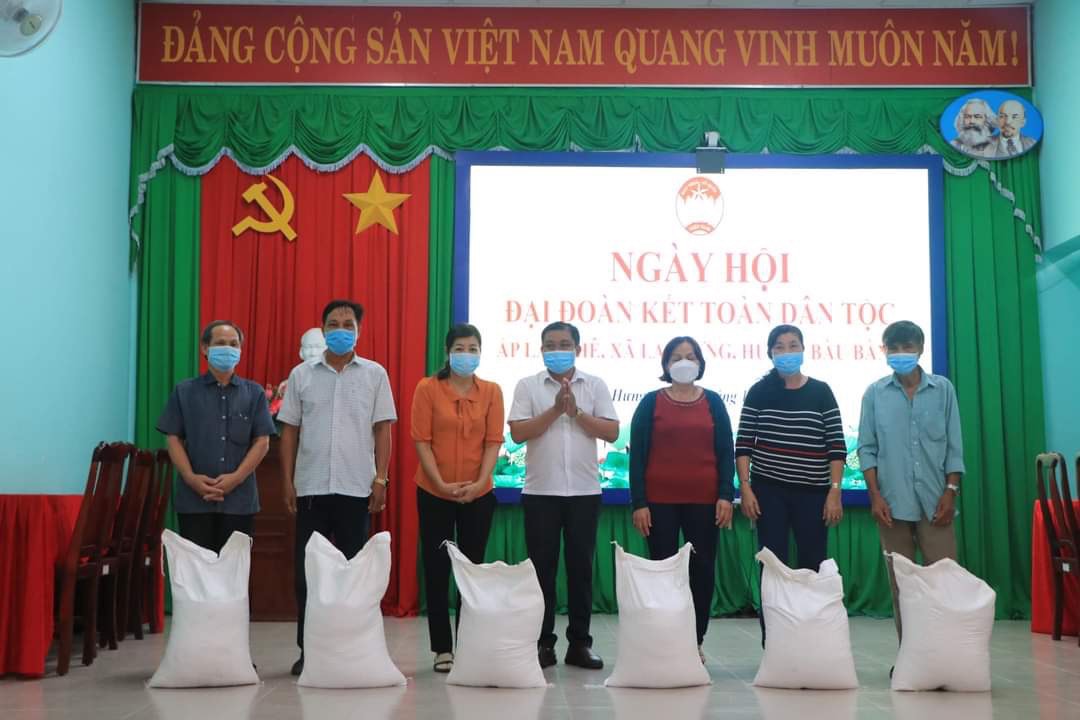 The great solidarity festival in quarters and hamlets contributes to the community cohesion.
In addition, the grassroots level consolidated and established 412 Covid community groups with 1,529 members. The role of Covid community groups has been proved in door-to-door propagation for 87,315 people about disease prevention control measures, encouraged people to install BlueZone app (PC Covid), make medical declarations, distribute 10,000 free medical masks, mobilize people to participate in community rapid tests, distribute shopping vouchers to households during the lockdown period. Therefore, information of Covid-19 prevention and control reached households even in remote areas.
To strengthen community cohesion
To enhance the great national solidarity, Fatherland Front Committees at all levels in Bau Bang district have actively collaborated with the authorities and member organizations to encourage people to respond to patriotism emulation movements, campaigns, especially those launched by Fatherland Fronts at all levels, thereby creating good and pervasive changes in people's lives. From this movement, the solidarity is strengthened.
For example, in Ben Lon quarter of Lai Uyen town, in recent years, the entire neighborhood has effectively implemented local movements, thus people's living standards have been improved. The quarter has nearly 100% of households meeting criteria of cultural families. The quarter also won the title of cultural quarter for 12 consecutive years. In particular, in 2021, due to the influence of the Covid-19, people's lives faced many difficulties, but with the tradition of solidarity and mutual affection, residents in the neighborhood always adhere to the Party's policies and of the State's laws, local conventions, together actively take part in emulation movements and campaigns launched by local and provincial levels, well comply with regulations on disease prevention and control. The neighborhood has maintained the condition of "green zone", no people infected with Covid-19.
Dang Thanh Tung, Head of Executive Board of Ben Lon quarter, said that in 2022, the neighborhood would continue to encourage residents to actively implement the movement "All people unite to build new and civilized countryside", actively build cultural quarters, cultural families, cultural lodging houses, building green, clean and beautiful area; help each other develop family economy, improve material and spiritual life; strive for by the end of this year to have over 98% of households recognized as cultural families.
Vo Thi Kim Nghia, Chairwoman of Bau Bang district Fatherland Front Committee, said that since beginning of the year, the Covid-19 had affected people's lives. In order to enhance the great solidarity bloc, create an atmosphere of active competition, encourage and cheer the people's spirit, along with timely relief and help for people to overcome difficulties during the pandemic, Fatherland Front Committees at all levels of the district have organizes activities to welcome the Great National Unity Day and celebrate the 91st anniversary of Vietnam Fatherland Front (November 18). The immediate urgency is to mobilize union members and youth to help people affected by the Covid-19; exchange solutions to build up prosperous and beautiful residential areas through the campaign "All people unite to build new and civilized countryside", especially maintained and developed self-managing models in hamlets and quarters in the whole district in residential communities. Thanks to this assistance and great efforts, many households facing risks and difficulties, have gone from from poor households to well-off households that are able to provide for their children's education and improve their lives.
According to Vo Thi Kim Nghia, in the coming time, the district's Fatherland Front Committee will continue to renovate its content and method, utilize the strength of the great unity bloc of the whole people, and actively participate in building the transparent and strong Party and government; at the same time, perform well the function of protecting the legitimate rights and interests of people; mobilize people from all walks of life to realize the dual goal of both preventing controlling the Covid-19 pandemic and developing the economy in the "new normal" state, contributing to the construction of Bau Bang district.
Reported by Thu Thao, B.Bang - Translated by Ngoc Huynh