Holding such advantages of political stability, improved investment and business environment, improved quality of human resources, focal investment infrastructure among others, the attraction of foreign direct investment (FDI) enterprises in Binh Duong has recently continued to flourish. FDI attraction is increasingly becoming an important funding channel, which directly promotes economic growth, creates jobs, and contributes significantly to the provincial budget. FDI projects are present in almost all localities in the province. Keeping on to improve efficiency in order to increase the attraction for increasingly quality and sustainable FDI projects, many synchronous solutions are being drastically implemented by all level authorities, sectors and localities.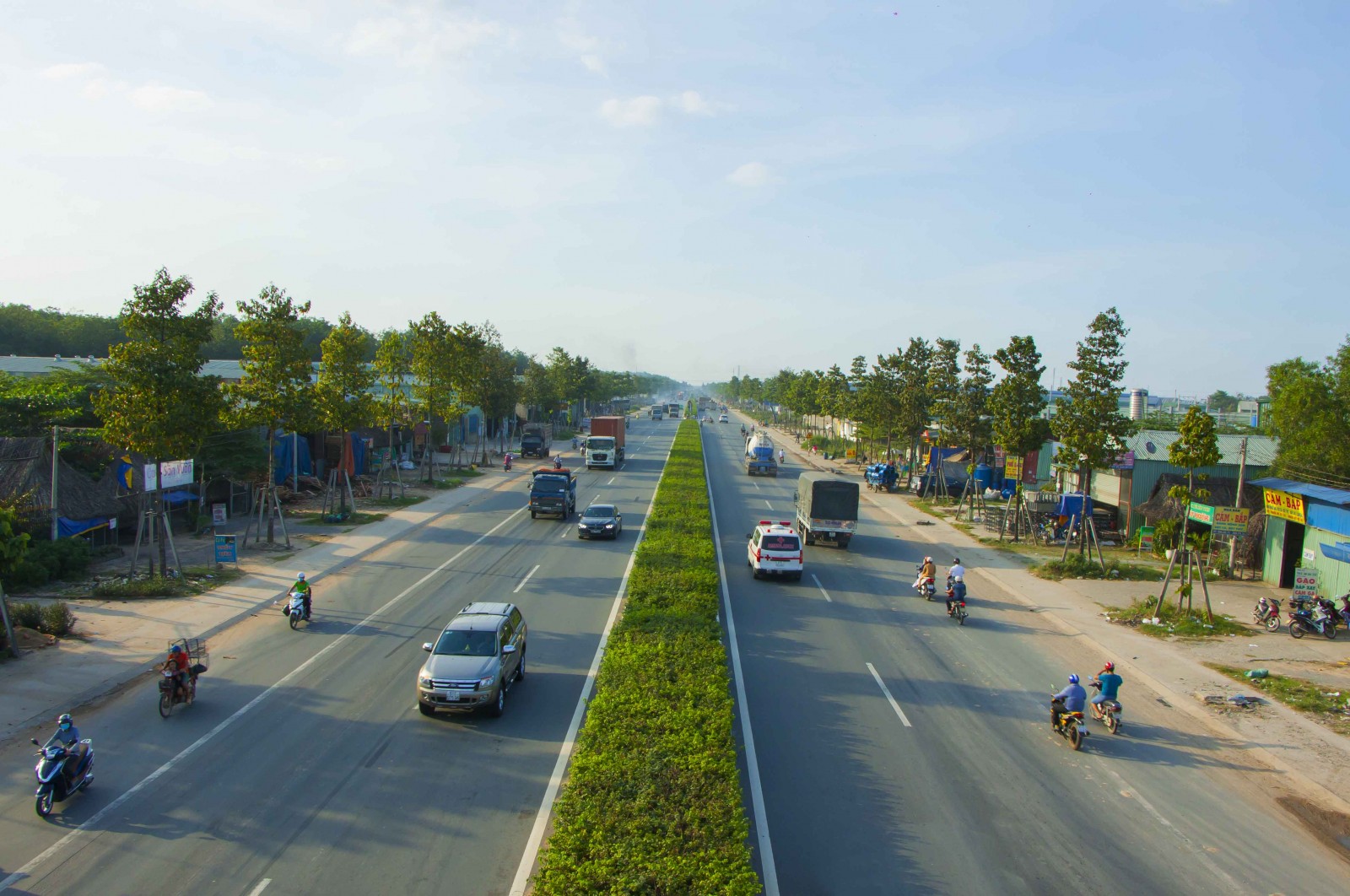 To continue with construction of attractive investment environment, Binh Duong provincial authority focuses on developing harmonious traffic system. In this photo: My Phuoc - Tan Van Highway is used for transportation of enterprises of the province in a more convenient and saving way. Photo: Quoc Chien
Selective investment quality
According to Binh Duong provincial Department of Planning and Investment, the average annual FDI attraction of the province has been about USD 2 billion. Mai Ba Truoc, Director of Provincial Department of Planning and Investment, said that up to now, foreign direct investment (FDI) projects have spread across the province in diversified sectors. 86% of FDI capital was invested in the processing and manufacturing industry with dozens of projects ranging in capital size from USD 250 to USD 760 million, showing that Binh Duong has been and really is a good place for business community and enterprises on getting Vietnam to invest. FDI attraction into the province is increasingly towards the goals of sustainable development and high added value fields. The advantageous industries and fields of the province such as electrical, electronic, mechanical, pharmaceutical, chemical, and trade and service are also being interested by many investors. The number of foreign investors coming and doing researches for business opportunities increase year on year.
According to Associate Professor, Ph.D. Tran Dinh Thien, member of the Economic Advisory Group of the Prime Minister, Binh Duong is a province of foresight, clearly shown in the economic development strategy and implementation of the smart city construction project. Over the past time, the province has achieved important achievements in investment attraction, but it is not necessary to have a high target in attracting investment exponentially except a further vision. The provincial authority should continue to raise the quality of investments and choose investments into technology in the right direction for development. Slowing down is to take a longer, more steady, and stronger step on the road that Binh Duong needs to tread.
Accelerated infrastructure investments
So as to keep on building an attractive investment environment and gradually becoming a smart production area and an innovation zone, contributing to socio-economic development and improving the efficiency of international integration, Binh Duong provincial authority has always focused on developing synchronous traffic system and building infrastructure of industrial zones in association with urbanization.
Currently, the industrial parks in the province are being adjusted in terms of planning for continual infrastructure investments. In 2020, investors into industrial parks have invested over VND 208 billion in infrastructure. Land sub-leasing covered a total area of ​​266ha. Attraction of foreign investment has been valued at more than USD 1.3 billion, accounting for 60% of the whole province and VND 6,755 billion of domestic investments. Enterprises in the industrial parks have disbursed USD 8,448 billion to invest in factories, machinery and equipment for production and business operations. The whole province currently has 29 industrial parks (of which 27 are in operation) on an area of ​​12,670ha with rental rate of 87.4% and 12 industrial clusters on a total area of ​​790ha with occupancy rate at 67.4%.
According to Mr. Bui Minh Tri, Head of the Provincial Industrial Parks Authority, the current 29 industrial parks, many of which have become popular in Binh Duong have attracted many large enterprises and multinational corporations to invest. Industrial parks of the province with synchronous and modern infrastructure, have convenient locations for being adjacent to important traffic axes connecting with Ho Chi Minh City and neighboring areas. In the next period, the attraction of investments into the provincial industrial zones will be positively changed to more substantive and more selective manners towards a specific, ecological, and intelligent direction and eventually will create a new attraction feature. The existing and new industrial parks offer many solutions to improve competitiveness and attractiveness such as preparing clean, synchronous and modern infrastructure.
Nguyen Phuoc Viet Dung, Director of Binh Duong Provincial Customs Department, said that up to now, 21 bonded warehouses, 4 CFS (retail warehouses), 2 ICDs (dry ports) and 31 customs agents for providing logistics services for import-export enterprises are available in the province. The bonded warehouse system, CFS warehouse, ICD and customs agents in the province have met the needs of manufacturers and current importing and exporting activities.
Regarding traffic infrastructure, the provincial authority has also made efforts to contribute to completion of Vanh Dai 3, Vanh Dai 4, and the Highway Ho Chi Minh City - Thu Dau Mot - Chon Thanh, and the expanded national highway 13. The provincial authority has also quickly allocated capital and developed strategic bridges connecting Binh Duong with Tay Ninh, Dong Nai and many more in order to be proactive in developing transport infrastructure, increasing regional connectivity and serving the increasing needs of the business community in the province.
For the next stage, the provincial authority expresses its determination and aspirations to keep on and become one of the leading localities in the country in attracting FDI. For many times, provincial leaders have affirmed that the investor's success is the success of Binh Duong, and that determination moves on.
Reported by Ngoc Thanh - Translated by Vi Bao