Environmental pollution is one of the urgent problems that must be solved today because it threatens climate change and many other consequences that humans must bear. In order to raise people's awareness of environmental protection, urban beauty preservation, and disease prevention control, Binh Duong unions and agencies, units and localities have established many practical and meaningful practices and activities.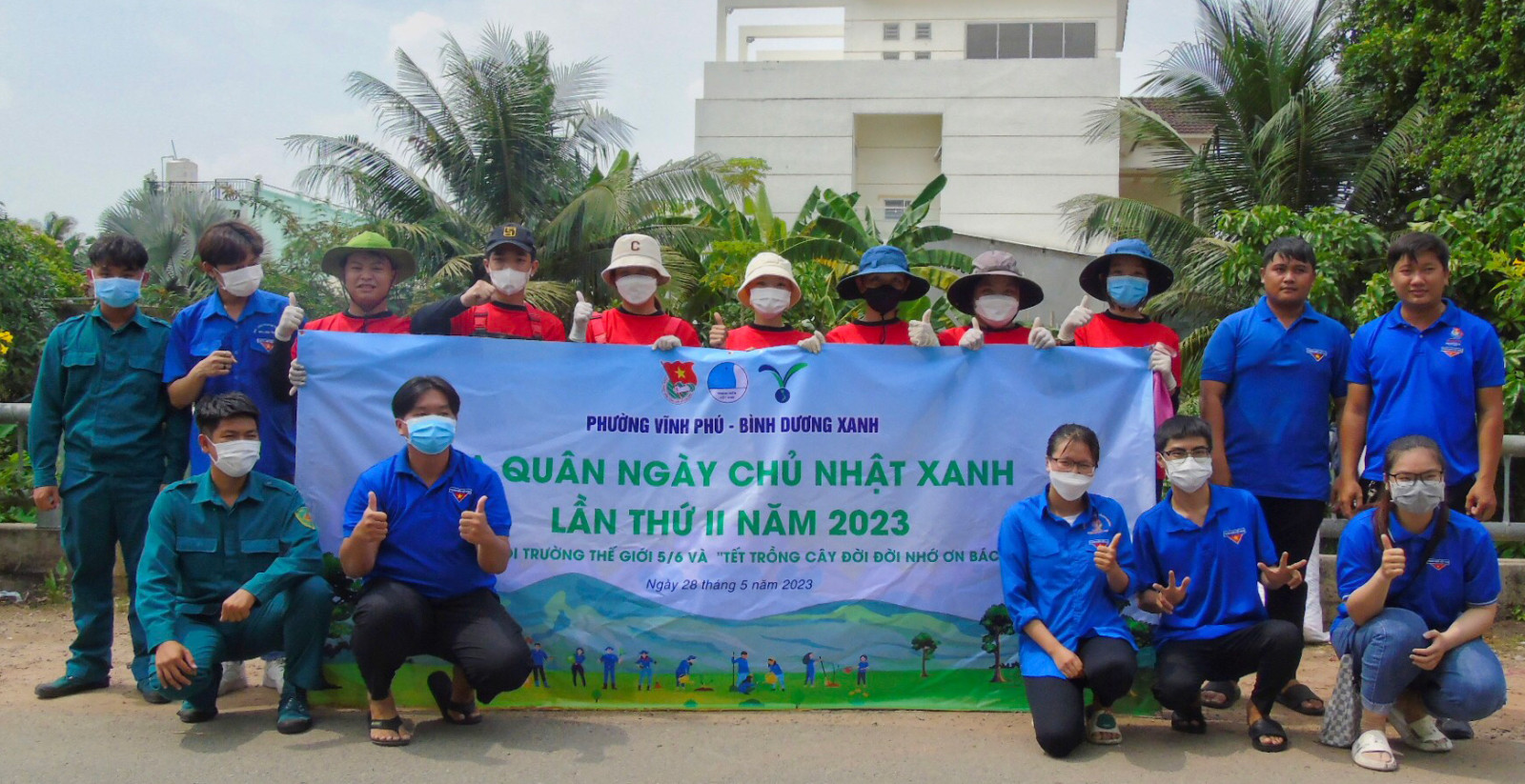 "Green Binh Duong" squad coordinates with Vinh Phu Ward (Thuan An City) in the opening ceremony of Green Sunday 2023.
"Volunteer Saturday", "Green Sunday" are action programs being regularly implemented by units and localities. People from all walks of life took part in clearing bushes, clearing canals, cleaning the environment, sweeping, collecting, and treating backlogs of waste on roads...
Although people's lives are increasingly developed, environmental pollution continues to develop. Environmental pollution has many manifestations, but the most common is throwing garbage on streets or in public places indiscriminately. If not cleaned up in time, these spontaneous garbage dumps will emit an unpleasant stench, affect people's health, the landscape beauty, and environment.
Being aware of the effects of environmental pollution on people's health in Binh Duong - where they came to establish themselves and establish a business, the "Green Binh Duong" squad was established from the end of February 2023. The team led by Doan Van To (born in 1988) has connected with nearly 100 members to act together, most of them are workers from all over the country.
The image of squad members dipping in black water to clean up and collect waste in many polluted canals of Binh Duong province has contributed to the revival of many green canals, inform and raise the community's awareness of green - clean - beautiful environment protection. Dangers and difficulties do not discourage them, but the squad continue to devote their youth strength and love to their homeland and work in a cheerful mood.
To understand more about activities of "Green Binh Duong" team in a day, as well as listen to the members' thoughts about this meaningful but dangerous job, how to connect and assign areas, how the team's activities developed etc., you may watch the next episode of "I love Binh Duong" program. This program produced by Binh Duong Newspaper will broadcast at 6 am on Sunday (May 28) at www.baobinhduong.vn.
Reported by Thuc Van - Translated by Ngoc Huynh