Many foreign legislators attending the ninth Global Conference of Young Parliamentarians in Hanoi have expressed their pleasure with Vietnam's preparations for and organisation of the event.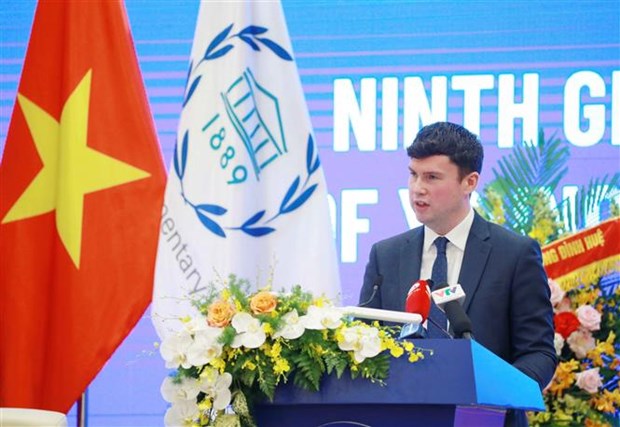 Dan Carden, Member of Parliament of the UK, President of the Board of the IPU Forum of Young Parliamentarians, speaks at the opening ceremony
"I warmly applaud the organisers for their inclusive approach in involving young people and the young MPs in preparing this conference. It is truly commendable to see such a proactive approach in shaping the agenda and discussions," said Dan Carden, President of the Board of the IPU Forum of Young Parliamentarians, and member of parliament (MP) of the UK in his speech delivered at the opening session.
In a sidelines interview granted to the Vietnam News Agency, he said that this is a big conference with over 300 parliamentarians from more than 80 countries in attendance.
"It's no mean feat to bring us all together here in Hanoi, Vietnam and we have been welcomed and have the support of the volunteers as well. And that's been really important," he noted.
"Vietnam is a fascinating country with a fascinating history, but it's also a country of the future. It's going to be developing rapidly in the years ahead. And digital technology will be key to combating challenges, like climate change, where Vietnam is one of the most vulnerable countries to climate change," he added.
Speaking highly of the conference's theme, Mojtaba Rezakhah, MP from Iran, said this conference in Hanoi is very practical because it focuses on two main issues which are cyberspace and online content management, and the role of the young generation in the parliament.
Meanwhile, Gilang Dhielafaraez S.H. from the Indonesian House of Representatives said that when coming here, he saw that Vietnam had prepared very carefully for this conference. He expressed his hope that Vietnam can play a big role in innovation, thereby helping ASEAN become a strong community.
Regional countries such as Malaysia, Vietnam, Thailand, Singapore are focusing on this field and can coordinate with each other to achieve greater efficiency in promoting innovation, he added.
Commenting on the Vietnam's digital transformation, Fusanori Iwasaki, Director of the Economic Research Institute for ASEAN and East Asia (ERIA) said the Vietnamese Government is actively pushing the process. When Vietnam achieves net zero emissions by 2050, it will make maximum use of artificial intelligence and other digital technologies.
This is a challenge, he stresses, suggesting the Vietnamese Government build a legal framework for this field.
The ninth Global Conference of Young Parliamentarians, themed "The Role of Young People in Promoting the Realisation of Sustainable Development Goals via Digital Transformation and Innovations," took place September 15-16.
Drawing more than 300 participants, the conferences featured three sections on digital transformation, innovation and startups, and promoting respect for cultural diversity in support of sustainable development./.
VNA