In order to breathe new life to the Khmer community today, all levels of government from the central to local levels have not stopped paying attention to and implementing socio-economic undertakings and policies. In particular, the policy of allocating land for people to cultivate and to have productive land has really born sweet fruits, bringing rice and warm clothes for the people.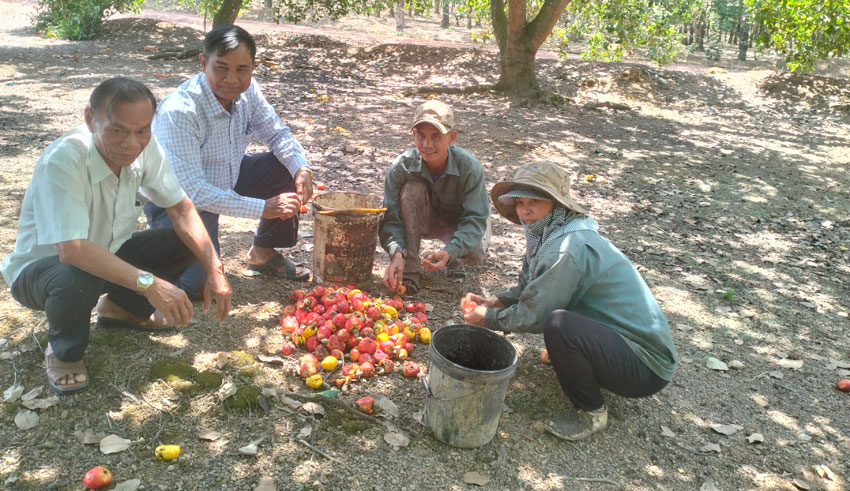 Every day, dignitaries of the Khmer community in An Binh commune Kim Nho and Nguu Bu (from left to right) regularly visit and instruct people on how to do business in the resettlement areas
From the right policies
After seeing the spacious villas of Khmer people in An Binh commune of Phu Giao district, we and the dignitaries of the Khmer community were taken away by Nguu Bu using the family car to visit the resettlement area of 100 hectares of people in Gia Bien hamlet of Tam Lap commune in Phu Giao district. The land has been likened to the rice cooker of many families for many years. From the road DT741 to the land is only 13 kilometers, and the large asphalt road is clear. However, according to Kim Nho, more than 15 years ago, it took people dozens of minutes to get in and out of farming every day due to the muddy, small degraded roads and rudimentary means of transport.
Nguu Bu's shiny car every time crosses the stream and bends on this road remind the members of the old time when at first allotted this land of only rice gravel, empty and bare hills. Every passing wind was a cloud of dust. When the old memories were still rushing back, our group arrived at the wrong time. In front of my eyes is a green color of cashew, rubber and other fruit trees interspersed with luxuriant foliage - the reds and yellows of succulent cashews covering a large land, making us moved by the changes in the land. Inside the resettlement areas, each is divided by routes for people to easily travel, to transport fertilizers and harvest crops.
Witnessing the results after many years, the village elder Kim Niem could not hide his joy and smiled happily. He recalled the life of ethnic people more than 20 years ago in An Binh commune which was very poor. People had no land, and they had to clear the forest while living with shifting cultivation and nomad. Seeing the situation, in 1998, district leaders asked the State to provide land for people to have a place to live, develop production, and stabilize their lives. As a result, by 2003-2004, 50% of the landless Khmer households were given 1 hectare of land for each family for their livelihood.
According to Kim Niem, local ethnic people having the land for resettlement as today are thanks to the policy of the State when implementing Program 135 - the program of sedentary cultivation and settlement for ethnic minorities. The attention and drastic request for land were especially for ethnic minorities of the district leaders at that time. "In 1998, I worked as a commune cadre, Hai Cong aka Nguyen Van Cong was Chairman of Tan Uyen district People's Committee, then Secretary of Tan Uyen district Party Committee which included 3 current localities of Phu Giao district, Bac Tan Uyen, Tan Uyen town. He was very interested in the effective implementation of programs, policies and guidelines of the State for ethnic minorities. Hai Cong encouraged me to try to get all the information of each person, to quickly complete the procedures for applying for land for ethnic minority people, so that they can soon have land and stabilize their lives. For that day, my relatives lived nomadic farming, so I had to go all over the forests and go to the places where they lived to get information to make documents and procedures to apply for land, and at the same time, propagate to them to understand the policy of the land grant, mobilizing them to return to sedentary life and settle down," Kim Niem recalled.
Sweet fruit after more than 15 years
After more than 15 years of having productive land plus the great efforts of the Khmer people, the land that has been resettled with gravel today has turned into green hills and laden fruit trees. Having land, ethnic people have promoted husbandry, planted all kinds of fruit trees and earned hundreds of millions of VND on each hectare a year.
Touching the rough bark of a rubber tree, Kim Niem said that after each crop, people go to work every day to earn extra income. They go to rent rubber latex, trade in the market while their children go to work in factories. Working a job is enough to eat, so the annual income from the orchards is accumulated by ethnic people to build houses, get married for their children, and take care of their children's education. "This land is granted by the government to do business from generation to generation, it is not sold. I see this as a popular policy. Now the life of the people in the resettlement area has stabilized with many well-off houses, which is the sweet fruit from the right policies," added Kim Niem.
Perhaps more than anyone else, empty-handed households can feel all the flavors of today's sweet fruits. Kim Minh Thong, a household granted land said: "Thanks to 1 hectare of cashew, my family earns hundreds of millions of VND every year. I just built a Thai roof house with more than VND 500 million and bought more land for my children. Thach Lu, a father of 6 children, recalls: "Before the government provided land, I had 3 children, life was miserable at that time, the whole family lived under a tent by the stream. The day the village elder came to announce that my name is on the list of land allocated by the state, I was happy to tears and shouted. All that night I could not sleep but dreamt about what crops my land would grow and what to raise." Thanks to 1 hectare of land for growing cashews and raising chickens, Thach Lu has an annual income of more than one hundred million VND, a stable house and can afford to raise 3 more children.
In addition to being allocated land, over the years, the Khmer community in An Binh commune has also received attention from the authorities at all levels with many other policies such as vocational training, supporting children to go to school, housing support for children, poor households to have cultivation land, and loans for production and business operations. Thanks to that, the Khmer community is not only economically stable, but has grown to get rich in a happy life and raised their children to study well.
Our 'convoy' returned to the commune center carrying the happy smiles and hopes of the dignitaries. Although we know difficulties are ahead, now that the big road has been opened, the sweet fruit from the right policies will continue to be reaped by the locals.
Reported by Phuong Le – Translated by Vi Bao