Since the fourth wave of Covid-19 pandemic, the whole province has had about 600 enterprises with more than 57,000 employees affected by the pandemic. Provincial Labor Union have continued making efforts to carry out many practical care activities for laborers. In addition, the local authorities at all levels are coordinating with enterprises affected by the pandemic to recheck, prepare records, and create conditions for employees to enjoy support policies as prescribed.
Rechecking the number of affected employees
In addition to enterprises directly affected by the pandemic, many others have also temporarily suspended production because they could not implement the "3 on-site" production model during the social distancing period for Covid-19 prevention and control. According to statistics from provincial Labor Union, as many as 1,041 enterprises having trade union locals with 405,000 employees have implemented the "3 on-site" production model. Currently, there are only 188,000 workers entering factories to work while 210,000 workers were off work.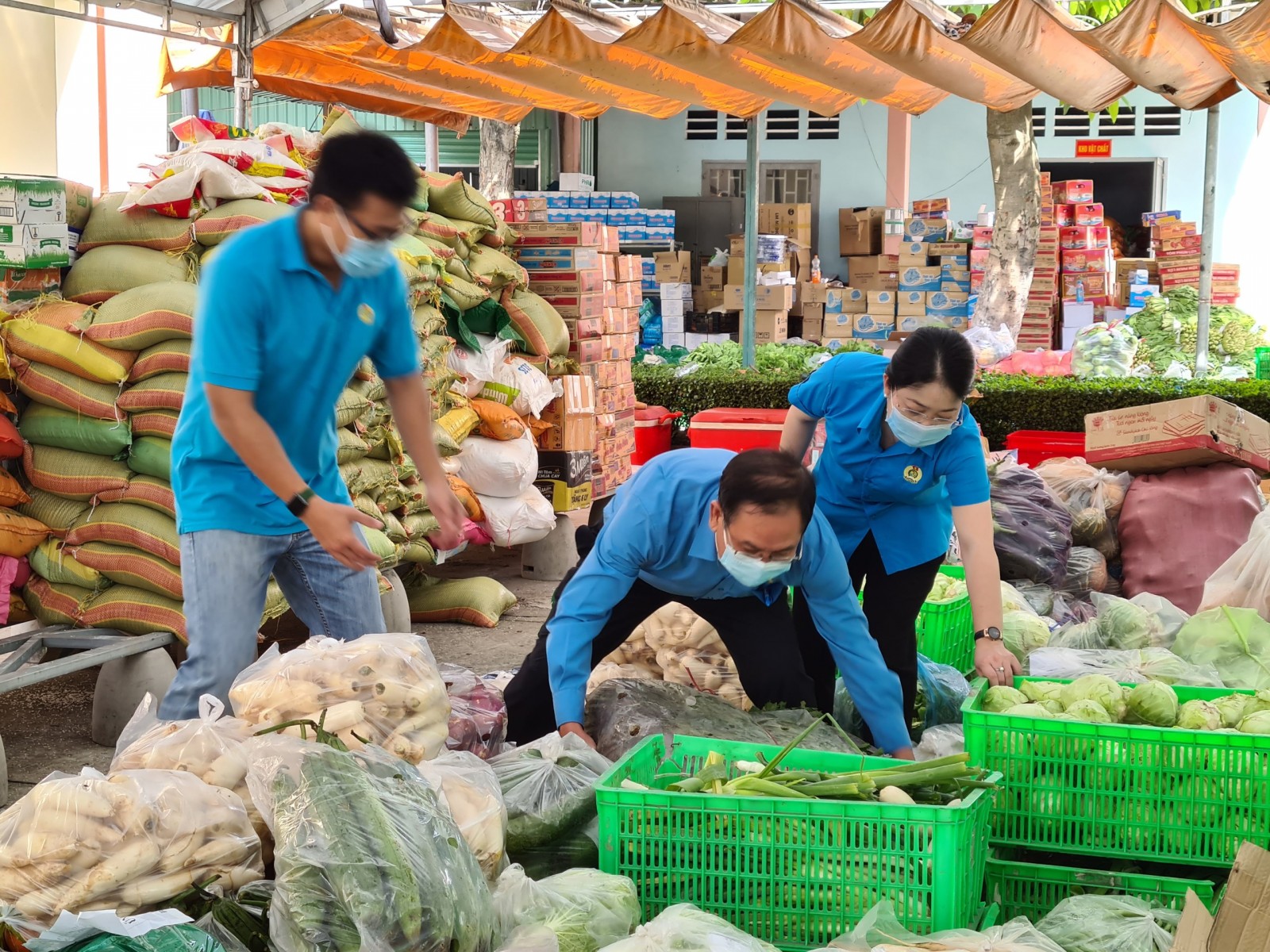 With many resources, provincial Labor Unions at all levels are coordinating with all- level authorities and sectors to take good care of workers' lives
Implementing the Prime Minister's Resolution No. 68 and the instructions of the Vietnam General Confederation of Labor on the implementation of support policies for employees facing difficulties, due to Covid-19 pandemic, provincial Labor Union Standing Board has had written guidelines for trade unions at all levels to proactively grasp the situation of enterprises and employees affected by Covid-19 pandemic; cooperate with all-level authorities, departments and sectors to mobilize eligible enterprises to make dossiers for support as prescribed.
Trade unions at all levels have also coordinated with employers to make a list of employees who have been off work, due to Covid-19 pandemic; supervised the payment of subsidies for the above subjects. On that basis, provincial Labor Union has proposed provincial People's Committee, Vietnam General Confederation of Labor and all-level authorities to have plans to support employees in the coming time.
Nguyen Ngoc Hang, Deputy Director of provincial Department of Labor, War Invalids and Social Affairs (DoLISA) said that based on the provisions of the Resolution No. 68, the number of workers in the province receiving support from the policy is still fewer than the number of employees who are temporarily absent from work, due to the pandemic. In the coming time, when receiving documents for support from enterprises, provincial DoLISA will make timely recommendations to competent authorities.
Focusing on taking care of employees
Provincial Labor Unions at all levels have coordinated with many units and enterprises to take care of laborers by many ways. Particularly, they have given fast support for F0, F1, F2 cases; offered timely help to employees with extremely difficult circumstances with more than VND5.35 billion from the Trade Union budget. In addition, provincial Labor Union has actively called on individuals, organizations and enterprises across the province to join hands to take care of employees.
Accordingly, tens of tons of necessities from neighboring provinces, cities; hundreds of tons of food, medical masks, hand sanitizer... in the province were transferred to isolation areas, lodging facilities where there are many workers living. Trade union officials also contributed money and processed thousands of boxes of dried shredded meat for employees...
The whole province is focusing on taking care of employees during the 4th wave of the pandemic. It is known that Binh Duong has about 1.2 million employees, more than 85% of whom are immigrant. When the pandemic has occurred, the majority of people living in blockade or medical isolation areas or at lodging facilities are workers. Therefore, hundreds of billions of dong raised from people and enterprises inside and outside the province were for laborers through the Red Cross Societies, Women's Unions, Fatherland Front Committees at all levels so that "no one is left behind". Besides, proprietors of the lodging facilities have reduced, exempted rent for workers; donated other necessities to employees... The phone number from the hotline providing free food and necessities in communes, wards and towns for people with difficulties gets available every day...
The pandemic has not only affected workers directly producing at factories and enterprises, but also made most people and those trading in all scopes difficult. All-level authorities and sectors of the province have also made efforts in taking care of employees, helping them overcome immediate difficulties…
Reported by Quang Tam-Translated by K.T