On the afternoon of September 27, Nguyen Van Loi, member of the Party Central Committee, Secretary of provincial Party Committee, Head of provincial National Assembly Deputy Delegation together with deputies of the delegation had a meeting with voters in Thu Dau Mot city's Chanh My ward.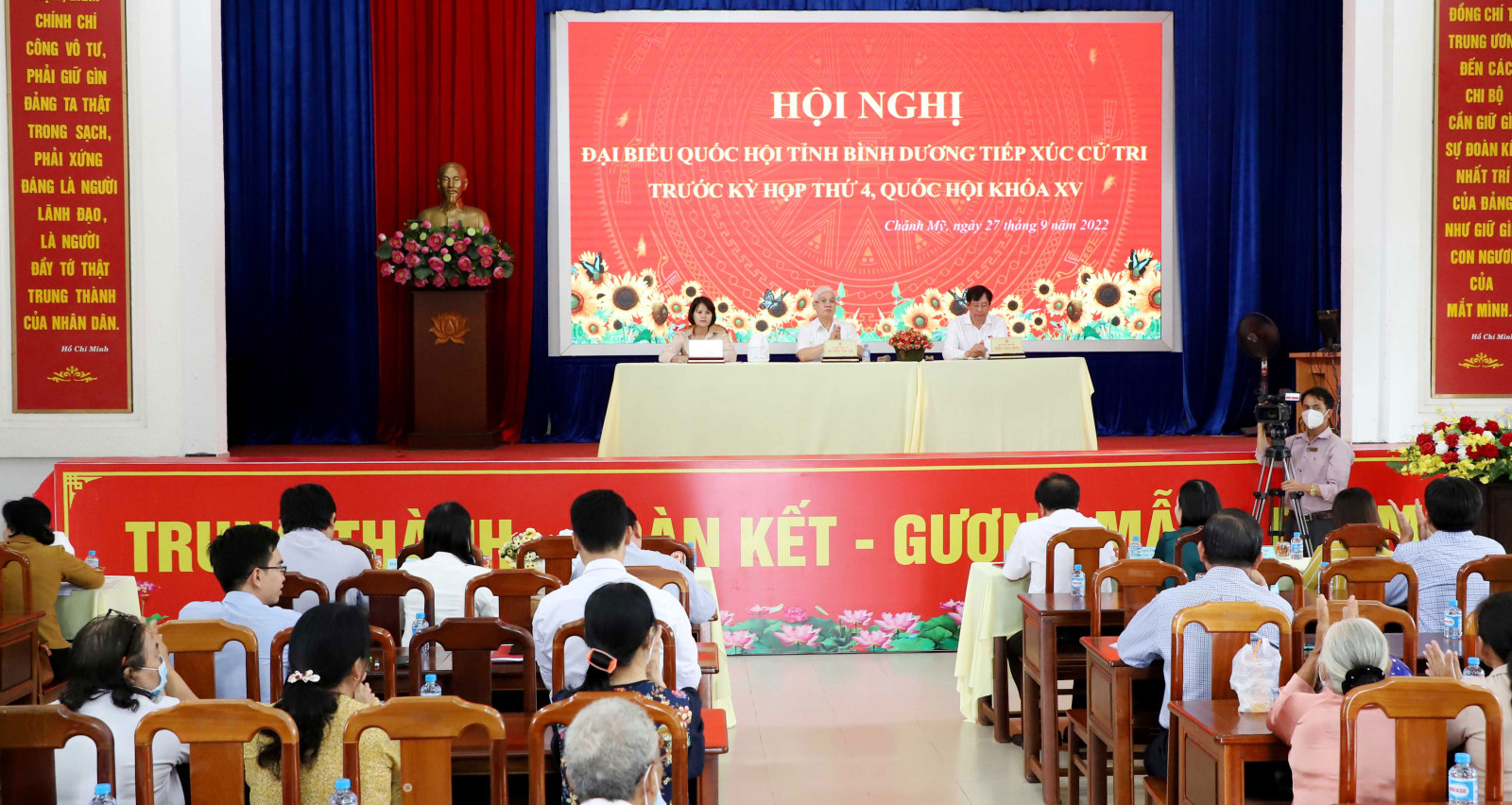 An overview of the meeting
At the meeting, voter Bui Thi Dung, Chanh My ward's in Chanh Loc 4 quarter, expressed her excitement that the province has controlled the Covid-19 pandemic and recovered socio-economic development. She also suggested the province to continue simplifying administrative procedures, especially changing and updating procedures to synchronize with new versions of citizens' identification cards.
Voter Nguyen Ngoc Hai proposed provincial National Assembly deputy delegation to ask for State management units to have solutions to stabilize commodity prices. This was because the prices of goods increased when the prices of gasoline increased. Over the past time, gasoline prices decreased for many times. However, the prices of goods and food are still high, affecting people's lives. He also suggested relevant agencies to promptly increase the basic salary for civil servants, public employees; increase regimes and policies for part-time workers at commune, hamlet and residential group levels.
Some voters also proposed relevant agencies to expand the scope of children entitled to free health insurance; take measures to prevent flooding during high tides as well as heavy rainfall; ensure traffic safety, prevent traffic congestion during peak hours...
On behalf of the delegation, Mr. Loi acknowledged the voters' opinions to report them to the National Assembly, the Government as well as relevant central and local units. He also shared, exchanged and informed a number of issues reflected by the local voters. He also asked for leaders of Thu Dau Mot city to get the local voters' opinions and recommendations on administrative reform, traffic safety, flood prevention, social welfare...to take measures to improve them within the local jurisdiction.
Earlier, representative of provincial National Assembly Deputy Delegation informed the local voters of the expected contents of the 4th session of the 15th National Assembly while informing them of the socio-economic situation of the country and the province over the past 8 months.
Reported by Tri Dung-Translated by Kim Tin