On November 20, the whole society is grateful for the contributions of teachers. This year's Vietnam Teachers' Day is more special than previous years when teachers are not only honored for their profession, but also recognized by society for their significant contributions to the fight against the Covid-19.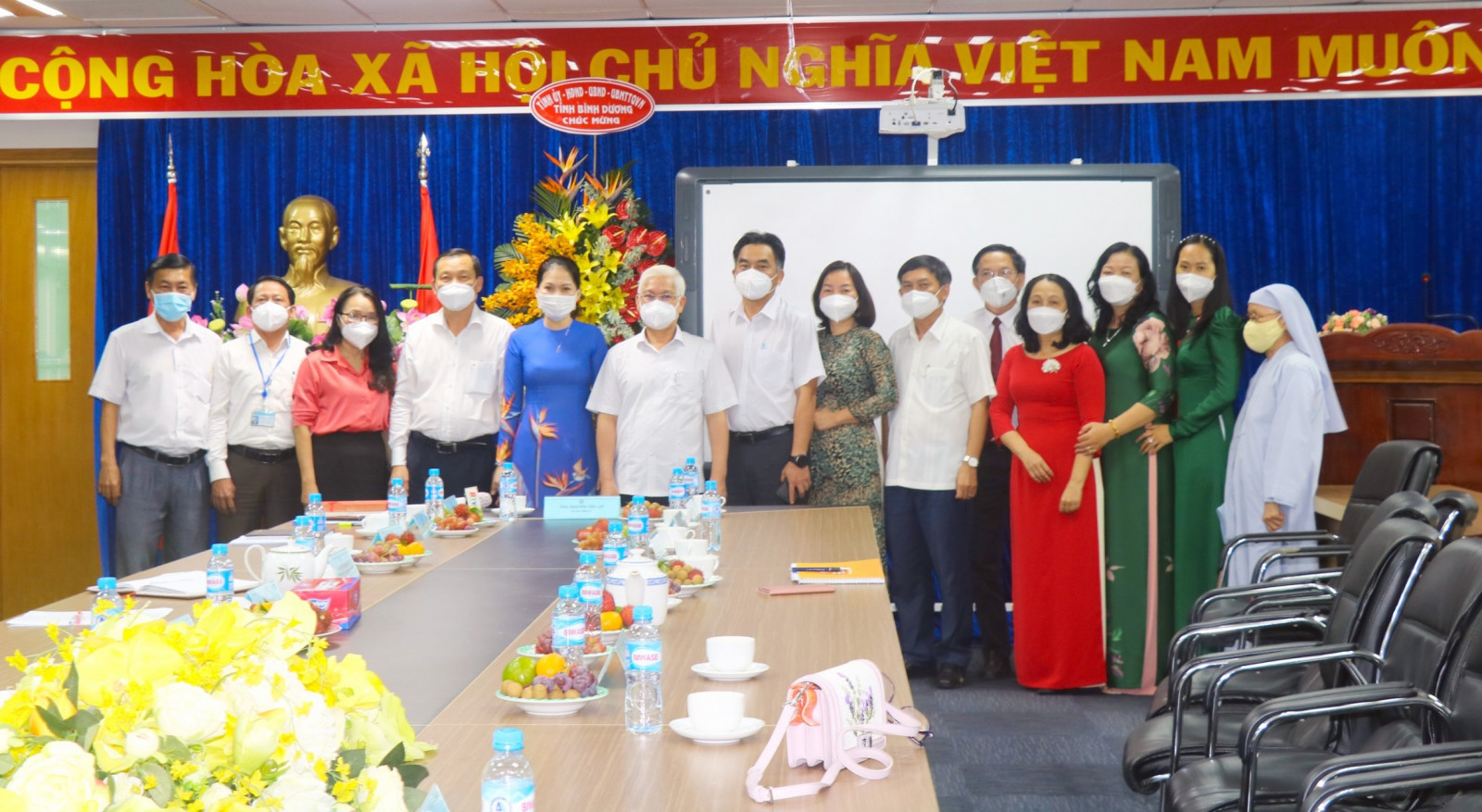 Provincial leaders visit and congratulate the education and training branch on occasion of Vietnam Teachers' Day.
Teachers on the anti-pandemic front
2021 is a very special year to all teachers in the province. The school year 2020-2021 ended, which is also the time when the Covid-19 broke out in the province. Not taking any day of the summer vacation, responding to the call of the homeland, teachers from all over the province bravely volunteered to fight the disease. Teachers who usually only hold chalks and pens, now transformed into blue-shirted soldiers, were present on all fronts against the pandemic. Young female teachers also stood strongly and guarded checkpoints, were not afraid of danger, entered lockdown areas to support health workers. Facing with F0s and potential danger every day, but no one left their battle position. It was more impressed when there were teachers who became F0s, and then after they were cured but volunteered to continue staying on duty until the day Covid-19 treatment and isolation areas were disbanded.
Dr. Nguyen Thi Nhat Hang, Director of provincial Department of Education and Training, acknowledged that, with a loving heart, teachers were not afraid of hard work and dangers and temporarily forgot about teaching task to rush to the front line and fight the disease. "In the last battle, more than 7,000 teachers participated on all fronts. The image of teachers sacrificing their own happiness, transporting and carrying food into pandemic-hit areas has touched many people and beautified the image of teachers", said Dr. Nguyen Thi Nhat Hang.
It can be said that this year's anniversary of teachers and the entire education and training branch had indescribable emotions, because online teaching and learning are being applied to prevent and control the Covid-19. This year, students could not present flowers to teachers, there was no bustling atmosphere, but teachers still received heart-warming wishes and gratitude from the whole society for their contributions to the cause of human cultivation and also the anti-pandemic front. In the past few days, when visiting and congratulating teachers on occasion of Vietnamese Teachers' Day at educational institutions, in addition to congratulating achievements in the past school year, the provincial leaders also were grateful to the contributions of teachers in the disease prevention control.
Innovation and creativity in online teaching
Indeed, 2021 is an unprecedented school year when teachers have worked extremely hard. As soon as they left the battle against the Covid-19, teachers immediately returned to their position at schools. With the responsibility towards students, teachers actively innovate and create in online teaching, help students apprehend lessons in the best way. Teachers have been dedicated to their profession through lively lessons to attract attention of students. Teacher Dao Xuan Huong, a physics teacher at Tan Phuoc Khanh High School (Tan Uyen Town), although he teaches online, he applies STEM teaching method. After each theoretical lesson, the teacher guides students to practice at home, then they experiment according to instructions and record a clip to send to the teacher. With such a teaching method, students feel more interested in and understand the lesson better.
Teacher Nguyen Thi Van Anh of Tran Dai Nghia Secondary School (Thuan An City) recently sent a product to the 2021 electronic lecture design contest held by the Ministry of Education and Training; and received a license for her lesson. The lesson was designed vividly, leads students to knowledge with her warm voice and lively illustrations, helping students to understand in general from the content of the poem to the introduction of the author, the origin of the poem... She also posed interactive questions, gave students exercises to assess the level of knowledge acquisition.
In the 2020-2021 school year, the pandemic was complicated, there were periods of transition from face-to-face to online teaching, but the province's education and training branch achieved proud results. In the high school graduation exam 2021, Binh Duong led the country in exam results. The school year 2021-2022 still has many difficulties and challenges for teachers in general, because currently teachers and students are still teaching and learning online. Leaders of Department of Education and Training have sent a message that, due to the stormy development of science and technology, teachers need to make more efforts to perform their roles well. Because teachers are educators and lifelong learners. Teachers must always develop their personal and professional capabilities to increasingly improve the quality and effectiveness of education.
Reported by Hong Thai - Translated by Ngoc Huynh