Thu Dau Mot city's Youth Union has organized many new and attractive programs, contributing to effectively implementing the Project on "Building a civilized urban - cultural lifestyle" in Thu Dau Mot city as well as creating a healthy playground for teenagers, children and people coming to Bach Dang walking street.
On the weekend, Nguyen Thuy Duong in Thuan An city's Lai Thieu ward took her daughter to Bach Dang walking street in Thu Dau Mot city. Although it was a bit far away, she thought that this was worthy. This was because she wanted to come to a new recreational place so that my daughter could play in pleasure. And she could also walk, do exercise and relax while watching Bach Dang wharf and Thu Dau Mot city at night.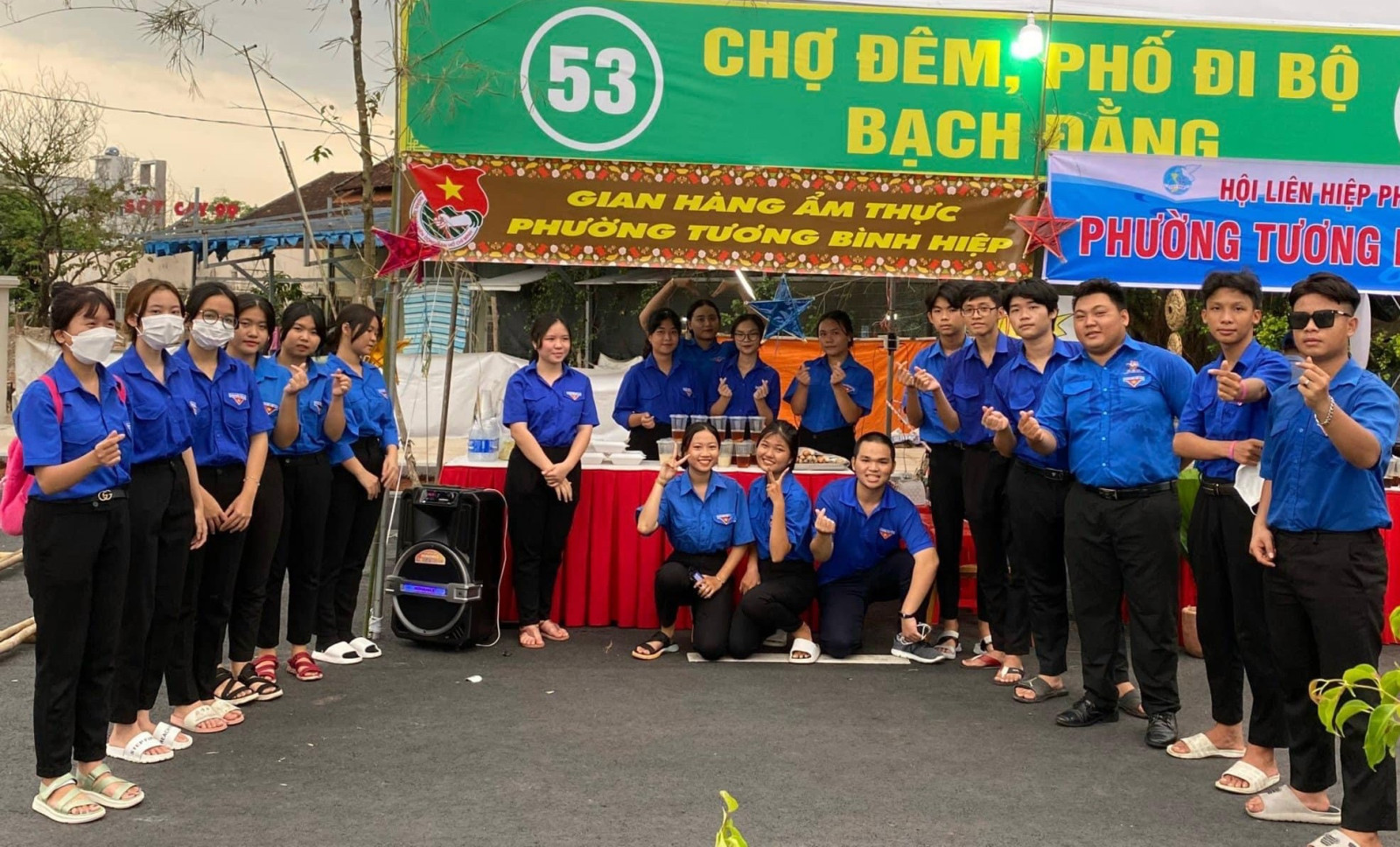 Youth Union members introduce food stalls at Bach Dang walking street
Since Bach Dang walking street was inaugurated, Nguyen Van Hung and his family in Thu Dau Mot city's Phu Cuong ward has come here for walk. He said: "My children love coming here because there are a lot of cultural exchanges and culinary activities, attracting many young people".
In order to attract more visitors, Thu Dau Mot's Youth Union has soon planned to organize food and cultural exchange activities at Bach Dang walking street. Particularly, the city's Youth Union organized 4 big activities here, including: Competition on "Finding talents to propagandize revolutionary songs"; Mid-Autumn Festival activities for local children...The city's Youth Union also organized a festival for modern dance groups in high schools at the walking street. These activities attracted a large number of Youth Union members, children and people to watch and cheer.
Following a series of activities to celebrate the inauguration of Bach Dang walking street, Thu Dau Mot city's Youth Union Standing Committee has also organized a "street with peddled wares" from Youth Union branches, clubs and groups. These stalls are decorated beautifully and attractively with food hygiene and safety ensured. The prices of the dishes listed by the units are clear and reasonable. Especially, in addition to enjoying attractive dishes, diners also get tickets to return to their childhood when being "lost" in the area with many attractive games such as bamboo dancing, shuttlecock kicking, mandarin square capturing…
Nguyen Minh Tam, Secretary of Thu Dau Mot city's Youth Union said: "The People's Committee of Thu Dau Mot city has also directed and oriented activities to attract people to Bach Dang walking street. Specifically, every weekend, mass organizations will organize activities at the walking street. For major holidays, programs here will be held by the city. In the coming time, the city's Youth Union will also organize long-term activities such as maintaining activities of acoustic music groups, dancing groups, skateboarding and folk games…, creating a new and healthy entertainment spot for Youth Union members and people when coming to Bach Dang walking street. Hopefully, these activities will contribute to creating the vitality of a dynamic, young, friendly and hospitable city."
Not only organizing funny and exciting activities, Thu Dau Mot city's Youth Union has also promoted images and activities at Bach Dang walking street on social networking sites and set up a film in the program "Journey to the Thu land I love" to introduce the most vivid images of the walking street to the audience. The activities of Thu Land's youth have contributed to promoting the local tourism, introducing the land and people of affectionate and hospitable Thu Dau Mot while showing the enthusiastic dynamic and creative spirit of the city's youth in working with all-level authorities of the city to build up a rich, beautiful, civilized and modern city...
"In the coming time, the city's Youth Union will also organize long-term activities such as maintaining activities of acoustic music groups, dancing groups, skateboarding and folk games…, creating a new and healthy entertainment spot for Youth Union members and people when coming to Bach Dang walking street. Hopefully, these activities will contribute to creating the vitality of a dynamic, young, friendly and hospitable city". (Nguyen Minh Tam, Secretary of Thu Dau Mot city's Youth Union)
Reported by Ngoc Nhu-Translated by Kim Tin