The province's retail market has begun being animated with total retail sales revenue of consumer goods and services reaching positive growth. Province-based enterprises are very excited when being busy to prepare for the Tet market, flexibly adapting to plans on safety for Covid-19 pandemic.
Abundant goods with stable prices
The joy of enterprises is the market's positive recovery. This has created a motivation for enterprises to prepare the sources of goods for the market. "This is the great happiness of enterprises, not daring think about anythings when Binh Duong was severely affected by the pandemic. The pandemic is well controlled, creating conditions for socio-economic activities to recover quickly. The people feel more secure after returning to the normal life, enjoying the spring and welcoming the new year," said Vo Nhat Vu, Director of Big C Binh Duong Supermarket.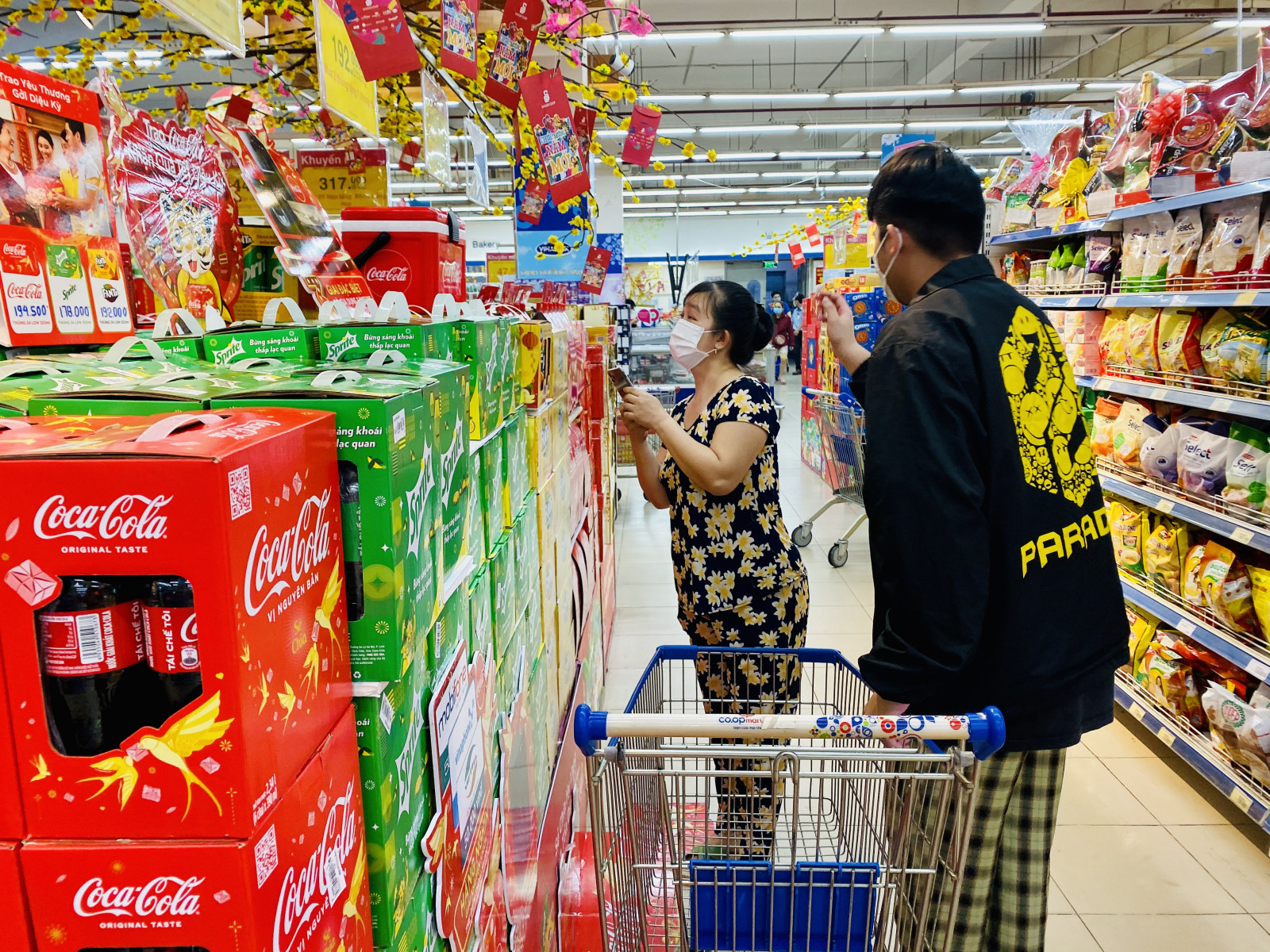 People begin shopping for Tet at province-based supermarkets
According to Mr. Vu, the busy atmosphere of preparing for Tet at Big C Binh Duong Supermarket is being carried out very well. Besides, the supermarket is also working with suppliers, sharing profits to promote promotional programs. Through these programs, the supermarket hopes to be able to share difficulties with consumers after the pandemic while supporting consumers to buy products suitable to their financial capacity.
Representatives of retail enterprises all confirmed that they have prepared a sufficient source of food and foodstuffs at the best prices to serve customers. Mr. Vu said that in 2022, Big C Binh Duong will increase its amount of goods by about 20% compared to 2021. During the year-end and Tet (Lunar New Year) festival, the supermarket has increased the amount of goods by 110% compared to the normal period. This year, due to the impact of the epidemic, the trend of consumers is to tighten spending, so buying "Made in Vietnam" products is also chosen by many customers. As noted, domestic products account for about 90% of the amount of goods at supermarkets, which is in line with most consumers 'criteria of choosing products with beautiful designs, suitableness to their financial capacity and safety to use.
Meanwhile, Hoang Long, Director of Saigon Co.op affirmed that the unit's total value of goods prepared before, during and after Tet is about VND6trillion. Goods at the unit are abundant with stable prices. "People don't worry about increasing the prices of products on Tet holiday. Saigon Co.op will have adjustment to guarantee that goods are sold at stable prices," said Mr. Long.
For food and foodstuff enterprises, they have still committed to providing enough goods and not raising prices on Tet holiday. Pham Thi Huan, CEO of Ba Huan Company said that as of now, Ba Huan's egg reserve has reached nearly 100%. Despite facing difficulties from the pandemic, the company has still not increased prices when bringing goods to the market.
According to Phan Van Dung, Deputy General Director of Vissan Company, over the past time, food processing enterprises have gone through a lot of difficulties. Currently, there are still difficulties when the costs of input materials have increased by 20-40%. The company has prepared 2,800 tons of fresh food, up about 4% over the same period, 4,200 tons of processed food, up about 6% over the same period. In order to ensure the rights and interests of enterprises, Mr. Dung has suggested functional sectors to more closely manage spontaneous selling points that do not ensure food safety-hygiene and affect prices and markets.
Ensuring food safety
According to Phan Thi Khanh Duyen, Deputy Director of provincial Department of Industry and Trade, in order to be ready to serve the peak season of the Tet holiday, the local industry and trade sector has worked with enterprises participating in the local market stabilization program, key enterprises producing Tet goods with the value of stockpiled goods at more than VND5.67trillion. Of these, the value of goods for the period before, during and after the Tet (Lunar New Year) festival 2022 is more than VND 2.07trillion. The industry and trade sector has also required 14 units to participate in stabilizing market prices. In addition, localities have been ordered to control and maintain the price level of essential products, reduce intermediary costs, and lower the costs of products of enterprises on the principle of no loss, ensuring that the prices of products are always reduced by 5-10% compared to market prices in each period.
Le Thanh Tam, Deputy Director of provincial Department of Agriculture and Rural Development said that the sector has cooperated with enterprises participating in stabilizing the market, organizations and individuals producing, processing and trading livestock meat products, eggs, vegetables and fruits in the province to ensure a sufficient supply of goods to serve people's demand for consumption during the Tet (Lunar New Year) festival and the whole year while coordinating with functional agencies to inspect the quality, origin of agricultural products, fresh food, ensuring food safety.
Provincial Department of Industry and Trade will coordinate with relevant departments and sectors to create the most favorable conditions for enterprises, cooperatives that produce, process and distribute agricultural products in the province; support and guide the opening of more fixed and mobile sales points in industrial parks and densely populated areas to expand consumption markets while serving people's demand for shopping before, during and after Tet at maximum level.
Stockpiled goods to stabilize the market must ensure quality, food safety and hygiene, and ensure a balance between supply and demand for a number of essential commodities for people's consumption and production. The experience in supplying goods during the anti-Covid-19 process has helped us to be more confident. The industry and trade sector will work with relevant sectors to ensure a continuous supply chain at people's needs for shopping, avoiding the scarcity of goods and price hikes, especially during the upcoming Tet festival", said Phan Thi Khanh Duyen, Deputy Director of provincial Department of Industry and Trade.
Reported by Tieu My-Translated by Kim Tin