A series of activities to take care of workers' lives in 2023 Workers' Month and Action Month of Occupational Safety and Health organized and financed by trade unions at all levels in the province (about VND 30 billion), and the thoughtful care from governmental branches and levels have brought a great joy and happiness to workers in the province. Many people were in tears, choked up without words as receiving helps, and vowed to accompany Binh Duong for a long time.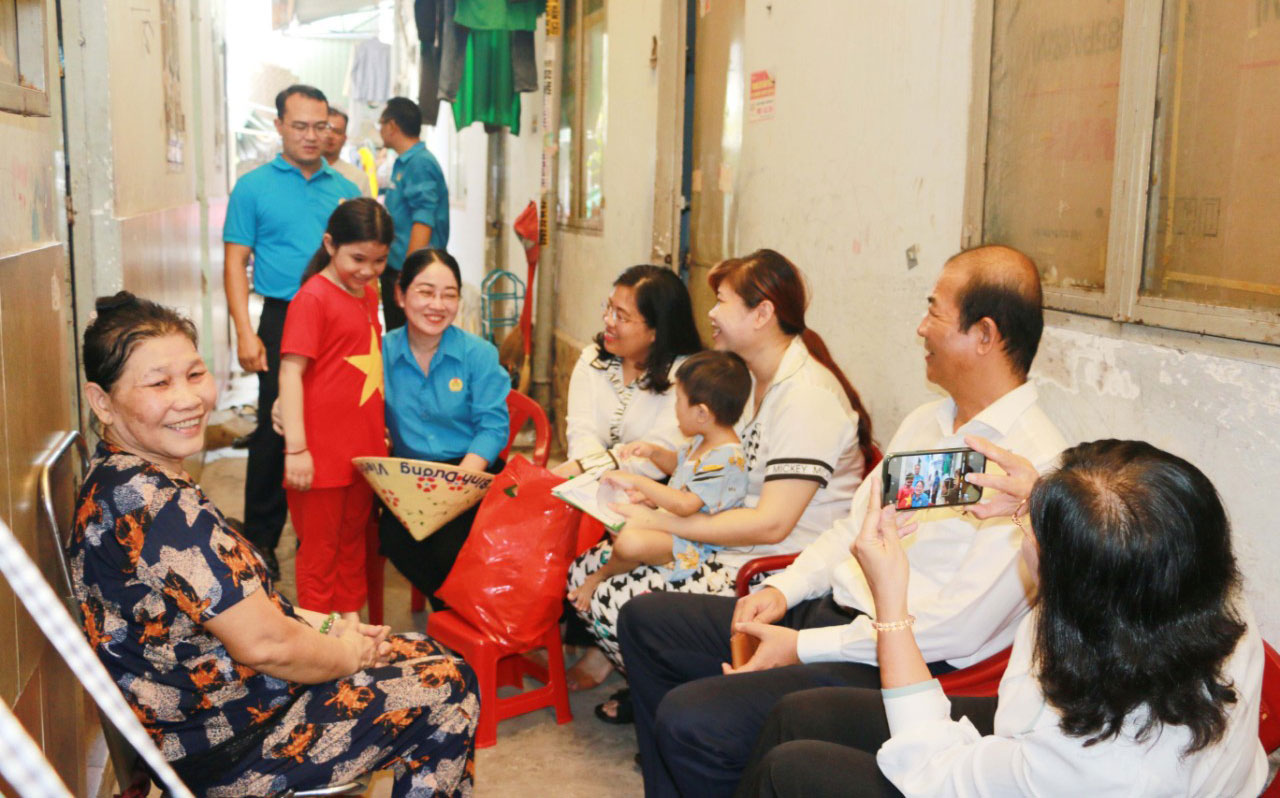 Leaders of Provincial Labor Confederation cooperate with departments and branches to visit and give gifts to employees at a lodging house in Thuan An city.
Happy to have a home
In the last days of May, when the trade union's home donation program called, many workers in Binh Duong province broke out in happiness. Unexpected joy came, Nguyen Thi Thuy Nhan, a worker of Haksan ViNa Co., Ltd. (Ben Cat Town), said emotionally: "Without the company and trade unions' help, we never know until when we could be able to build a house. I would like to thank the authorities and benefactors."
Nine years working at her company, Ms. Nhan always strives to fulfill tasks set by the company. Also during this time, a young couple from Binh Dinh came to Binh Duong to start a career and fulfill a dream of having a stable home. They saved, accumulated, borrowed money from family, banks, and bought a small piece of land in Quarter 2, Tan Dinh Ward, Ben Cat Town. However, due to the difficult life, raising small children and paying bank installments at the same time, it is almost impossible to build a house. Therefore, to this family, receiving a Trade Union house is a great happiness.
Recently, as being informed about receiving a trade union home presented by Provincial Labor Federation, Ca Thi Huyen and her husband, who are working at Green Speed Joint Stock Company (Dong Hoa ward, Di An city) were awake all night. The couple called their family in Quang Nam to share their joy. Ms. Huyen said: "My dream is to have a small house, so I keep working hard. My husband and I have suffered a lot, we have to work hard to take care of our children, not expect anything more."
Huyen and her husband have been in Binh Duong for 10 years now. Over many years, they dared not to spend much money, they saved a small amount of money and borrowed some from a bank to buy a piece of land in Tan Phuoc quarter, Tan Binh ward, Di An city to open a small shop, but could not afford a house. "We have children to provide for, our parents are old, and now my husband's job is precarious, because his company has difficulties in production orders, so we don't have much money. From now on, having a stable house to live in, all difficulties will gradually go by".
The Trade Union's shelter program has been helping many workers realize their dream of having a home. In this year's Workers' Month, Provincial Labor Confederation has coordinated with Becamex IDC, banks, and some businesses to donate 6 houses to employees having difficult circumstances. In addition, the authorities in the province held dialogue meetings to share and grasp the thoughts and aspirations of employees about the program to build social housing, help employees buy houses at low prices. Tens of thousands of social housings will come to employees in the coming time.
Many meaningful activities
From the first days of May, Trade Union organizations have cooperated with businesses and local authorities to organize a series of activities to take care of worker' lives, such as zero-dong markets, discount sales at companies, sports and entertainment activities for workers in districts, towns and cities. Thereby, essential items for daily life at original prices or deeply discounted up to more than 30%/product have reached employees.
Besides, sports, cultural, and artistic activities such as football competition, badminton, tug of war, singing, fashion contests etc. were held everywhere, creating many interesting playgrounds and connecting employees with each other. In addition, tens of thousands of valuable gifts were given by Provincial Labor Confederation in collaboration with Trade Union organizations to lodging houses, disadvantaged employees, ones suffering from work accidents, fatal diseases to encourage and share difficulties with employees.
Another very meaningful activity in Workers' Month is that leaders at all levels in the province directly went to lodging houses and factories to give gifts, visit, and motivate employees to overcome difficulties. Employees as well as business owners were very surprised to receive the above warm gifts and encouragement. For example, Pham Thi Thu Ba, a worker of Signal Company Ltd., who is staying in Thuan Giao residential area in Thuan Giao ward, Thuan An city, has a very pitiful situation as her husband has just had a traffic accident, had surgery on the right brain hemisphere. Currently, she is the main provider of the family, all her monthly income is spent on medicine and treatment for her husband. Ms. Ba shed tears: "As knowing about my family's situation, Trade Unions and the company often help us. But my family did not expect that provincial leaders would also come here to help and encourage us like that".
In this year's Workers' Month, branches and levels in the province also organized conferences to share difficulties and learn about employees' thoughts, aspirations in all areas from security and order, housing, legal advice, healthcare, insurance, employment etc. to encourage employees to stay in Binh Duong permanently. It can be said that a series of very special activities of Trade Union organizations in May for local workers, together with the attention of provincial leaders, local authorities, and companies, continue to well take care of workers' lives. Therefore, employees become more united and strengthen their long-term commitment to Binh Duong.
Reported by Quang Tam - Translated by Ngoc Huynh