Faced with difficulties during the COVID-19 pandemic, businesses are increasingly concerned about building the supply of products, raw materials, machine parts, and supporting industrial goods right at their factories to ensure sustainable development.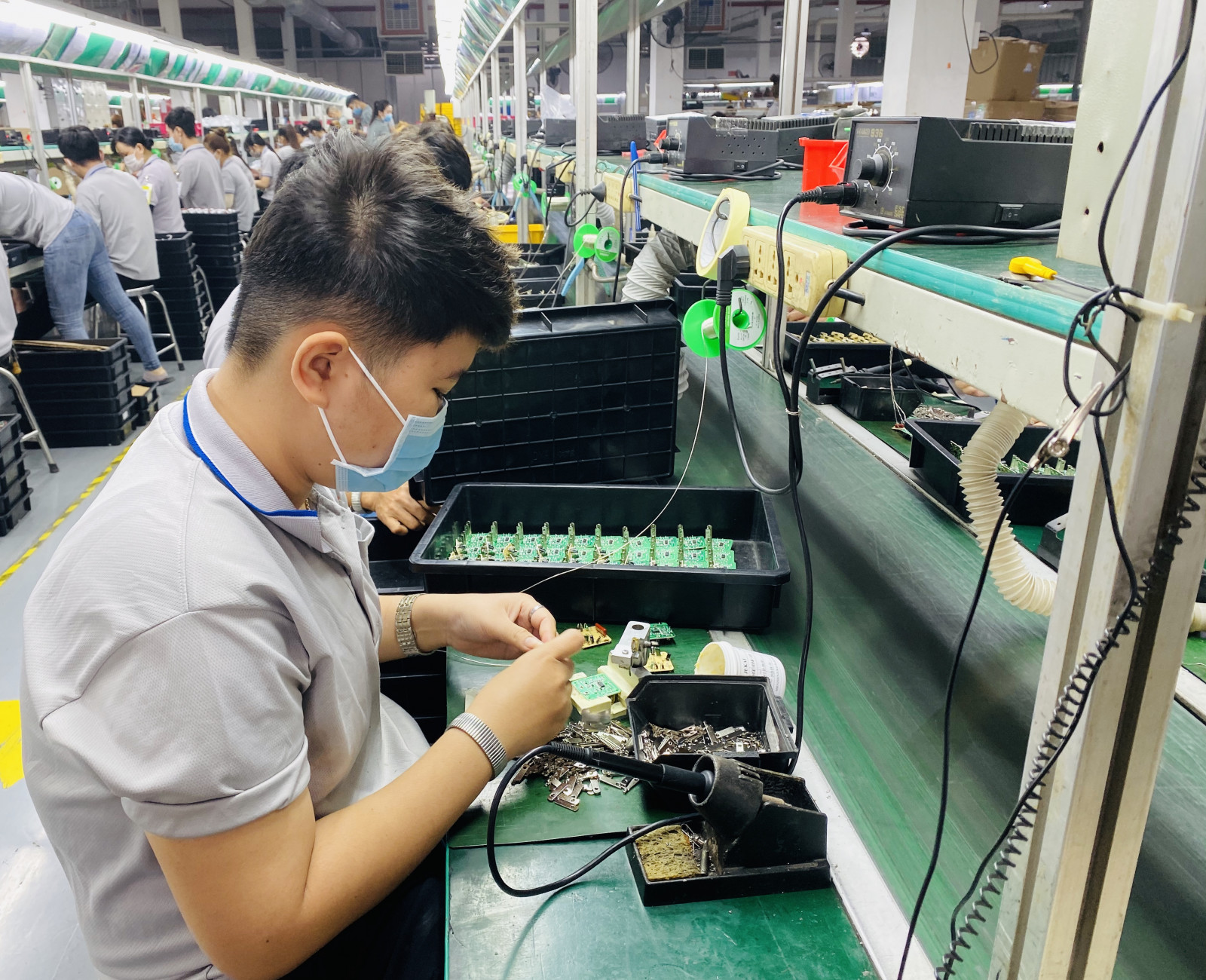 Production is on-going at factory of Gre Alpha Electronic in VSIP 2A
Grasping up opportunities
The COVID-19 pandemic is still complicated as businesses are gradually adapting to the new situation to resume production. To ensure production, many domestic and foreign invested enterprises (FDI) pay more attention to sourcing raw materials in the nation. Many FDI enterprises in Binh Duong strive to find partners to supply input products in Vietnam and to reduce imports. To implement such strategy, FDI enterprises strive to connect production and business while reducing waiting time and costs of transporting goods from abroad.
According to a representative of Nippon Rika Vietnam Co. Ltd. in VSIP 2A Industrial Park, a member of Nippon Rika Group from Japan, in the context of double world freight time and 3-4 times higher transportation costs, it is difficult to travel to and fro countries to check goods before purchasing, so many businesses want to find domestic suppliers. The company is looking for domestic suppliers who can provide maintenance and repair services for machinery and equipment, manufacturing wood molds, etc. for production activities. Previously, the company only placed orders through Japanese enterprises and some partners introduced by the company's personnel. However, the company wants the coordinators of the development of supporting industries as well as the supporting industry club to connect to find domestic suppliers to facilitate production.
Most businesses want to increase the localization rate for products to export to countries where Vietnam has signed free trade agreements with so that they can enjoy tariff preferences and increase competitiveness. Mr. LiLi, Director of Gre Alpha Electronic Factory in VSIP 2A Industrial Park, said that in recent years, the domestic supply of raw materials in many industries has continuously increased but still cannot meet the demand. In which, there are many supporting industry enterprises that still focus on exporting, so they are still not interested in the domestic market. Therefore, for the same product, one enterprise exports but another imports. In the last 4th wave of COVID-19 epidemic, many businesses were severely affected. When production activities are stabilized again, opportunities for cooperation among enterprises are great and the demand for supply of supporting industrial goods of enterprises for Vietnamese partners is increasing. It is important that domestic enterprises need to find suitable communication channels and produce according to the standards required by their partners. The representative of the company expressed his wish that the government would continue to act as a bridge for businesses of the two sides to expand cooperation and increase the use of domestic raw materials in production in order to churn out products with the most competitive prices.
Proactive reforms
Ms. Nguyen Thi Hong Chau, Director of Kim Chung Precision Mechanics Co. Ltd. in Tan Uyen town said that after the epidemic, the company continued to invest in synchronous technology with lathe, milling, grinding, and CNC machines combined with dynamic and creative human resources, professional customer care services, and stricter working process to meet the needs of domestic FDI partners. During the outbreak of the COVID-19 epidemic, the company still ensured the product delivery process and time and was trusted by customers. Up to now, the company has increased its search for domestic customers to ensure production in the context of the complicated situation of the COVID-19 epidemic.
According to Ms. Chau, the proactive investment in facilities has created prestige and initial success and built an image and brand for foreign partners. With production lines and modern equipment imported from abroad, the products made are of high quality and trusted by customers of FDI enterprises and introduced to many other customers.
Mr. Do Xuan Ngoc, Director of Trung Dung International Joint Stock Company in Di An city said that the company specializes in designing and processing molds for screws and handles on all kinds of steel, copper, aluminum and stainless steel materials for FDI companies operating in Vietnam and exporting to the US, European, and Japanese markets. The company has boldly innovated technology and achieved positive results. In the context of rapidly changing products and fluctuating market demands and in order to compete and develop, mechanical enterprises need to be fully aware of the global market's needs and understand the needs of their customers. They have been determined how much, how the product, what the added value of the service is, the expected improvement; thereby, improving the ability to be able to meet the requirements of the global supply chain such as what processes need to be put in place, what certifications need to be provided and what skills need to be develope
Reported by Tieu My – Translated by Vi Bao