Hundreds of billions of VND of Tet gifts have been given by departments, agencies and units in the province to laborers, poor households, policy families, and many other target groups in need of support. All streets are bustling and crowded with buyers and sellers, flowers are covering streets. The Tet atmosphere has come to every home, promises a warm and happy spring reunion.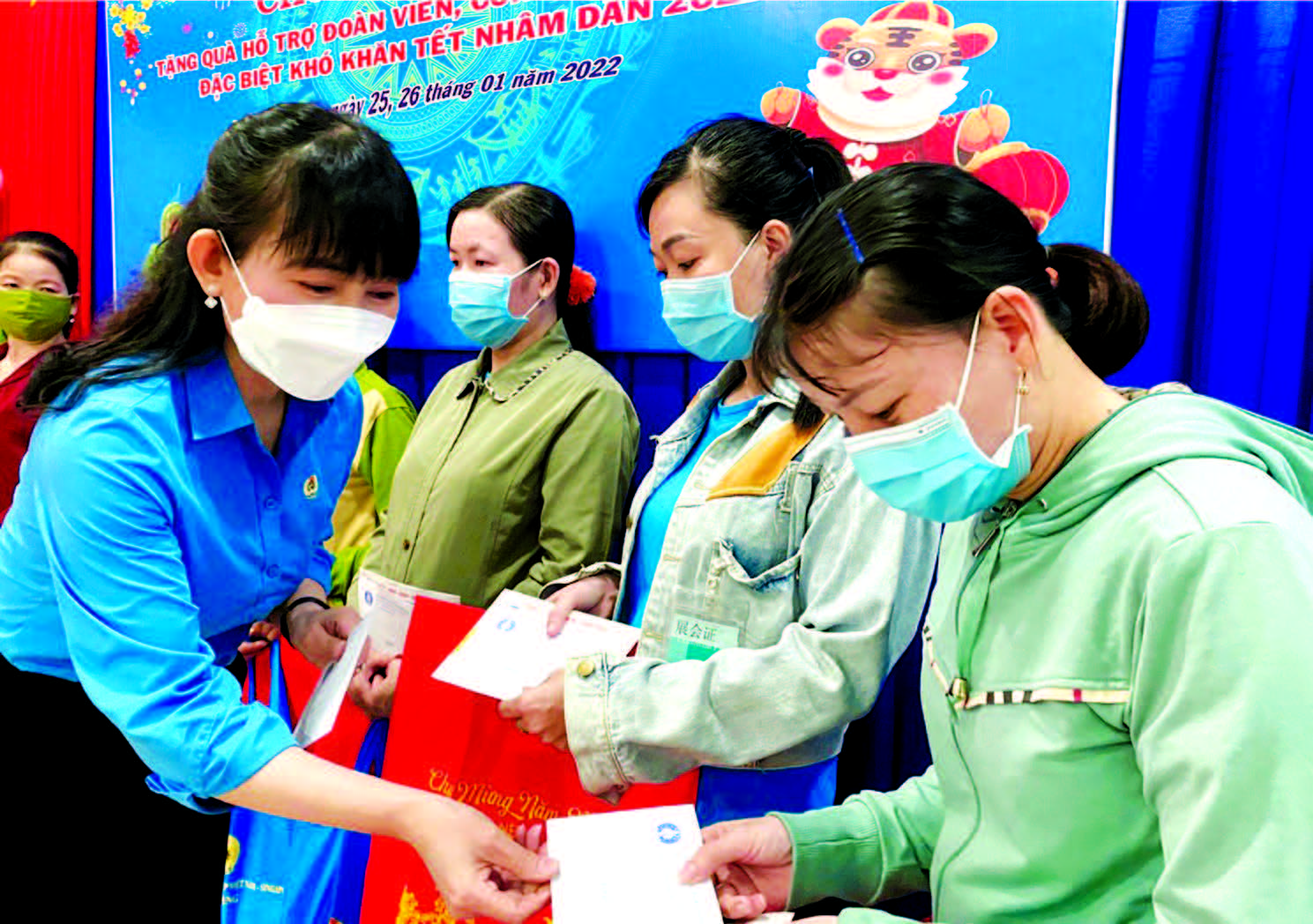 Leaders of VSIP Trade Union give Tet gifts to workers having difficult circumstances.
Everyone has happy Tet
The joy of Tet festival is spreading to every home, including groups having difficult circumstances who have received Tet gifts. This year, in last months of the old year, provincial leadership and administration is striving to take care of the people after a year of prolonged pandemic. Therefore, provincial departments, branches and municipalities soon rechecked the beneficiaries, made lists as well as estimated funds. About 230 billion VND from the provincial State budget was disbursed by the Provincial People's Committee to give Tet gifts to 23 people groups, such as poor households, policy families, orphans, and social protection groups...
Another group receiving special attention of the province is workers after a year of prolonged pandemic. Thereby, the Provincial Confederation of Labor soon made a list, financial sources from Trade Union at all levels and Provincial People's Committee to support workers, especially those in difficult circumstances and stay in Binh Duong on Tet, with an amount up to more than 435 billion. In addition, the Provincial Red Cross, Fatherland Front, Youth Union, Women's Union and trade unions at all levels have actively mobilized contributions from businesses and benefactors to organize Tet programs. Thereby, hundreds of thousands of valuable gifts were distributed, in addition to the provincial State budget.
The happiest thing is that in last days of the year, provincial leaders, departments, agencies and branches have established delegations to directly visit and give Tet gifts to people. Wherever they go, the provincial leaders graciously listened to difficulties and encouraged everyone, every home, and advise local administrations to pay attention and follow up the situation of each family to take care of them better.
In a recent visit to gave Tet gifts to people and work with Bau Bang District Party Committee, Nguyen Van Loi, Member of the Party Central Committee, Secretary of the Provincial Party Committee, Head of the Provincial National Assembly's Delegation, said : "The province understands and sympathizes with people; when the pandemic hit, caused a lot of pain and economic loss, and people had no income for many months. In addition to Tet gifts, departments, branches and municipalities must make efforts to take care of the people during the Tet holiday, so that no one will be deprived on Tet festival. In particular, municipal governments must always pay attention and create favorable conditions for people to have a better life both materially and spiritually; including the planning and development of urban infrastructure, recreation in the coming time".
To unite to overcome difficulties
This Tet, activities taking care of people are not just gifts, but the most precious thing is humanity and mutual affection after the pandemic. With specific policies of the province, departments, branches and municipalities in the province are striving to take care of all people for a complete and heartwarming Tet. For districts of Dau Tieng and Phu Giao, the Fatherland Front, Youth Union organized groups to give gifts, clothes, and haircuts to children and people. Many people have been touched by this meaningful act.
In urban areas such as Thu Dau Mot City, Di An City, and Thuan An City, Youth Union, Red Cross Society, Trade Unions at all levels organized free spring markets and decorate lodging rooms for people having special difficult circumstances; or trucks loaded with Tet gifts came to each lodging houses, making a good impression on workers living away from their hometown. Nguyen Thi Ha, a worker living in Thuan Giao ward, Thuan An city said: "To workers who cannot return to their hometown to celebrate Tet, we are very touched by these meaningful deeds. I am not talking about material values, but about spiritual meaning, about humanity, solidarity that help workers far from home like us feel heart-warmed, connected with this land. Youth Union and Trade Union at all levels also organized exciting and meaningful spring programs and sport events.
In communes, wards and townships in the province, there are programs to take care of the poor and policy families. For example, in Phu Hoa ward (Thu Dau Mot city), from the beginning of January 2022, municipal governments has mobilized more than 10 tons of rice and necessities to present Tet gifts to poor households and workers. In Binh Chuan ward (Thuan An city), every Lunar New Year, there is a program to take care of the poor, near-poor households and policy families. This year, the ward has given hundreds of Tet gifts to each household and lodging house with the cost of 500,000 VND each gift. Many localities informed people that, besides Tet gifts, if any household is in difficulty, just contact People's Committee of commune or ward for extra care and support, to ensure that every family has a happy Tet festival.
It can be said that, with the synergy and efforts of all levels in the province, Binh Duong has had thoughtful Tet care activities for all people groups in order for every family has a joyful Tet reunion.
Reported by Quang Tam - Translated by Ngoc Huynh