Arriving at Chanh My ward of Thu Dau Mot city, we were introduced by the ward's cultural officer about the typical cultural family example of Mr. Vo Van Quy and Mrs. Nguyen Thi Nga, which is a typical family in building a warm and happy local family.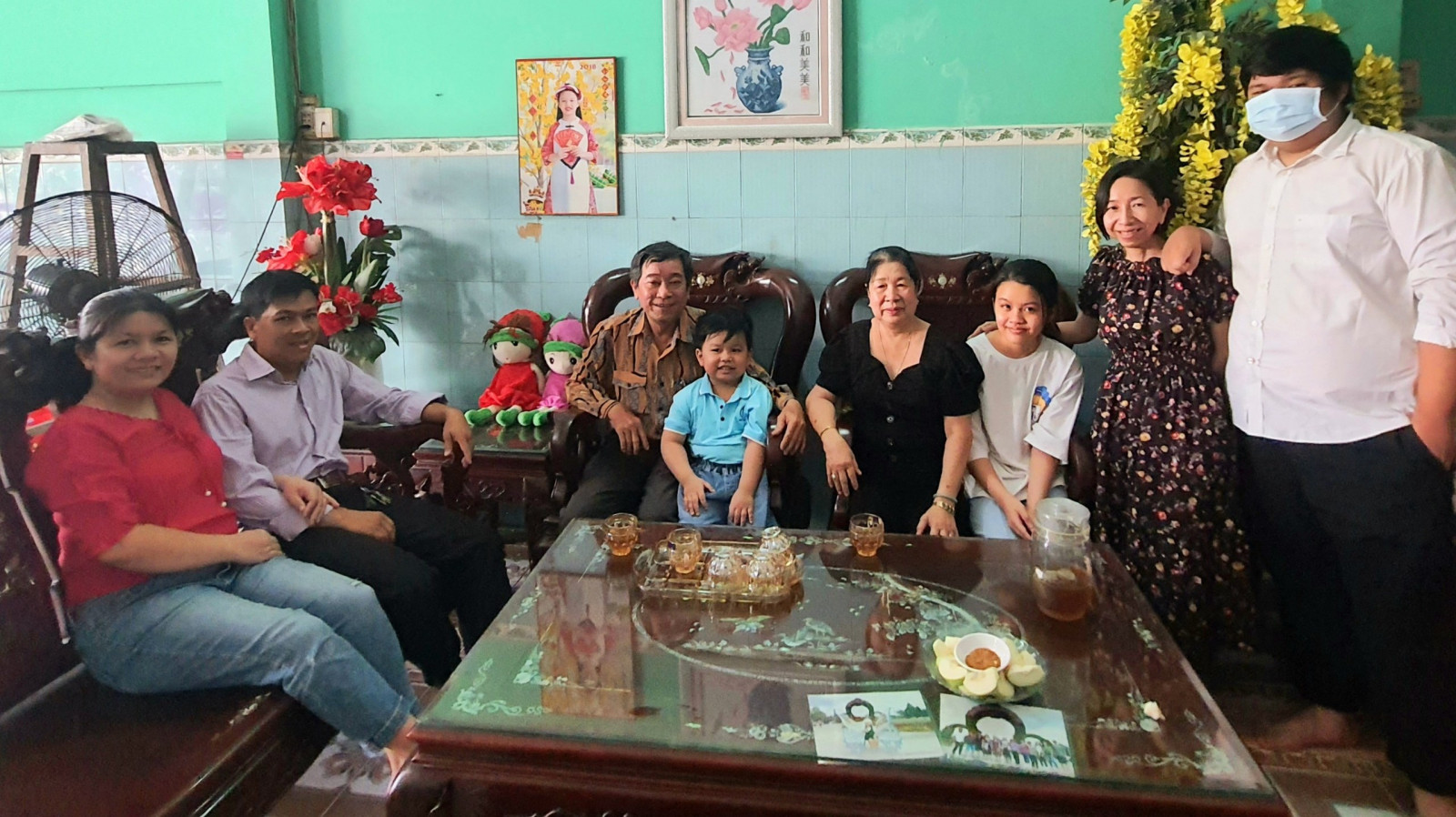 The family of 3 generations of Mr. Quy and Mrs. Nga has always maintained a harmonious and happy family atmosphere
Keeping the family routines
We went to Mr. Quy and Mrs. Nga's family at Group 1 of Chanh Loc 2 quarter in Chanh My ward in the middle of the afternoon when all family members were present. In addition to grandparents, the husband and wife, 2 children, and grandchildren were present. Perhaps that was also something quite special when coming to this family. Despite living together for many generations, the family still maintain a lifestyle that is worth learning for many people.
Sharing with us, Ms. Nga said that so far, the family has maintained the same lifestyle for many generations. Grandparents have 2 children who have their own families; and each small family has 2 children but they still live in the same house. The special thing is that despite living together for many generations, the family atmosphere is always cheerful, harmonious and happy. To achieve this, Mr. Vinh and Mrs. Nga both believed that it was a family tradition built up for many generations and grandparents always reminded their children and grandchildren to maintain to keep the family line. The happiest thing for the grandparents is to live with their children and grandchildren. Although they have their own families, the children, both the bride and the groom, always show love and get along very well when living under the same roof.
The spacious house of Mr. Quy and Mrs. Nga of 3 generations of 3 families living together is also the place where the family's cooking is located. That property has been built by the couple from the hard days with the unanimity and unremitting efforts of both husband and wife. Thanks to their hard work, the couple gradually tried and accumulated to get the results they are today. Later, she opened a cooking service that her husband and wife and the 2 children also quit working outside to come home to help her develop the service. Mr. Quy still drives a service car outside, but he always helps her whenever she needs help. The whole family altogether do business and live together, so the family atmosphere is always warm, reunited and happy.
Nga said: "When her mother was alive, it was 4 generations, now it is 3 generations living together. When the bride and groom are newly married, their aunts and uncles all sit down to talk so that the children understand the family's routines. The luck of the aunt and uncle is that the children and grandchildren are very understanding regarding their positions. Brothers and sisters would sit down for discussion if there was anything wrong. In order to educate their children and grandchildren, parents must always be exemplary."
Active contribution to the local
In the locality, Mr. Quy and Mrs. Nga's family is also very active in participating in movements, especially in the implementation of culturally civilized urban lifestyle with the mobilization of people to participate in environmental sanitation, planting ornamental trees in front of the houses for a greener, cleaner and more beautiful environment. In social charity activities, their families are ready to respond to the support of funds for the poor, funding for the youth union, gifts to people in need, COVID-19 prevention and control support, etc.
After retiring, in 2010, Ms. Nga was trusted and elected to be the Secretary of Chanh Loc 2 neighborhood until today. In order to do the job well during the past time, Mrs. Nga has always been mentally supported by her husband. During the recent COVID-19 epidemic, as the Secretary of the Neighborhood Party Committee, Mrs. Nga did not mind difficulties to actively contribute efforts to the locality to fight the epidemic through day and night. Mr. Quy also contributed and supported trucks carrying goods when needed by the locality. Their son is also a member of the local community COVID Team. The daughter joined the backing team to actively participate in activities to offer food and necessities to people in the neighborhood as well as in the ward.
As the breadwinner in the family, Mr. Quy never bothered with household chores. In addition to working hours, he has free time to help his wife with all the chores. Talking to us, Mr. Quy happily said: "From inside the house to the alley, if I see something that I can help, I do it. I share the housework with my wife to make her mentally happier. When husband and wife are happy, family happiness also becomes durable."
Mrs. Nga smiled and said on seeing us off: "Family happiness must be seen by oneself to foster together. What is good will be praised, what is wrong will be corrected. We have to see to encourage, share and support at all times. Aunts and uncles still maintain that regularly to teach their children and grandchildren what to do as the basis for building a happy family."
What Mrs. Nga shared is not only the secret to keep the fire of happiness in her family for over 40 years but also a good experience for other families to follow to contribute to construction of a "warm and full" family of equality, progress, and happiness".
Reported by Cam Ly – Translated by Vi Bao