On the afternoon of May 13, Ho Chi Minh city's Party Standing Committee held a working session with Binh Duong provincial Party Committee's delegation on a number of issues related to cooperation and mutual assistance, especially in strategic planning for breakthroughs on regional economic development; projects connecting traffic infrastructure between Binh Duong and Ho Chi Minh city.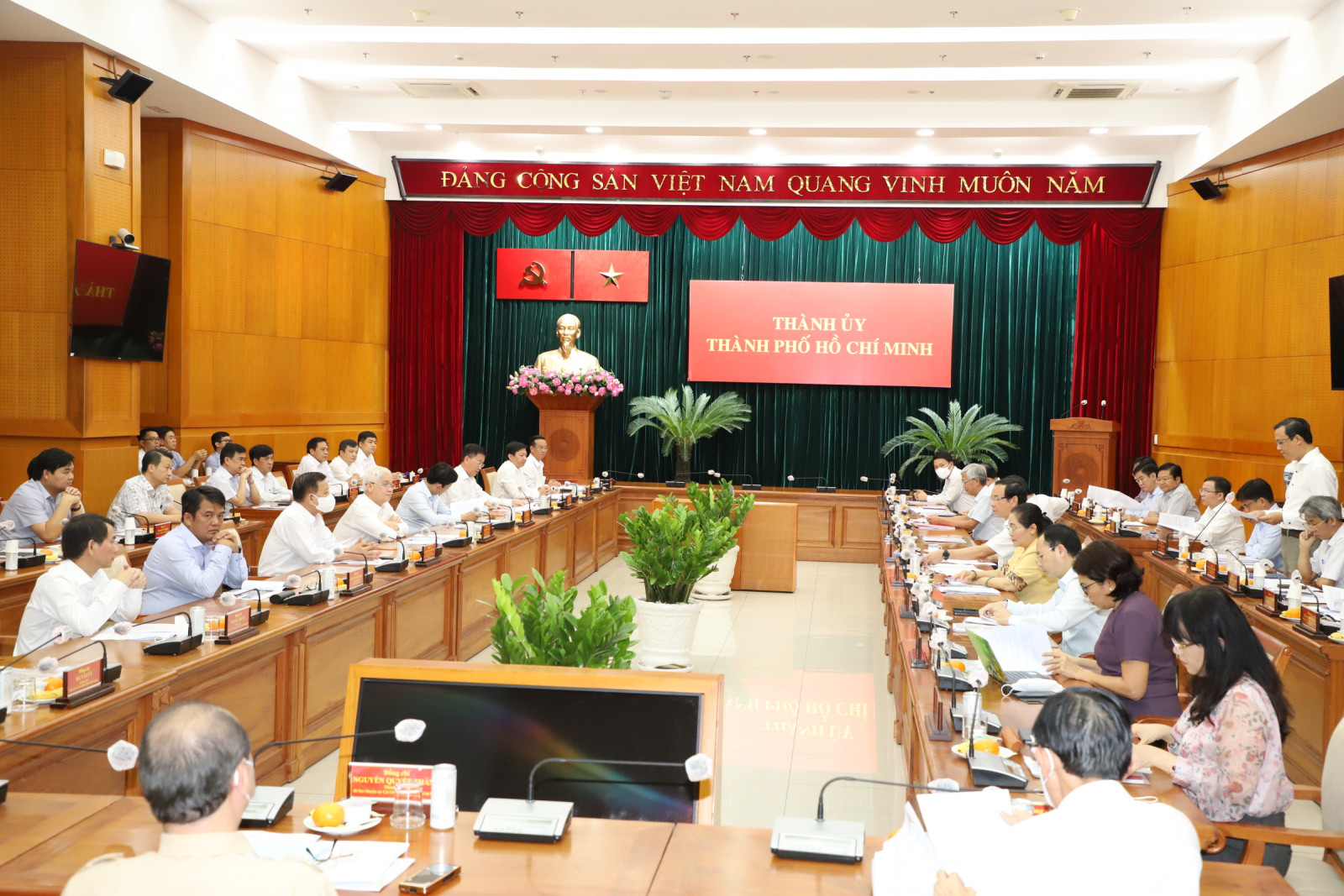 An overview of the meeting
The event was attended by Nguyen Van Nen, Politburo member, Secretary of Ho Chi Minh city's Party Committee; Phan Van Mai, member of the Party Central Committee, Chairman of Ho Chi Minh city's People's Committee. For Binh Duong province, there were Nguyen Van Loi, member of the Party Central Committee, Secretary of provincial Party Committee, Head of provincial National Assembly deputy delegation; Vo Van Minh, Vice-Secretary of provincial Party Committee, Chairman of provincial People's Committee.
Addressing the meeting, Mr. Loi said that over the past time, Ho Chi Minh city coordinated and created conditions for Binh Duong province to develop, connect infrastructure, and connect to develop regional economy for the two localities to develop together. Especially, leaders of the two localities closely coordinated in Covid-19 prevention and control. The city opportunely supported Covid-19 vaccines for Binh Duong.
Mr. Loi thanked Ho Chi Minh city for the affection and responsibility to the province over the past time. He said that in the coming time, connection requirements for the development of the Southern Key Economic Zone are very important, especially inter-regional traffic infrastructure and seaport infrastructure will be decisive for the development of Binh Duong province. The province wants to receive support from Ho Chi Minh city in connecting infrastructure, implementing important traffic projects with inter-regional connectivity.
Speaking at the meeting, Mr. Nen highly appreciated and agreed on the contents discussed by the two localities. He emphasized that the two localities have the same mission of construction and development. Ho Chi Minh city and Binh Duong continue the career left by previous generations; leaders of Ho Chi Minh city and Binh Duong over periods have coordinated to share, stick to, and create favorable conditions for the two localities and the entire Southern Key Economic Zone to develop.
He also reached unanimity with the contents petitioned by the two localities at the meeting to implement infrastructure development projects, expand development space, have links with other localities in the region. He said that the regular and consistent point of view is that there must be close coordination. It is necessary to establish a coordination mechanism in the region. Therefore, it is proposed to establish a joint working group between provinces and cities. He also suggested that the two localities should study and develop river tourism, bringing into play the advantages of Saigon River and increasing the connectivity of the two localities.
Reported by Tri Dung-Translated by Kim Tin