In order to raise the alert level of COVID-19 risk, agencies, units and local administrations in the province are strengthening medical declaration, along with promoting the role of leaders. In addition to encouraging medical declaration, the health authority is actively implementing a number of measures to prevent and control the pandemic in the current period.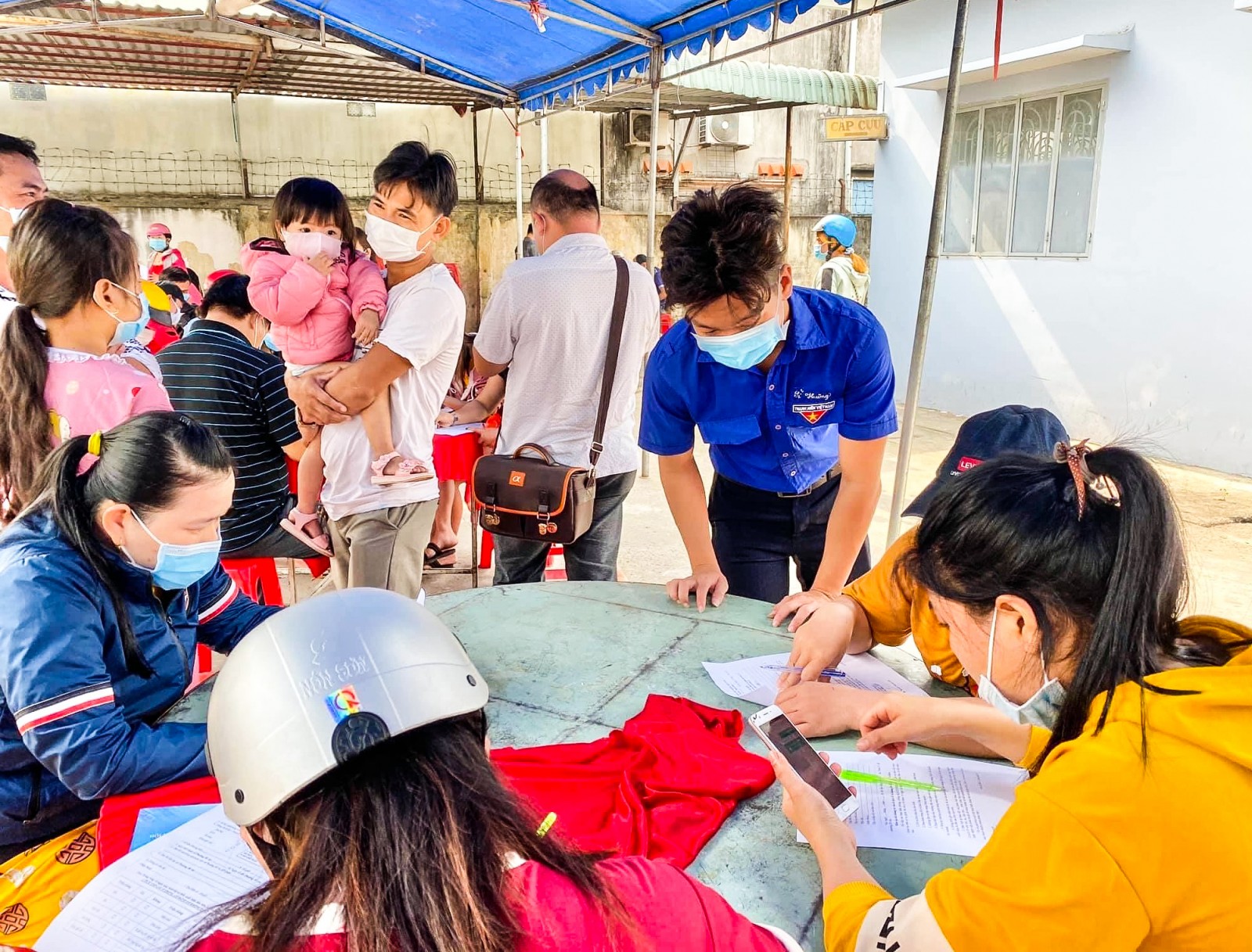 People returning from provinces and cities with COVID-19 outbreaks to Di An city must make medical declarations.
To boost medical declaration
At Medical station of Tan Dong Hiep Ward, Di An City, Ms. N.T.H., said her family actively went to the health station to make medical declarations, because during the last holidays, the family visited a relative's house in Binh Hung Hoa ward, Binh Tan district, Ho Chi Minh City. Although she only came to this location before April 29 and Binh Hung Hoa ward had not yet recorded any COVID-19 infections, Ms. H. actively declared health conditions and made self-quarantine at home according to the instructions. Ms. H. also said that after making a medical declaration, her family was informed by medical staff that they were not subject to mandatory quarantine and did not have to take samples for testing, but it was recommended to actively monitor their health conditions at home.
Thuan An city and Di An city are areas having large numbers of people returning from many provinces and cities throughout the country. From April 29 to now, Di An city has had more than 11,000 medical declarations. In which, the city sent 25 F1-cases to concentrated quarantine, 58 people made self-quarantine at home, and monitored health conditions of 128 other cases.
Referring to medical declaration, Dr. Nguyen Hong Chuong, Director of provincial Department of Health said: "Fulfillment and compliance with medical declaration is a very important disease prevention control measure. Therefore, all cases with common signs such as cough, fever for unknown reasons, or returning from an epidemic area must be declared at a medical center for advice. To monitor more effectively, the authority required health centers of districts, towns and cities to coordinate with local administrations to check operations of community-based Covid-19 groups and send daily report. In addition, the units also encouraged people within their locality to collaborate with Covid-19 teams to monitor and detect people in the community returning from epidemic areas without making medical declarations to have timely interventions".
To quickly implement disease prevention control measures
According to the direction of Provincial People's Committee, people returning from epicenters in the country to Binh Duong must make a medical declaration. Department of Health explain the form of medical supervision for people coming from domestic epicenters. Particularly at railway stations and bus stations, health authority cooperated with carriers to inform passengers of each trip about the prescribed medical supervision for people from epidemic areas, to encourage truthful declarations for medical support when needed. Passengers, who report coming from epidemic areas, will be arranged for medical declarations as soon as they get off the vehicle.
At agencies, units, localities, industrial parks, schools, companies, the head of each unit is in charge of informing and encouraging officials and worker to make medical declarations. If a unit has employees coming from epidemic areas, local health centers must be immediately notified for further treatment. For residential areas, health centers advise local Steering Committees for Covid-19 Prevention Control to arrange for people coming from epidemic areas to truthfully declare and carry out measures according to the guidance of provincial Center for Disease Control. At hospitals, medical examination and treatment facilities, all people who come to hospitals and clinics must make medical declaration via medical declaration software. Other cases need to declare on tokhaiyte.vn software of Ministry of Health.
Dr. Nguyen Hong Chuong said, health sector collaborated with relevant units to counsel People's Committees of districts, towns and cities about enhancing the check of all existing and expanded quarantine areas to respond promptly to the escalating epidemic situation in the near future. It is expected that the province will meet the quarantine demand of about 10,000 people.
"Local health centers have coordinated with the police and army to strengthen the inspection, detection, management and handling of high-risk subjects returning from epicenters throughout the country, especially those entering the country illegal; conduct concentrated isolation at least 21 days for F1 and take samples for testing; isolation at home, where F2 cases reside. Sampling for testing of F2 cases depends on actual conditions and epidemic situation. The health authority assigned Provincial General Hospital to prepare human resources, material facilities and equipment for the treatment of COVID-19 patients; to be ready to immediately start up field hospital at Department of Pulmonary Tuberculosis - Psychiatry (Phu Chanh Ward, Tan Uyen Town), to clean up, sanitize, arrange human resources and equipment to receive cases", said Dr. Nguyen Hong Chuong.
Reported by Kim Ha - Translated by Ngoc Huynh