In the past few days, in response to Workers' Month, many meaningful gifts have been given by the government, trade union organizations at all levels in the province, businesses and benefactors to union members and workers having difficult circumstances. The activities have contributed to sharing difficulties, helping union members, and workers overcome immediate difficulties, stabilize their lives.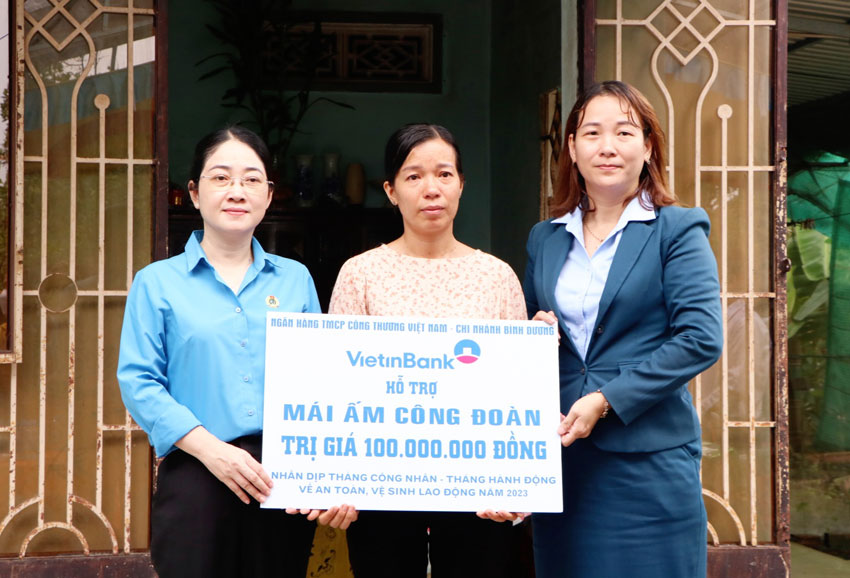 Leaders of Provincial Labor Confederation and the sponsor Vietinbank Binh Duong Branch present a support from "Trade Union shelter" program to union member Nguyen Thi My Van.
Help union members settle down
Nguyen Thi My Van, a teacher at Huynh Van Luy Junior High School (Tan Uyen City) who has a difficulty in housing, was very touched when she received support from the "Trade Union shelter" program of Provincial Labor Confederation. Ms. Van's family situation is very difficult after her husband died of incurable disease nearly 2 years ago. She and her two children live in a small house built in 2000, it has deteriorated, cracked walls, subsided floors, and punctured corrugated iron roofs in many places... She herself is often sick due to heart failure and rheumatism. Meanwhile, the family's income is limited with only about 8 million VND/month, so they cannot afford to repair their house.
The family situation of teacher Cao Dinh Thi, a teacher of Dat Cuoc High School (Bac Tan Uyen district) is also miserable. In 2021, with the family's savings and loan borrowed from a bank, the family bought a small piece of land in Tan Dinh commune, so far still repay the bank's loan, so it is not possible to build a house. Mr. Thi said, with his salary of VND7 million/month, their lives are difficult, and his wife has quit her job due to payroll downsizing. The teacher and his wife raise 2 children, the whole family lives in a narrow and needy house of Dat Cuoc TH School.
Mr. Thi and Ms. Van have long wished to have money to repair and build a new spacious house so that their growing children have better learning conditions... Knowing about the difficult situation of these trade union members, Provincial Labor Confederation mobilized supports of units and enterprises to help the needy persons settle down. Therefore, Vietinbank Binh Duong Branch supported to build a house with a total cost of VND 100 million, Vietcombank Binh Duong Branch donated more than 120 million VND to repair and build a new house for Mr. Thi.
"I am really happy that my dream of making the house more spacious has come true. I would like to thank all levels of government, trade union organizations, sponsors for helping my family," said Ms. Van emotionally, crying and choking.
Share difficulties with workers
Also in the past few days, leaders of the government and trade unions at all levels in the province have visited and given gifts to workers having difficult circumstances at enterprises and in lodging houses. At Ngoc Suong lodging house (Thuan Giao ward, Thuan An city), Huynh Thi Yen Nhi, a worker of Signal Co., Ltd., who has a difficult family circumstances, was very happy when the provincial leaders and provincial Labor Confederation came to her place to encourage and give gifts to the family. Nhi has a nearly 2-year-old daughter with a total left cleft lip and jaw which has had surgery. Her husband is a freelance worker, so his job is not stable and his income is also precarious. Her salary for many months has also been decreased due to the company's difficulties in orders, workers had to reduce working hours.
"My family is very touched when authorities at all levels and trade unions come to visit, encourage, and give gifts. The gifts including necessities, free medical check-ups, and cash are very meaningful to my family at this time," said Ms. Nhi emotionally.
Diep Quang Chau, a worker of Fabtek Vietnam Co., Ltd (Tan Uyen City), is also a disadvantaged person and received gifts from local leaders and Trade Unions. Mr. Chau has been suffering from pituitary adenoma since 2015, has to undergo radiation therapy twice a year at a cost of 4 million VND/time. He is the main breadwinner in the family, provides for his wife, three young children, and elderly parents with leprosy. The whole family lives in a house lent by Ben San Leprosy Treatment Center (Tan Uyen City, they only have to pay for electricity and water bills each month about 500,000 VND.
Empathizing with his situation, the company's grassroots trade union actively proposed the company's Board of Directors to arrange a job suitable for his health, helping him to have an income to take care of his family and treat his illness. Mr. Chau said that when he received the encouragement and gifts from leaders of the government and trade unions, he felt energized. The support gifts helped him to lessen difficulties, feel optimistic, confidently overcome the disease, and continue to work.
Nguyen Liem, Chairman of Directors Board of Lam Viet Joint Stock Company (Tan Uyen City) said: "In addition to the company's caring regimes, we are very grateful when leaders of the government and trade unions at all levels always accompany, visit, and encourage businesses and workers, especially those having disadvantaged circumstances. These activities have further motivated us and the company's employees to continue overcoming immediate difficulties, feel stress-free to work and develop production."
Reported by Do Trong - Translated by Ngoc Huynh