To support disadvantaged children and families severely affected by the Covid-19 pandemic to recover their normal lives, Binh Duong has done many activities and programmes. In particular, project "Emergency response to reduce the impact of the Covid-19 pandemic" (referred to as the project) has brought about positive results.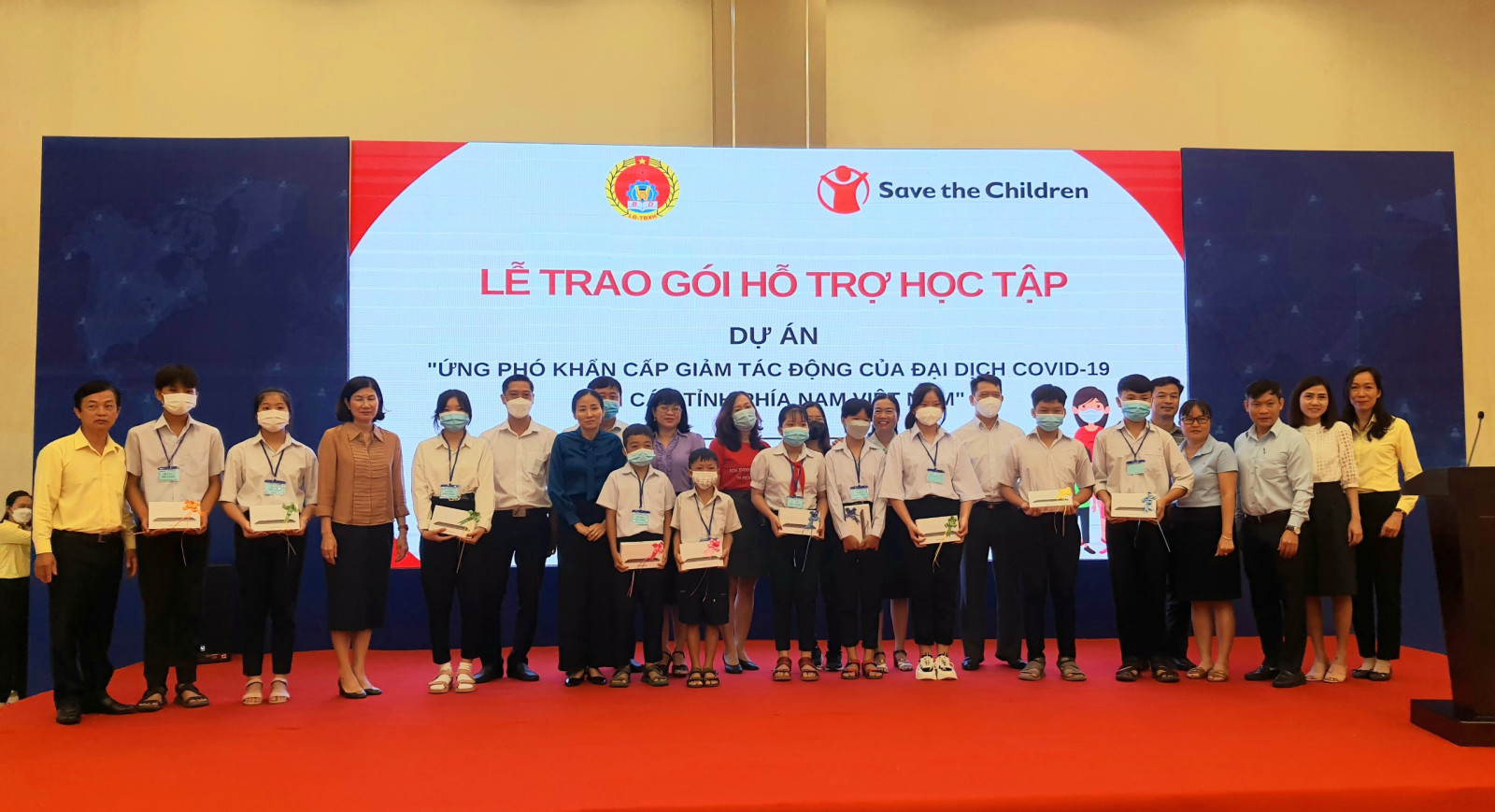 The project in Binh Duong province offered tablets to 101 children for e-learning with a total cost of more than 410 million VND.
To timely support
Nguyen Ngoc Phi An (living in hamlet 1, Lac An commune, North Tan Uyen district) has a pathetic circumstance. His family is a near-poor household. An's father works as a hired hand, and his mother weaves fans to make money. Their income is meager, hence it was very tough for their two young children to pursue education. As receiving the financial support from the project, Nguyen Thi Ngoc Anh (An's mother) was very happy. She said, "During the fourth Covid-19 wave, the prolonged isolation time made people's lives fall into difficult circumstances, especially poor, near-poor, and disadvantaged households in my commune. Therefore, families have received the attention and support from the authorities and sponsoring organizations, thereby lessening their hardship.
Truong Thi Thu Thuy (born in 2009, living in An Binh commune, Phu Giao district) also has an extremely sad circumstance. Her mother left when she was 3 years old, Thuy's father Truong Trung Truc must feed and clothe two young children and an elderly mother. With an unstable income, the family often got into precarious situations. Since Save the Children International (SCI) in Vietnam and Binh Duong Provincial Children's Fund provided a 6-million-VND grant for their livelihoods raise chickens, Thuy's family has raised chickens and has a more stable life. To help Thuy overcome difficulties and get education, a program was jointly implemented by Becamex Corporation, Binh Duong Radio Television Station, and Children's Fund to visit and gave 20 million VND support to Thuy family.
In addition to Thuy and An, the project has carried out a welfare support package, including food and learning equipment, to 336 households and children with a total cost of more than 1.1 billion VND. Support money were given in person and delivered by post from February 23 to August 17, 2022.
According to Nguyen Ngoc Hang, Deputy Director of the Provincial Department of Labor, War Invalids and Social Affairs, Head of the Project's Steering Board, the project has been realized since January 2022 to August 2022 to support children living in hardship and families severely affected by the Covid-19 pandemic to recover their lives. The project includes 6 main interventions: food support; welfare support; medical support; livelihood support; learning media support, and children's communication material support in emergencies.
Dedicated and enthusiastic to children
The Covid-19 outbreaks in the past two years have had consequences for children. Therefore, childcare needs more attention in more forms. Therefore, the project is a meaningful activity to help reduce difficulties for households, especially children.
Vo Van Dung, Deputy Secretary of the Party Committee of Uyen Hung ward (Tan Uyen Town), said that to leave no one behind, Party committees, authorities, members organizations and individuals have been doing their best to repel the Covid-19 and take care of people affected by the pandemic. It was an honour to be selected by SCI Vietnam, Provincial Children's Fund, and Tan Uyen Town leadership to give a welfare support package under the project to help households affected by the Covid-19 overcome the difficult period and return to normal life.
Sharing the same view with Vo Van Dung, Le Minh Chi, Vice Chairman of An Binh commune People's Committee in Phu Giao District, said that the SCI Vietnam and Provincial Children's Fund's care of disadvantaged people who faced difficulties during the Covid-19 pandemic have helped them feel heart, have more faith and motivation for a better life.
Nguyen Ngoc Hang said despite some difficulties, the project was successfully implemented, promptly supported more than 300 households and children having difficult circumstances. This is the result of the attention, leadership and direction of Department of Labor - Invalids and Social Affairs; the coordination and support of departments and unions; the attention and support of Labor - Invalids and Social Affairs Offices, People's Committees of districts, towns and cities; and the dedication and enthusiasm of collaborators at communes, wards and towns… In particular, the sharing, support, and guidance of SCI Vietnam during the project implementation plays a very important role.
Reported by Thuc Van - Translated by Ngoc Huynh