Despite going through a tumultuous and difficult year of 2022, Binh Duong's economic growth continued leaving many imprints with a highlight being the result of attracting FDI capital that was still in the top position of the country. With many efforts, Binh Duong has affirmed its attractive advantages in FDI attraction. This is also a preparation for the province to enter 2023, with the goal of improving the quality of FDI inflows.
Being proactive in investment selection
According to provincial Department of Planning and Investment (DoPI), in 2022, Binh Duong was expected to attract about US$ 1.8 billion in FDI capital. In particular, province-based industrial parks (IPs) strived to attract US$ 1.2billion-US$1.3 billion in FDI capital, and VND 1.1trillion - VND1.2 trillion in domestic investment capital. As a result, by the end of 2022, the province attracted US$3.14 billion (up 48.8% over the same period). For province-based Ips, they attracted more than US$2 billion in FDI capital. Up to now, the province has lured over 4,080 FDI projects with total capital of nearly US$ 40 billion.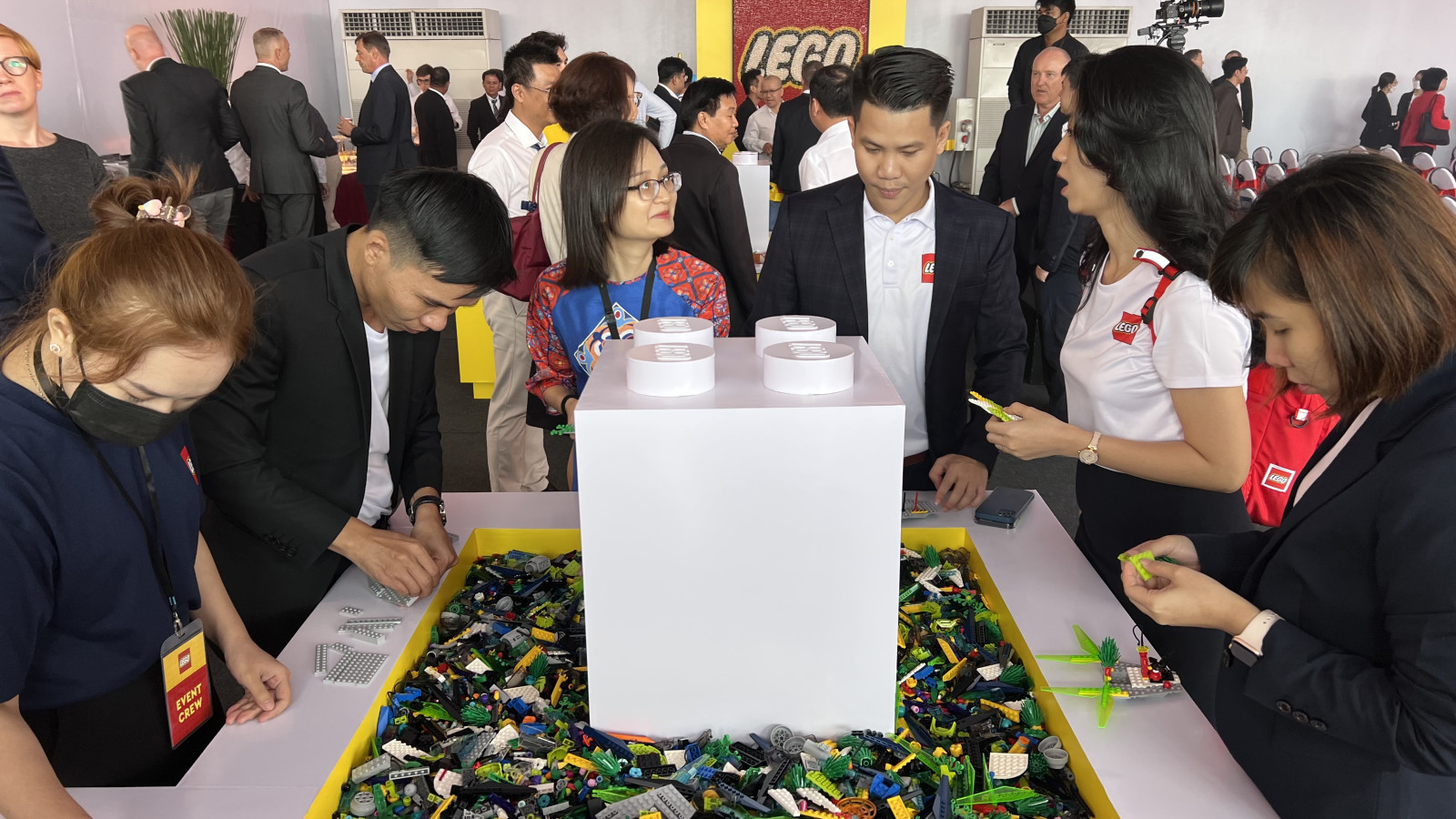 Lego Group's intellectual toy products displayed at the groundbreaking ceremony of its factory in VSIP III
It is no coincidence that even in the most difficult times, investors still come to Binh Duong. The ability to effectively control the Covid-19 pandemic, the investment environment greatly improved, businesses placed in an increasingly higher position with guarantees of long-term interests, modern and synchronous infrastructure... are solid fulcrums for investors to feel secure. But, in order to have more and more large-scale and quality projects, the province must implement many synchronous solutions in the new situation.
According to Assoc., Dr. Hoang Vinh Long from the Party Central Committee Office, thanks to upholding the factors of "Clement weather and favorable terrain", Binh Duong has taken the initiative and boldly seized the opportunity to exploit favorable geographical factors, well implement reform on administrative procedures, creating an open environment... has created Binh Duong brand in investment attraction. Besides those bright spots, the province's picture of attracting FDI into high-tech industries still has deep colors when the countries investing in the province mainly come from the Asian region with scientific and technical development that is not high. The province's main export products are still home furniture products, garment-textile items, leather shoes…They are labor-intensive industries without high technology content...Therefore, Binh Duong needs to supplement new policies to increase the efficiency of attracting FDI in high-tech industries.
Nguyen Van Danh, Vice-Chairman of provincial People's Committee said that many solutions to attract quality FDI inflows are being promoted by Binh Duong in the coming time. In particular, the province will still focus on creating favorable conditions for investors, upholding advantages about the local stable investment climate with favorable location while enhancing competitiveness from improving the local business climate, labor resources, infrastructure facilities... Especially, before granting investment licenses, functional agencies should focus on selecting, appraising the feasibility of projects and assessing investors'financial capacity and reputation; resolutely reject projects that have poor quality, are inefficient and not in line with the province's orientation.
New opportunity
There are now 65 countries and territories registering to invest in Binh Duong. Among them, countries and territories in Asia have total investment capital accounting for more than 75% of the province's total investment capital. This shows that Binh Duong needs more effective solutions to attract FDI enterprises from more developed areas. Being well aware of this, the province has continuously organized investment promotion seminars from developed countries such as the US, EU, the Netherlands, Denmark, Belgium, France, Australia...
Binh Duong is gradually moving to attract high-quality investment capital. Notably, many European investors from Denmark, the Netherlands, France…are choosing Binh Duong as a "base" for production. In 2022, among countries and territories making investment in Binh Duong, Denmark took the lead with a large-scale Lego project with total investment of over $1.3 billion, accounting for 42.8% of total investment capital flowing into the province.
According to Pham Trong Nhan, Director of provincial Department of Planning and Investment, Binh Duong has determined that 2023's goal is to strive to attract US$ 1.8 billion in FDI, further giving priority to FDI attraction with high-technology industries that are less labor-intensive with high added value. To achieve this goal, the province persists in the view of attracting foreign investment selectively towards quality and efficiency, with focus on potential partners from Japan, Singapore, Europe... to cooperate, receive technology transfer, take advantage of the ability to spread to the domestic industry. The recent appearance of large investors, especially those from Europe has demonstrated the province's high-quality and increasingly attractive investment climate.
Mr. Danh said that Binh Duong is constantly improving the local investment climate, enhancing competitiveness and strengthening support for the development of enterprises in the province through completing the local socio-economic infrastructure system. Provincial leaders together with leaders of departments and sectors of the province have always created favorable conditions for investors and promptly solved their difficulties, helping them operate effectively. The province want that foreign investors will continue choosing Binh Duong as an investment destination with attachment for a long time.
Nguyen Van Danh, Vice-Chairman of provincial People's Committee: In the overall socio-economic development strategy of the province, FDI capital has a very important position and role in the structure. The task is that Binh Duong province needs to further improve the local investment climate to attract FDI capital, creating all favorable conditions for existing FDI enterprises to develop effectively. For a point of view in investment attraction, the province will cooperate in selective investment to contribute to economic restructuring; giving priority to attracting high-tech and new-tech projects, using and creating a source of clean, environment-friendly energy; focus on calling for large-scale projects with highly competitive products to join the global value chain, thereby receiving technology transfer, building and developing the province's auxiliary industrial system.
Reported by Ngoc Thanh-Translated by Kim Tin