After the Ministry of Education and Training (MOET) announced average test scores of High school graduation exam 2022, the top 3 provinces having the highest average scores in the country has been revealed. Accordingly, Binh Duong continues to be in this top 3. This is a commendable result, acknowledges efforts of Binh Duong provincial education branch after a special year affected by the pandemic.
To overcome difficulties
High school graduation exam 2022 took place after a special school year due to the influence of the Covid-19, and Binh Duong was a pandemic-hit center. To achieve the best results for the exam, Provincial Department of Education constantly gave directions and guidances for schools to implement many measures to improve the teaching and learning quality.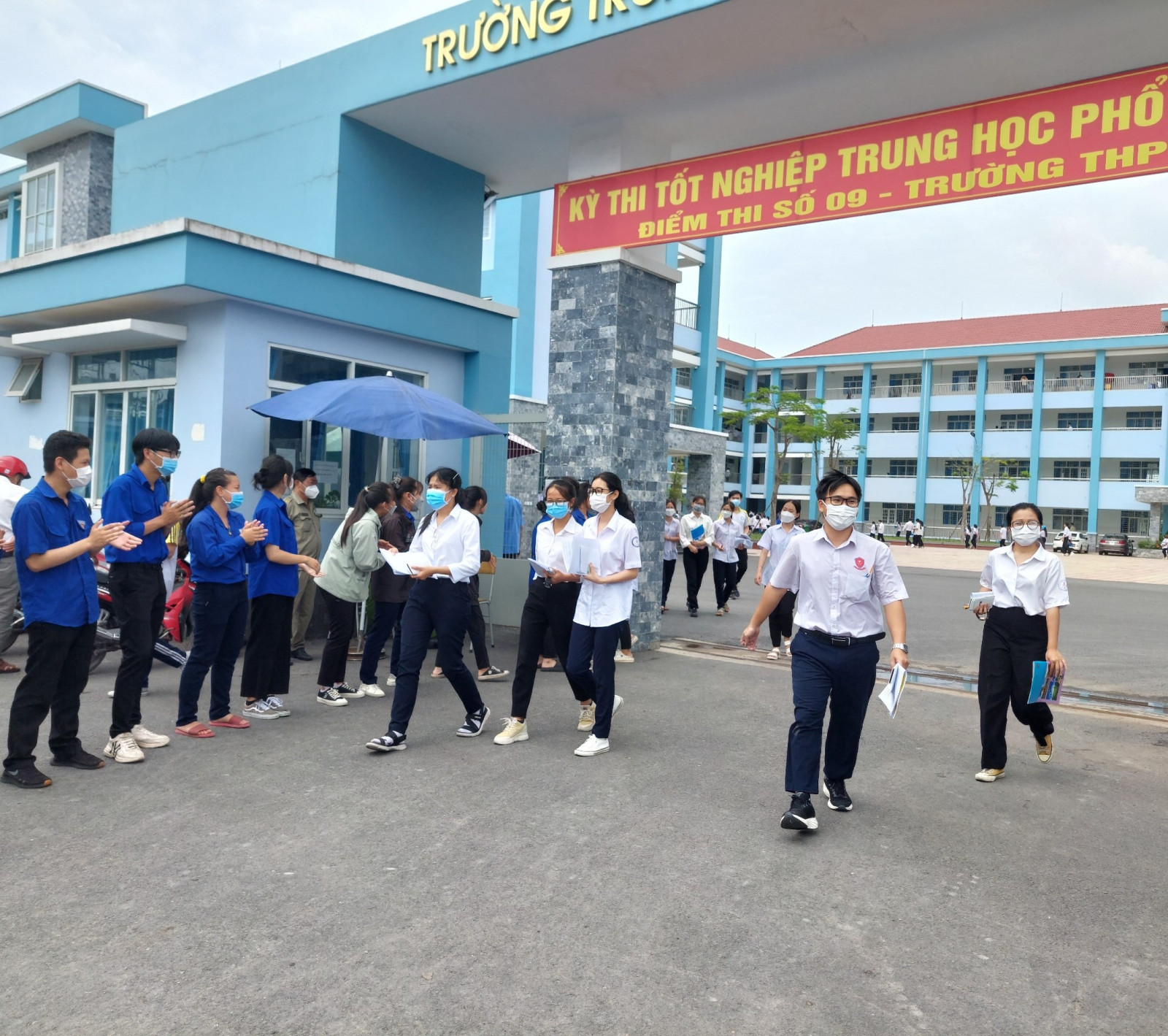 Binh Duong fulfills the High school graduation exam 2022.
With the determination of all teachers and students, after students returned to school, the Department of Education directed schools to race against time; on the one hand, to review and fill knowledge gaps due to the process of online learning, provide new knowledge to successfully complete the syllabus, help students have enough knowledge to take the exam. Department of Education also invited experienced faculty of Ho Chi Minh City University of Pedagogy to train for all teachers, who were directly taught subjects of the graduation exam, in professional knowledge, forms of exam questions, multiple choice tests to help students understand the exam content and form prescribed by MOET.
In addition, the Department of Education required schools to follow closely model exam questions of the MOET, encouraged teachers to research and compile exam questions for teaching and learning at school. To organize knowledge review and test students regularly and periodically for students to become familiar with the content, structure of the high school graduation exam.
Nguyen Thi nhat Hang, director of the Provincial Department of Education, said this year was a special school year, because the pandemic affected the learning as well as the psychology of teachers and students. Teachers took part in anti-pandemic works and did teaching at the same time; there were over 7,000 teachers involved in anti-pandemic works at all lines, hundreds of teachers had infection. Face-to-face learning had to change into online learning for quite a long time. Then, schools had to combine online and direct learning, making it very difficult and affecting the psychology and quality of training for 12th-grade students taking the exam this year.
"With a year full of so hardship, the achieved result, ranked third nationwide, is a the effort of the whole education branch of Binh Duong province. Based on the evaluation from preparation stage to testing, invigilation, marking process, combined with the actual situation of the graduation exam, exam results of Binh Duong province is very commendable," she said.
To continue being in the top
On 24 July, Ministry of Education announced results of the 2022 High school graduation exam. Accordingly, Binh Duong still is in the top 3 localities having the highest scores of the country, after Nam Dinh and Vinh Phuc, with the average score is 7,021 (in 2021 Binh Duong led the country). Binh Duong reached the second highest average score in subjects of English and Math, with average scores of 6.250 and 7.145.
According to the report of Department of Education, the marking committee consisted of 14 members, with the number of exam papers of 35,792. Essay marking committee consisted of 95 members, handled 12.640 exam papers with 19,603 sheets. According to the results of Binh Duong examination council, the number of papers with scores above the average of Literature was 12,443, reaching a rate of 98,44% (in 2021 reached 96,47%); Math had 12,070 papers, reaching a rate of 95,15% (in 2021 reached 93,96%); English had 7.951 papers, reached 76,84%…
At the high school graduation exam 2022, Binh Duong had 72 exam papers scroing 10 points. Civic education, History and English had the most 10 points in this year's exam. Namely, civic education had 48 ten-point papers, history had 11, English had 6, geography had 3, chemistry had 2, physics had 1. High school graduation rate of the province in 2022 reached 99,73% (in 2021 reached 99,31%). Graduation rate for public high schools was 99.98%. Graduation rate for non-public high schools was 99.98%. Graduation rate for continuing education schools was 98.83%.
Binh Duong had more than 12,000 contestants that sat the high school graduation exam 2022. Binh Duong Exam Board has completed the marking and send the results to the MOET on schedule, while preparing the infrastructure and information technology to publish scores on 24 July uninterruptedly, prevent network congestion.
From 22 July to 20 Aug, candidates, may register, change, and add more online applications for university admission on the enrollment support system of the MOET, or on the national portal of public services.
Reported by Hong Phuong - Translated by Ngoc Huynh