Currently, the application of high-tech agricultural production in association with the restructuring of the agricultural sector is an inevitable direction. Bac Tan Uyen district has recently focused on implementing many solutions to develop high-tech applications to improve the productivity, quality and competitiveness of agricultural products, contributing to increasing income per unit of the cultivated areas.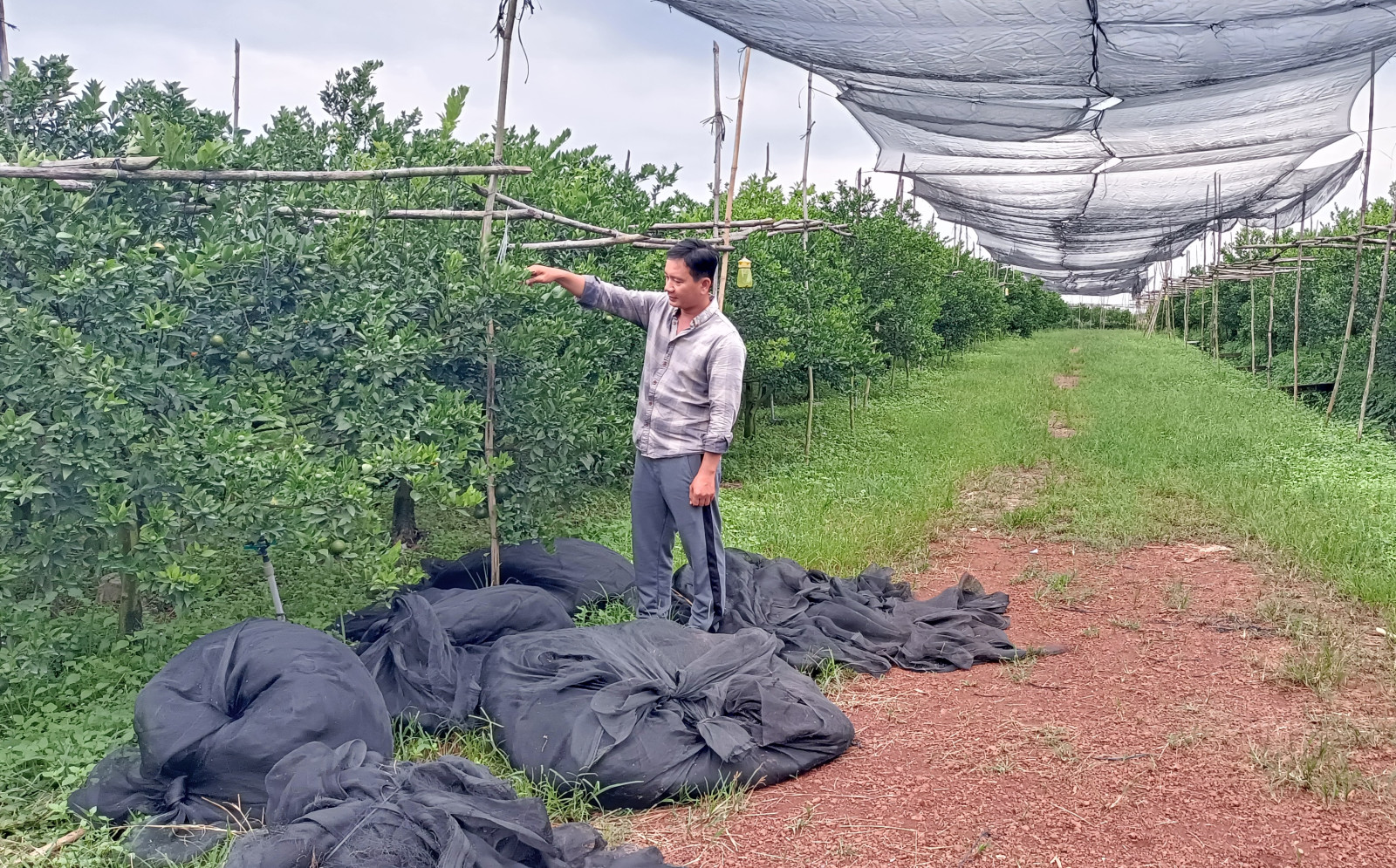 Applying high technology to agricultural production to increase productivity and create clean agricultural products, farmers can make crops at will. In the photo: The tangerine garden of Lam Thanh Tinh farm in its preparation for the harvest in April 2023
Quality increased
Bac Tan Uyen has very favorable natural conditions for the development of high-tech agriculture. In recent years, thanks to the active implementation of many policies and measures, the development of concentrated breeding areas and specialized citrus fruits applying high technology initially brought encouraging results.
Visiting the citrus fruit farm with automatic irrigation system of Lam Thanh Tinh at Cay Dau hamlet of Hieu Liem commune, we see quite clearly the prospect of economic efficiency thanks to the application of high technology in agricultural production. Regarding the 6-hectare tangerine garden that will be harvested in April 2023, Lam Quang Binh - the farm manager, said: "The Tet crop for this year is not well priced, so we focus on the after Tet crop. Thanks to the application of science and technology to farming, we can do what we want, no longer depend on the weather. In addition, farmers can grasp market movements to actively produce. The farm applies an automatic irrigation system, so costs, manpower, productivity and quality are all increased."
According to Binh, in addition to growing sugar tangerines, the farm also has 25 hectares of oranges and sweet oranges at Chanh Hung hamlet, all of which are produced according to VietGAP standards and applying high technology. The average output is 30 - 50 tons a hectare, the profit is billions of VND per year, the output market is always stable. According to Nguyen Huu Hieu - Chairman of Association of Farmers at Hieu Liem Commune, the trend of high-tech agricultural production has been widely applied by farmers in the district and Hieu Liem commune. In addition to propagating and guiding people to apply science and technology, local authorities create favorable conditions for land fund and develop appropriate support mechanisms for people to develop and replicate.
Not only was high technology applied to key products of citrus fruit, the district also focuses on developing other high-tech farming models such as abalone mushrooms, bananas, and cantaloupe, which have yielded positive results. In the field of breeding, a confinced chicken and duck breeding model appears, typically the cold chicken farm of Nhan Duc Cooperative at Hieu Liem commune – the terrestrial duck farming in Lac An and Dat Cuoc communes. Up to now, more than 102 farming farms on a total area of ​​more than 1,400 hectares have been established; more than 60 farms and livestock farms, of which 28 operate under the model of cold and confined farms on more than 250 hectares of production area have met VietGAP and organic standards.
Focal problem solving
Although the district has planned livestock and farming areas and initially formed high-tech agricultural models, the output of agricultural products is not really sustainable thanks to that. Developing high-tech production models requires large investment capital resources, strict production processes of high knowledge content, sales, and a large and stable consumption market have been sustained. Therefore, the district will continue to create favorable conditions in terms of mechanisms and policies for enterprises and cooperatives to invest in hi-tech agriculture, and form concentrated commodity production areas to develop advantage of each locality.
Nguyen Van Thuan - Head of Economic Division of Bac Tan Uyen District, said: "The province has a number of policies such as the provincial Development Investment Fund to support investment in technical infrastructure, machinery and equipment, and plant and animal varieties, costs of buying technology, buying copyrights, and new products etc. the maximum loan limit is 70% of the total investment capital of the project, and the loan term is 8 years. The science and technology development fund has a loan limit equal to 70% of the total investment capital of the project, but not more than VND 10 billion with a loan term of 5 years. As for collective economic development fund, loan limit is supported by 70% of total investment for medium-term loans and short-term loans 80% at the current loan interest rate of about 4% a year. Enterprises and cooperatives need to build appropriate means to access these policies."
Thai Thanh Binh - Secretary of the district Party Committee, Chairman of the People's Committee of Bac Tan Uyen district, said: "The district focuses on gradually restructuring the agricultural production sector in the direction of prioritizing the development of animal husbandry and concentrated cultivation, having a large scale and applying high technology, increasing the proportion of livestock and agricultural services, maintaining and developing advantageous agricultural products of the district. The development of industry and agriculture with high technology application will lead to the development of various types of commerce and ancillary service industries, creating a driving force for the economic development of the district."
In the first nine months of 2022, the district has implemented three models of applying advanced science and technology to production including the demonstration model of organic bamboo cultivation for four-quarter bamboo shoots that has been delivered with seeds, materials, and survival rate of over 96%. "The demonstration model of high-tech application of economical irrigation system in production" is under continual monitor of the operation ability while the "bio-safe meat-oriented hybrid chicken breeding demonstration model" prepares to deliver seeds and materials to farmers.
Reported by Tien Hanh – Translated by Vi Bao