Always keeping the flame of passion, enthusiasm for the profession, and tireless efforts with the desire to get students to knowledge, Ms. Hoang Thi Hien (in photo) – a teacher of Minh Thanh Primary School constantly creative in teaching knowledge, and finding new methods to help students promote their positivity, initiative and passion for learning. Ms. Hien is also one of the teachers who have just been awarded a certificate of merit by the provincial People's Committee for making many contributions to the cause of education and training in 1982-2022.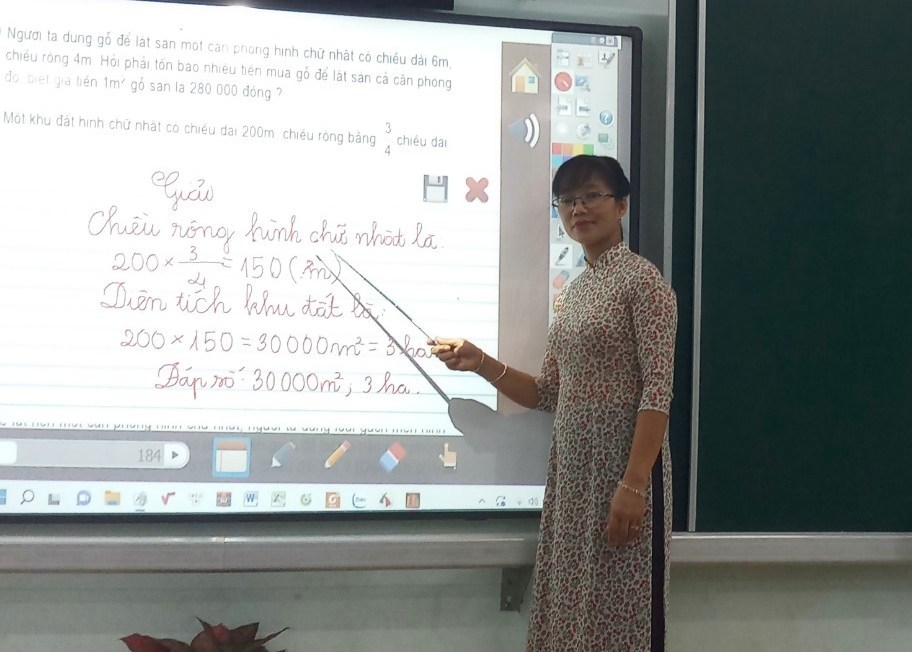 Meeting Ms. Hoang Thi Hien at the ceremony to celebrate the 40th anniversary of Vietnamese Teachers' Day organized by the Department of Education and Training, I have many good impressions about her. This year's charter season for Ms. Hien will probably be a memorable and enjoyable one as she has just received a certificate of merit from the provincial People's Committee in recognition of her contribution to the cause of education in the province over the past time. Hugging a bouquet of fresh flowers, Ms. Hien told us that she was born and raised in her hometown of Thai Binh, then followed her father to Binh Duong to live, work and stay with until now. In 1994, she graduated from Song Be Pedagogical College and was assigned to work at Minh Thanh Primary School.
Minh Thanh Primary School is located in a remote area of ​​Binh Duong province, the life of the local people is still very harsh, and the learning of students is somewhat limited. Understanding that, and ưith 28 years of working in the profession, in the process of teaching, she always conveys her experience and knowledge to students with all her heart and utmost care. She is always concerned with letting students have a comfortable mentality, not being constrained and stressed in every class. Besides, they also have to be self-disciplined, creative, and well-accepting knowledge right in the classroom. These things have motivated her to do research on her own and come up with many initiatives and scientific topics. Ms. Hien said: "Being on the teaching position and meeting children every day is a source of happiness and motivation for me to strive. I do research to create many new teaching methods so that every day going to school is a joy for students. As President Ho Chi Minh had taught: "Every teacher is an example of morality, self-study and creativity". Immersed in President Ho Chi Minh's thought, I always remind myself to strive tirelessly to constantly cultivate and perfect myself."
With the spirit of "All for the dearest students", in the teaching process, Ms. Hien always actively explores, and learns from colleagues' experience and constantly innovates her teaching methods. Her classes always attract students in learning. From the point of view that a teacher not only teaches with knowledge but also has love for students, she has timely encouraged and promoted students' passion for learning. She also actively understands the situation of each student to promptly encourage and help them overcome hard times and continue to go to school.
With 28 years of working in the profession, Ms. Hien is considered by everyone as a typical, enthusiastic teacher who is always at the forefront of all school activities. She has always been a teacher who loves her job, has good professional competence, and is wholeheartedly devoted to her work with a simple life and always getting along with everyone, so she is loved by colleagues and students, and trusted by parents. In professional activities, she always successfully completed her tasks with 13 consecutive years of winning the title of grassroots emulation soldier, and 2 years of winning the provincial emulation. For many years in a row, she has won the title of excellent teacher at district level and has many initiatives to win provincial prizes. All of this is encouragement and recognition of her merits for the education sector.
"The certificates of merit awarded over the years are encouragement and recognition of the merits of our teachers. But perhaps the happiest thing for us is to see the growth of our students, to see them grow and succeed. This is also the motivation for teachers like us to continue to dedicate and fulfill the mission of educator to bring future owners to the horizon of knowledge," said Ms. Hien.
Reported by Hong Phuong -Tu Binh – Translated by Vi Bao