Binh Duong has strengthened and expanded its external activities, international cooperation to be of service to the goal of socio-economic comprehensive development. The province successfully hosted many international events, gave a good impression on politicians and partners, thus Binh Duong's reputation is growing. After the success of Horasis Meetings in 2018 and 2019 in Binh Duong, this weekend the Horasis India Meeting - Economic Cooperation Forum 2022 will take place in Binh Duong province.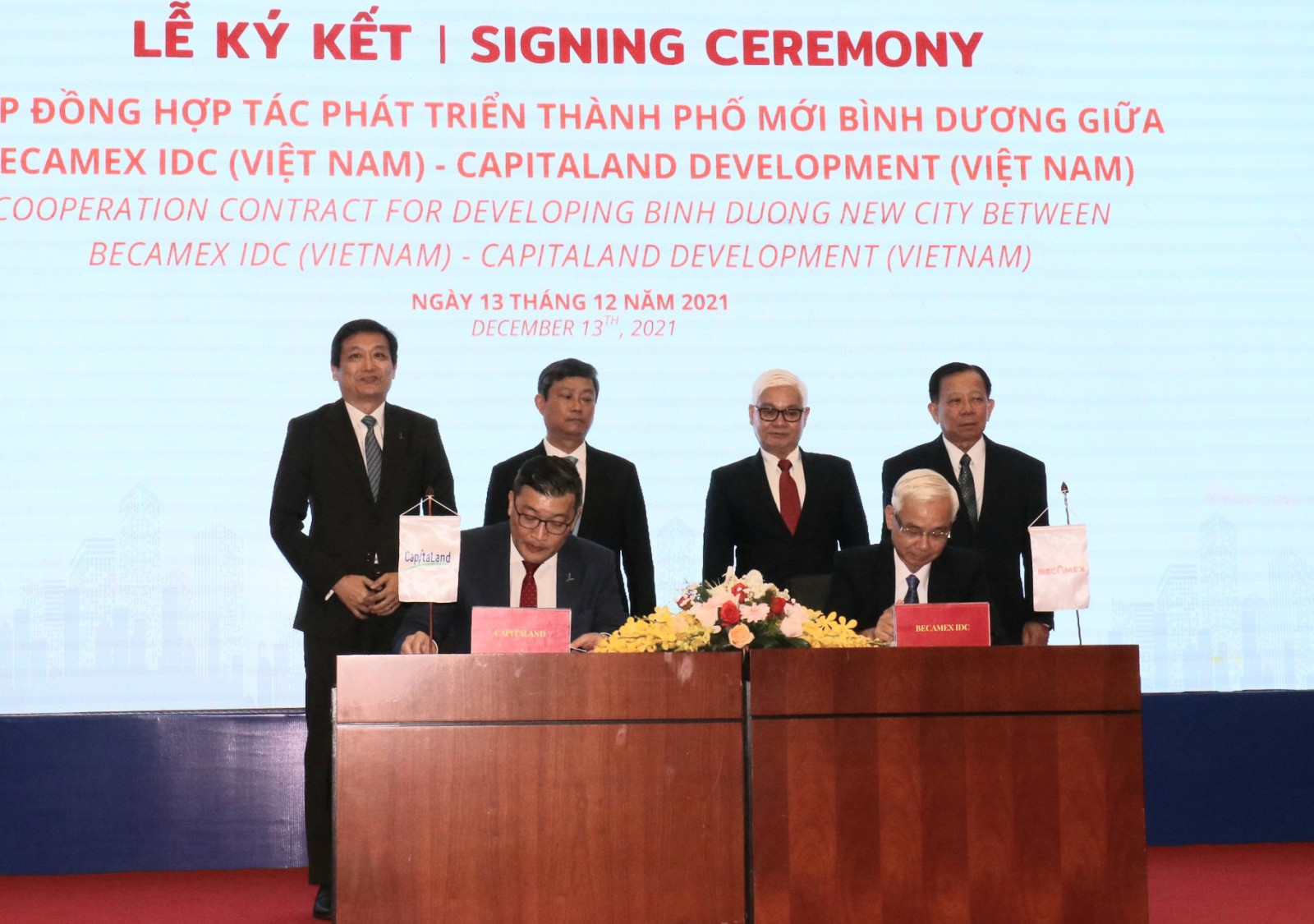 Binh Duong's continuous successful host of Horasis facilitates cooperation and attracts investment. In photo: Provincial leaders witness a signing ceremony of cooperation agreement to develop Binh Duong New City between Becamex IDC and Vietnam CapitaLand Development Group.
Some imprints
The Asia Horasis Meeting 2018 was held firstly in Binh Duong, gathered more than 700 domestic and international high-level guests. The event opened an opportunity for Binh Duong and businesses to develop an open multilateral trading system, facilitate trade liberalization, investment and economic cooperation for the common benefit of countries in the Asia-Pacific region and other economies in the world. In addition to 35 dialogue sessions at the Horasis Meeting, Binh Duong held a live dialogue session entitled "Investment opportunities in Binh Duong" which made a good impression on investors and businesses. Two cooperation agreements were signed shortly afterwards between Becamex IDC and partners to exchange, share experience, strengthen business cooperation, trade, investment promotion, scientific research to build up a smart city.
The Horasis Meeting 2019 was once again held in Binh Duong with the participation of more than 1,000 domestic and international high-level guests. At Horasis Asia 2019, there were 4 plenary sessions and 35 discussion sessions, and many other exchange sessions. Horasis 2019 focused more on global issues in the fourth industrial scientific revolution such as: experience in smart city development, digitization, artificial intelligence, commerce... This helped all administration levels, branches, and enterprises of Vietnam and Binh Duong have more opportunities to approach and promptly grasp new development trends to avoid being left behind and being eliminated in the current globalization trend.
Especially, at two dialogue sessions about "Investment opportunities in Binh Duong", investors, large corporations, domestic and international scientists and economists met, shared experience, and looked for investment opportunities. Accordingly, many important partners announced their cooperation with Binh Duong to successfully build the World Trade Center Binh Duong New City - one of the largest commercial and service projects in Binh Duong, includes many complexes, such as: banking and financial centers, exhibition and convention centers, pedestrian streets, shopping malls... In particular, to promote the role of interregional spreading and connection, the center was planned to include a station connecting to Ben Thanh - Suoi Tien metro line of Ho Chi Minh City.
Becoming a member of Horasis and successful host of Horasis 2018-2019, Binh Duong continued to have an important opportunity to elevate its position in the international arena, contributing effectively to calling and attracting foreign investment and building the smart city. Frank Jugen Richter, Chairman of Horasis, said: "Horasis is an international investment promotion organization whose mission is to connect investors who are multinational corporations in order to create a platform for connection, finding opportunities, and developing global partners. Every year, Horasis holds meetings to devise solutions to the most important challenges facing multinational corporations. Therefore, any exchange and interaction activities with delegations attending Horasis meetings will bring benefits to the parties. The partnership with Binh Duong has been very successful and the results will be even better through Horasis."
To attract investment
For many years, the successful organization of major international conferences and seminars has helped Binh Duong province expand its international cooperation relationship in fields of economy, culture, science and technology, especially in trade and investment cooperation, actively introduce Binh Duong brand name - a dynamic, creative and effective industrial province to foreign partners. Following the success of Horasis 2018-2019, Binh Duong continues to be the host of Horasis India -Economic Cooperation Forum 2022.
The Horasis India Meeting 2022 is chaired and organized by Binh Duong Provincial People's Committee in collaboration with Horasis, Confederation of Indian Industry. The preparation and coordination between the parties is done synchronously and smoothly. There will be about 500 delegates attending this event, including leaders of the Government, ministries, central and local sectors of Vietnam, experts and senior leaders from the Horasis community, Consul Generals in Ho Chi Minh City, and foreign business associations. In addition, there will be the presence of provincial leaders, departments, agencies, localities, business communities, institutes and schools of Binh Duong.
The meeting will be organized in the form of a world economic forum including 4 plenary sessions, 26 dialogue sessions, panel discussions with the participation of leading speakers in the world. Side activities will also be carried out to provide visits to tourist sites to introduce the culture, characteristics, and strengths of Binh Duong, combined with visits to industrial parks and some typical projects.
Mai Hung Dung, Member of Provincial Party Standing Committee, Permanent Vice Chairman of Provincial People's Committee, Director of Binh Duong Smart City's Executive Committee, said: "The Horasis India Meeting 2022 is a big and important event. This is an opportunity for organizations in Binh Duong to access new knowledge, grasp trends and advanced technologies for socio-economic development. It is also a chance for the province and businesses to exchange and connect with the network of senior leaders. Especially founders, presidents, general directors of leading Indian companies, leaders of regional and global businesses to improve the ability to find new opportunities and partners, together develop management capacity, scientific and technological level, promote trade, investment attraction, expand cooperation between Vietnam, India, and the world. Thereby creating an important foundation for Binh Duong socio-economic breakthrough program, the Binh Duong Smart City project.
Madan Mohan Sethi, Consul General of India in Ho Chi Minh City: "Binh Duong province has the potential in almost all fields, has absorbed many Indian businesses and investors. In the past year, the Indian Consulate developed connections and cooperation with the province. We organized 3 seminars on investment promotion and business connection. The Horasis India Meeting 2022 with Binh Duong as the host is known by many businesses. In India, businesses, especially those in Mumbai city, are very interested in trading with Binh Duong. The current Covid-19 is also under control, hence we are preparing for 5-6 Indian business delegations coming to Vietnam, and we are happy to connect them to Binh Duong."
Reported by Phuong Le - Translated by Ngoc Huynh