In the fight against the COVID-19, journalists of news agencies and newspapers are also considered as "soldiers" where the front line in this war is having complicated developments. Ignoring the risks and worries, journalists have done their duties to report about the COVID-19's developments, have joined hands with functional forces to soon repel diseases, bring peace to people's lives.
On the front line against the epidemic
Regardless of the time, these soldiers always stick to their assigned tasks, promptly be present at "hot spots" related to COVID-19 in the province. In recent days, from about 0:00 a.m., when everyone is asleep, but it is the time when the functional forces begin to blockade areas where F0 and related cases reside. Right after receiving a news, according to their tasks assigned by editorial board, a team of journalists of Binh Duong Newspaper set off to temporary medical isolation or blockade locations to promptly transmit latest news to readers.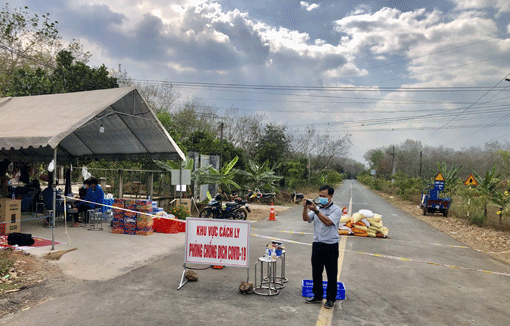 A journalist of Binh Duong Newspaper works at medical isolation area in Ca Na hamlet, An Binh commune, Phu Giao district.
Journalist Kim H of Binh Duong Newspaper, is one of the journalists who have been following the medical field for a long time, has reported news of the past four COVID-19 waves. Now she is much bolder and confident to come to "hot spots" or isolated areas to do her job. Kim Hà said that reporters received dedicated instructions from health authority about specialized terms to properly write news and articles as well as measures to protect themselves in a high-risk environment. Therefore, Kim Hà is now confident and be ready with functional forces present on the front lines to promptly convey information to readers of Binh Duong Newspaper.
Meanwhile, journalist Nguyễn Trung Tính of Binh Duong Radio and Television Station, said that after coming to quarantine, blockade or treatment areas, he returned home. He wanted to play with his children, but felt worried and kept a distance for a certain time period to protect his loved ones. "Our wish is to join hands with frontline forces in the fight against the pandemic; promptly tell the news to contribute to quickly controlling and stamping out the disease", said Nguyễn Trung Tính.
Working together for a common goal
We journalist go to the front lines of disease prevention and control, could witness the sacrifice of on-duty forces, day and night without rest, to protect people safety and health. Many readers have also paid attention and inquired after journalists as they have been facing risks affecting their health and their families. However, compared with functional forces, who had to stay up all night to quickly trace contacts and take samples for testing, our work as reporters is unremarkable.
When we go to frontline places, we received enthusiastic helps, received loaves of bread, meal boxes, and bottles of water in the middle of the night. This made us feel happy, heartwarming, determined to complete our task well. Also at such times, journalists felt the affection and solidarity of people all over the province joining hands with functional forces on the same front line in the fight against the COVID-19.
It is extremely honored and proud as journalists have been trusted by agencies, editorial board in this battle. The province's good results of disease prevention control is a great motivation for us to always try our best fulfill assigned tasks, work together with other people to win a victory in the fight against the COVID-19.
Reported by Minh Duy - Translated by Ngoc Huynh