World Environment Day (June 5) is an annual event attended by countries around the globe to raise public awareness of environmental protection. This year, together with localities across the country, Binh Duong has carried out many exciting and practical activities to enhance communication, raise awareness, and encourage community action on environmental protection in the province.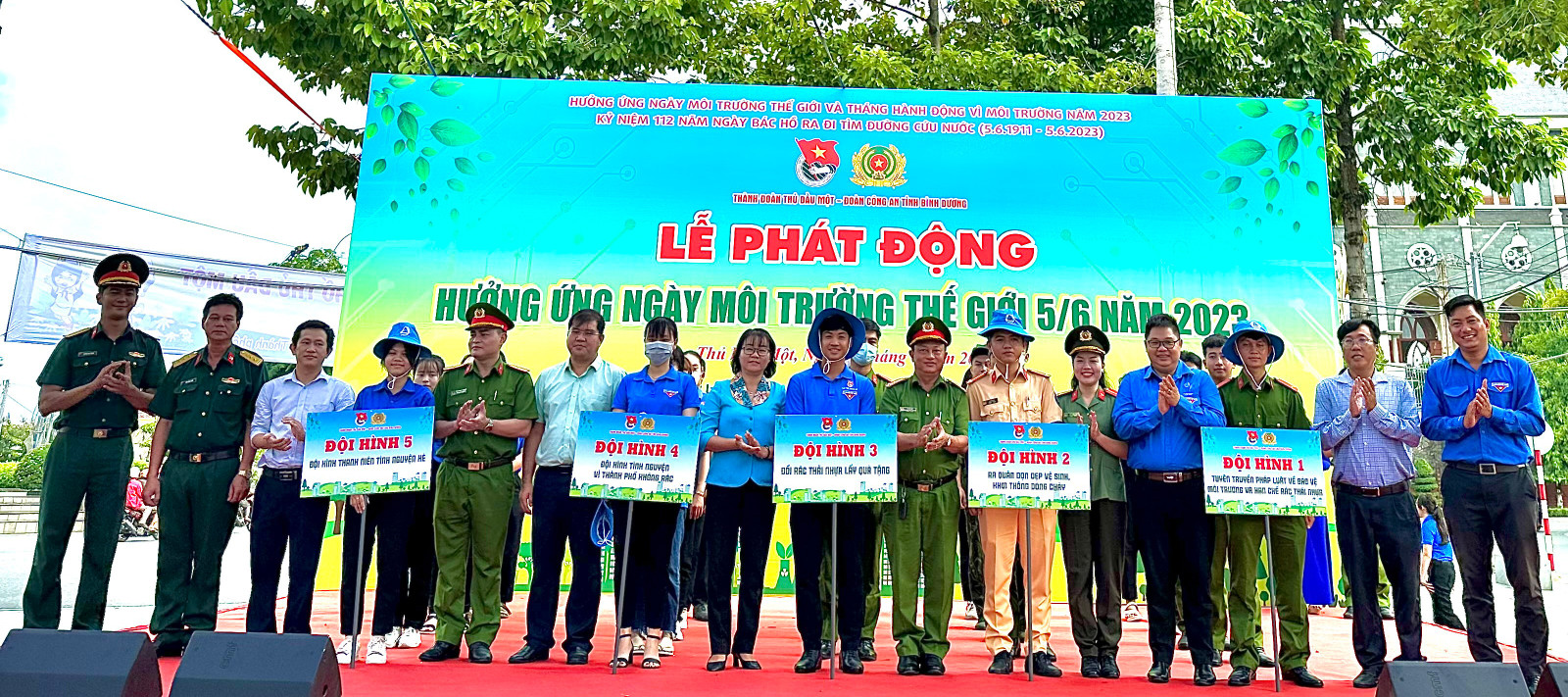 On June 4, Thu Dau Mot City Youth Union and Provincial Public Security's Youth Union jointly held a ceremony to respond to World Environment Day and launched volunteer squads for environmental protection.
Join hands to act
Each year, the theme of World Environment Day is selected and announced as the basis for movements and communication to the community. With this year's theme of Vietnam: "Solution to plastic pollution", Department of Natural Resources and Environment issued a plan, coordinated with many units, districts, towns, and cities to organize activities and festivals to focus attention and call on people from all walks of life to actively raise awareness and action for environmental sanitation and urban beauty protection.
On June 4, at the launching ceremony to respond to World Environment Day at Nguyen Du Park, Phu Cuong Ward, Thu Dau Mot City, we felt the exciting atmosphere, the spread, and a strong attraction to the community. At the launching ceremony, a representative of Department of Natural Resources and Environment, Bui Duc Thuan, Head of Field Monitoring Department under Provincial Technical Monitoring Center for Natural Resources and Environment, talked about dangers of plastic waste, solutions to defeat pollution from garbage, reduce the amount of waste generated...
In particular, the significance of this program's key themes is multiplied through practical concrete actions. At the ceremony, many people brought bottles and cartons to exchange gifts. Nguyen Van Bay (in Phu Cuong ward), said: "I find the program very meaningful, helping people to consciously separate waste at source."
Nguyen Minh Tam, Secretary of Thu Dau Mot Youth Union, said that the launching ceremony was organized by Youth Union of Provincial Public Security, Thu Dau Mot Youth Union in collaboration with Department of Natural Resources and Environment and specialized environmental units. With the theme "Joining hands to fight against plastic waste in Thu Dau Mot City", after the launching ceremony were activities such as exchanging garbage for gifts, cleaning the environment, clearing canal flows, propagating law on environmental protection, and limiting plastic waste, calling on people to change their habits to reduce the burden of plastic waste pollution etc. in order to contribute to building Thu Dau Mot as a garbage-free, civilized, polite city.
Scaling up green models
In addition to programs held at the launching ceremonies, before that localities have implemented many solutions, good models, and mobilized the entire population to participate in environmental protection.
In Bau Bang district, in order to effectively implement environmental protection, especially in response to World Environment Day, it attracts the participation of people from all walks of life, agencies, units, businesses, People's Committees of the district issued a plan for specific activities, such as: launching the campaign "Green schools, green zones and hamlets", "Model street", propagating garbage classification; making commitment to reducing plastic waste and towards using environmentally friendly products.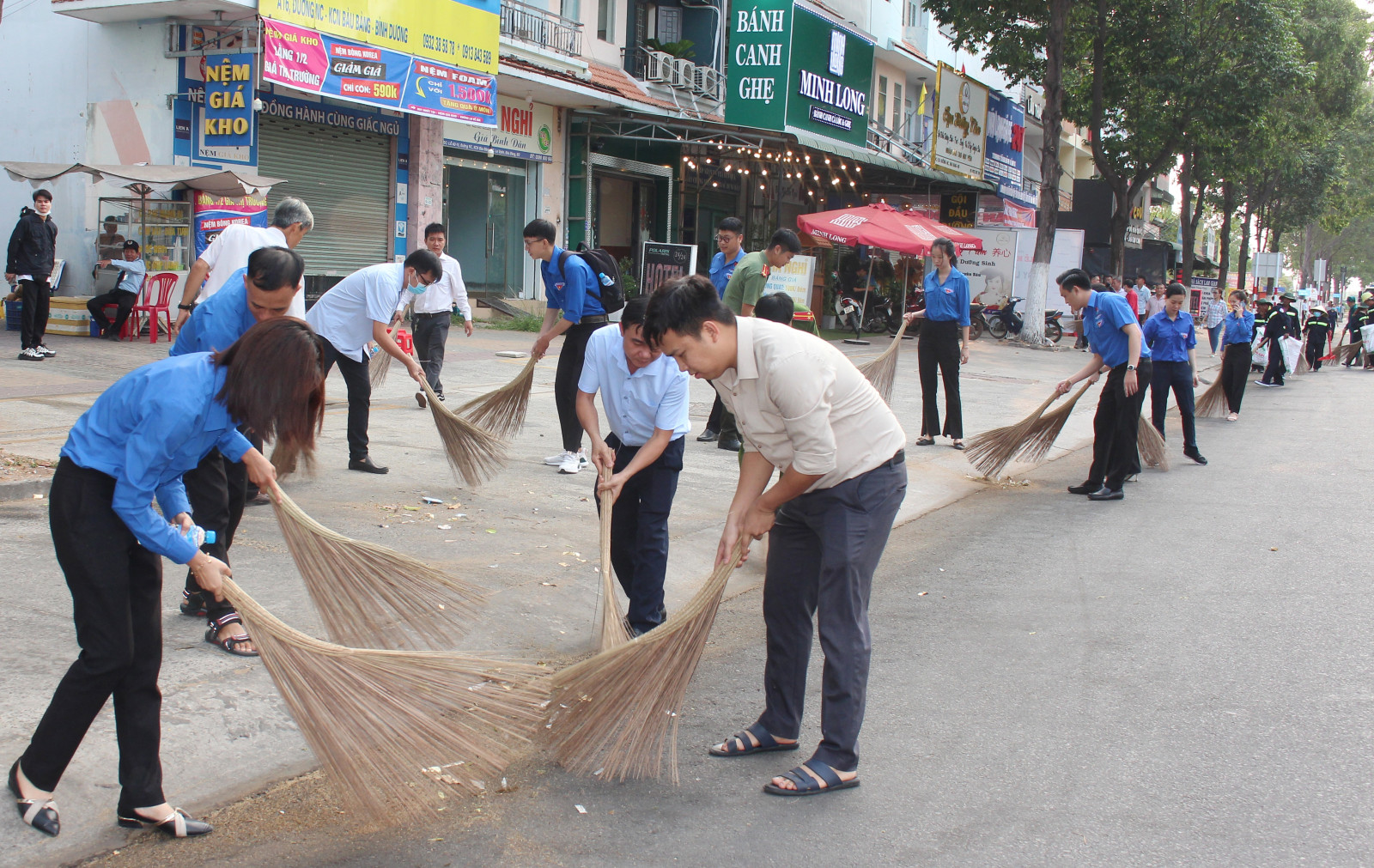 Responding to World Environment Day (June 5), many localities in the province have implemented good solutions and models to protect the environment. In photo: Cleaning model streets in Dong So quarter, Lai Uyen town, Bau Bang district.
In more than 2 months of the campaign, Bau Bang had 17 schools participating in "Green School" movement, 43 hamlets and neighborhoods participating in "Green Zones and Hamlets" model. Related units organized 4 communication sessions to explain how to classify waste at source for students, agencies, units, mass organizations, communes, and towns. There are 4 minimarts that are committed to reducing plastic waste.
Prominent in the series of activities responding to this year's World Environment Day, Bau Bang district held a launching ceremony to clean up model streets and Lai Uyen town to remind households to dump their garbage on time, to implement the goal of building a civilized and cultural lifestyle. Along with that is the construction of model flower street models helps changing the rural appearance and environmental landscape. Tran Thi Tuyet, Head of Executive Committee of Hamlet 5, Hung Hoa Commune, shared: "The hamlet has 6 roads where flowers are planted, each route is assigned to branches and unions in charge of periodic cleaning. In response to World Environment Day, the units cleaned and decorated landscapes in the area to become clean and beautiful green areas to convey the message of environmental protection to the community, changing the habit of littering improperly".
According to Nguyen Van Thuong, Vice Chairman of Bau Bang District People's Committee, in order to implement the above models, right from the beginning of 2023, the district People's Committee has organized many activities and communication programs in various forms suitable to each specific group. Simultaneously, to supervise the unit's garbage collection, give instructions on the classification of waste at source, remind households not to deliberately put garbage in wrong places. Up to now, agencies, units, businesses and people in Bau Bang district have been more aware of the responsibility for environmental protection.
Responding to World Environment Day, on the morning of June 3, Bac Tan Uyen district also organized an environmental sanitation campaign in Tan Lap commune with the enthusiastic participation of staff of Natural Resources and Environment Office, youth union members, and people in Tan Lap commune cleared and collected waste along both sides of DT746 road. Nguyen Nhat Trung, deputy head of the district's Department of Natural Resources and Environment, said that besides organizing district-level activities, in communes and towns in the area, cleaning office is also carried out, mobilizing all people to collect and treat waste, clear bushes, clearing and dredging canals, planting trees... These activities aim to raise awareness, responsibility, and understand the practical meaning of environmental protection.
Reported by Tien Hanh - Translated by Ngoc Huynh