Along with the successful organization of the Horasis India Meeting 2022 to improve the local ability to find new cooperation, investment opportunities, Binh Duong is very proactive in visiting India to call for investment, especially promoting cooperation between Binh Duong, localities and enterprises of this potential market.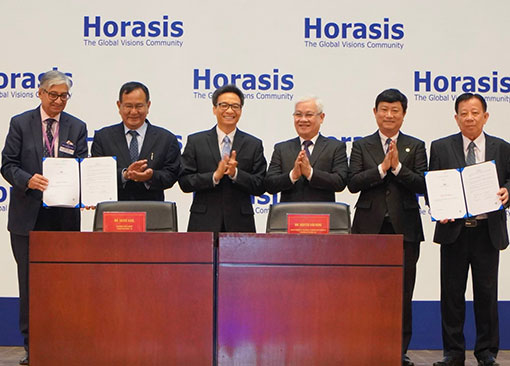 Deputy Prime Minister Vu Duc Dam and provincial leaders witness the signing ceremony of a memorandum of understanding between Becamex IDC and the Indian Business Confederation
Welcoming the "wave" of investment
According to information from the Vietnamese Embassy in India, Vietnam is in the sights of many Indian enterprises for investment. Currently, there are a number of large Indian corporations, namely ONGC, Indian National Petroleum, Essar, NTPC, HCL, GMR...are looking for investment opportunities in Vietnam. Particularly, HCL Technologies Group (Hindustan Computers Limited), one of the three largest technology enterprises in India, is starting its development journey in the Vietnamese market. HCL has the annual revenue of about US$ 9.7 billion and is a corporation with a history of over 40 years specializing in software production for 19 different service industries. Currently, the group has 149,000 engineers working in 45 countries. HCL has approved a long-term investment plan in Vietnam with a vision and goal of training, recruiting and developing human resources for a chain of information technology centers of about 10,000 - 20,000 engineers.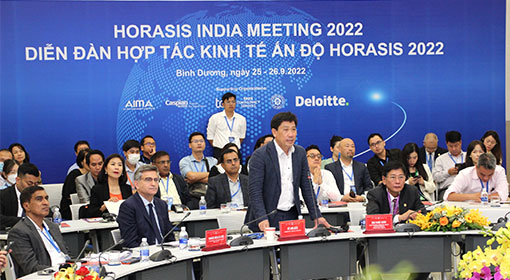 Vo Son Dien, Marketing Director of Becamex IDC introduces opportunities for cooperation and investment in Binh Duong to Indian enterprises at a discussion session within the framework of the Horasis India Meeting 2022
Seizing this opportunity, Binh Duong has been proactive to come to India to call for investment, especially opportunities to promote cooperation between Binh Duong, Indian localities and businesses. Recently, the Vietnamese Embassy in India has coordinated with Binh Duong, the Indian Importers Chamber of Commerce and Industry and the Indian Business Leaders Club to organize trade meetings, promote trade and investment to exchange and seek opportunities, expand business activities between the two sides.
Upholding its geographical advantage as a trade gateway of localities in the southern key economic region, Binh Duong has actively invested in developing a modern and synchronous infrastructure system with regional and inter-regional connectivity. Binh Duong has always been evaluated as one of the country's leading localities in socio-economic development, strongly attracting foreign direct investment, with 30 industrial parks with a total area of ​​​​about 12,700 hectares.
Sharing about investment cooperation opportunities with India, Nguyen Hoang Thao, Permanent Vice-Secretary of provincial Party Committee emphasized that Binh Duong has always improved the local investment climate, enhanced competitiveness, upgraded infrastructure facilities, built and expanded industrial parks, creating a clean land fund for investment attraction. Along with that, the province has focused on urban development planning, social housing construction, human resource training, supplying adequate and timely supply of labor resources for enterprises. It is believed that Binh Duong will become an attractive, safe and convenient destination for Indian investors.
At investment promotion sessions, Indian enterprises expressed their desire to cooperate with Binh Duong province in terms of furniture, infrastructure and construction of industrial parks and factories, auxiliary industries, wastewater treatment and water circulation...
Faith affirmed
Talking to us on the sidelines of the Horasis India Meeting 2022, Raghu Narayanam, Director of Tata Coffee Vietnam said that in early 2020, the company put its freeze dried coffee factory with the annual capacity of 5,000 tons into operation in Binh Duong. The factory covers ​​80,000 square meters in VSIP II-A, with total investment of more than US$ 65 million, supplying products to the global market. In the coming time, Tata Group and Tata Coffee Vietnam will continue choosing Binh Duong to expand production and business, actively introduce the local investment climate to investors, especially the ones from India…
It is known that Tata Coffee Vietnam Co., Ltd. belongs to Tata Group, the largest multi-sector economic group in India with the annual revenue of over US$109 billion. This is also one of India's largest enterprises growing, preserving, processing and exporting instant coffee. So far, Tata's products have been exported to more than 40 countries around the world.
The dynamic development of Binh Duong in recent years has attracted the attention of the Indian business community. Mr. Sanjay Jain, Chief Financial Officer of Wipro Consumer Care Vietnam said: "We are really satisfied when we choose Binh Duong to set up our factory. Provincial leaders have always created the best conditions for the company to develop. Most products produced by the factory are exported. In the coming time, Wipro Consumer Care Vietnam will continue expanding its production scale, committing to a long-term attachment with Binh Duong."
At the Horasis India Meeting 2022, Vo Van Minh, Deputy Secretary of provincial Party Committee, Chairman of provincial People's Committee affirmed that Binh Duong has always created many conditions to exchange information on investment cooperation opportunities with Indian enterprises, especially industries and partners suitable to the requirements of building a new-style ecosystem, developing industry 4.0. Provincial leaders also wanted that the two sides will have specific cooperation to jointly welcome opportunities from the shift of global enterprises.
As of now, Binh Duong and India's total import-export turnover has reached US$806 million, accounting for about 7% of Vietnam-India's total export turnover. Of the total figure, Binh Duong reached US$ 263 million in export turnover while import value was US$543 million. The province's main import and export items include various iron and steel products, animal feed and raw materials, chemicals, machinery and equipment, raw materials for textile-garment, footwear, fiber…
Reported by Ngoc Thanh-Translated by Kim Tin