Industrial production in the province in the first 9 months of 2023 have positively changed at a subtle pace. The continual and gradual increase level of recovery in the last months of the year brings up high hope for the socio-economic situation of the province.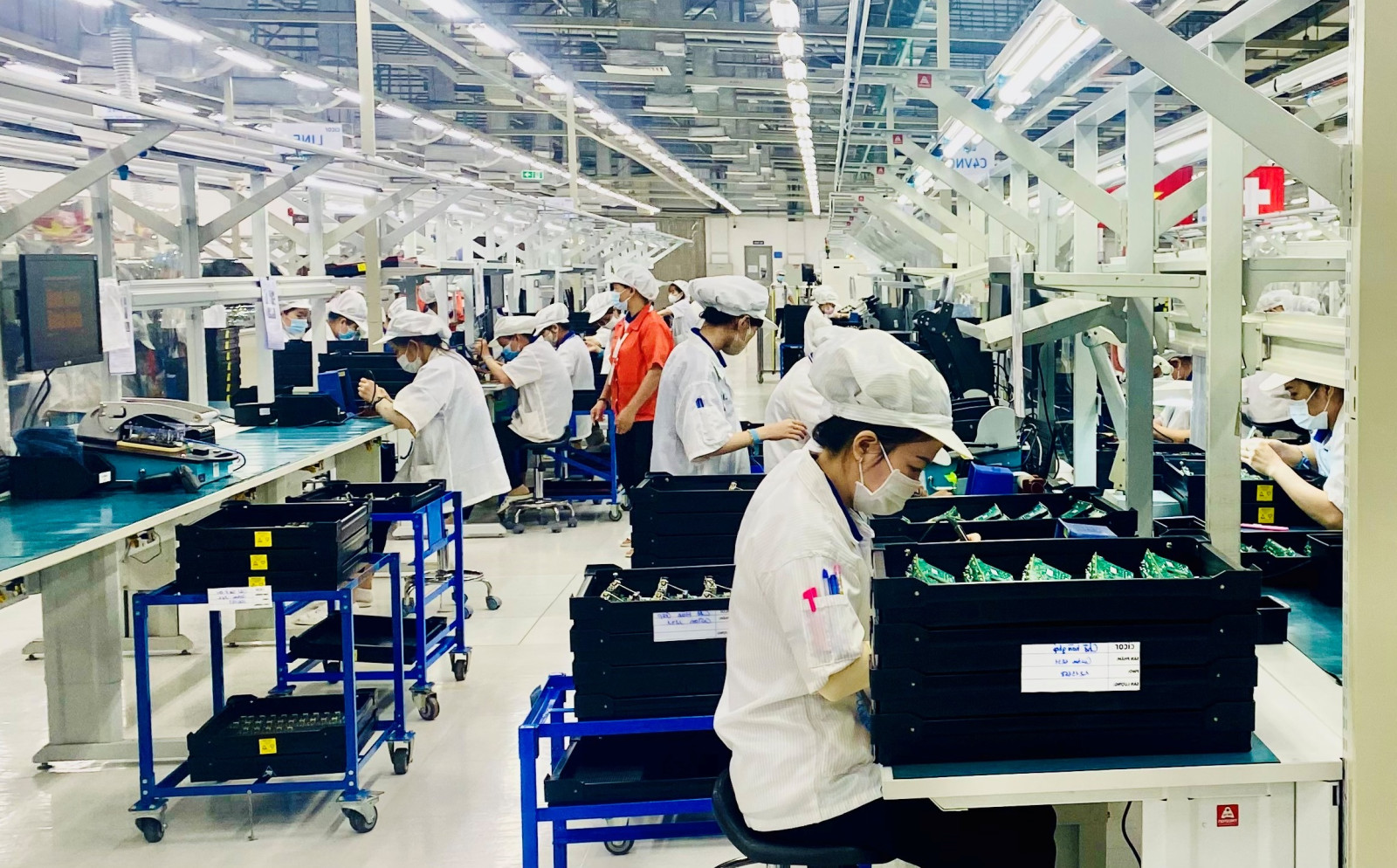 In hard times, businesses in Binh Duong still strive to maintain their operations. In the photo: Manufacturing is ongoing at Cicor Vietnam Company in VSIP I Industrial Park of Thuan An city
Take the opportunities at hand
Binh Duong provincial People's Committee's report showed that the province's socio-economic recovery is positive month by month and quarter by quarter as Gross regional product (GRDP) in the first quarter increased by 1.71% which was 5.73% in the second quarter, and in the third quarter by 7.0% over the same period. According to the Department of Industry and Trade, the index of industrial production (IIP) in August 2023 in the province was estimated to increase by 1.1% compared to the previous month. In particular, the processing and manufacturing industry increased by 1.2% compared to the previous month. Despite adverse circumstances, businesses still strive to improve their competitiveness and proactively seek opportunities to recover and develop. Accordingly, businesses flexibly seek to restructure production for new products and markets to expand their operations.
Import-export turnover decreased but the whole province still maintained a high trade surplus. According to Vuong Sieu Tin - Deputy Chairman of the provincial Ceramics Association, businesses make efforts to innovate technology to develop production, and research new product lines to suit local consumption trends in the face of poor quantity of purchase orders from US and European markets. Phuoc Du Long Ceramics Company still tries to update consumer trends, research and produce new models and new types to develop and maintain the market irrespective of its currently large inventory.
According to Nguyen Trong Luat, Director of Cicor Vietnam Company in VSIP I Industrial Park, reality shows that only businesses know what they need most, so they themselves must proactively seize the opportunities and find ways out of the hard time. "In June 2023, Cicor Group (of Switzerland) inaugurated a factory at VSIP I to produce electronic and electromechanical semi-finished products for export. With this capital increase, the group increased its investment capital in Binh Duong to USD 15 million. Cicor Company is strengthening the reputation of its products by expanding its market and establishing a specialized technical team that will work in close coordination with the R&D (research and development) team at its Bronschhofen headquarters in Switzerland to meet the rapidly growing demand of customers for the development of high-quality electronic device," said Nguyen Trong Luat.
Flexible management
According to Mr. Nguyen Thanh Toan, Director of the Department of Industry and Trade, industrial production in the first 9 months of 2023 takes place in the context of high and prolonged inflation in many countries around the world, input material prices, Gasoline prices increased sharply, market demand tended to recover but was unstable. To help businesses overcome difficulties, the province has directed all levels and sectors to synchronously implement many solutions, especially tax policies, increasing access to credit capital, and concentrating credit capital. into the field of production and business.
In addition, the province also drastically directed to promote the disbursement of public investment capital to create more motivation for economic growth while deploying effective solutions to find markets for processed industrial products, thereby, liberating the production capacity of enterprises in the province to further increase growth of key industry leading the entire industry.
According to Vu Ba Phu, Director of the Trade Promotion Department under Ministry of Industry and Trade, Binh Duong industry really has a solid foundation both for the domestic and export markets. In the current difficult and challenging context, businesses must make even more efforts, show determination and innovation to truly develop. Currently, the motivation and room for businesses to develop still exists, especially in favor of the policies to support businesses in promoting trade, expanding markets or from Free Trade Agreements (FTAs) that Vietnam has joined. Therefore, the business community in general needs to specifically identify challenges and opportunities to come up with development solutions.
Reported by Tieu My – Cam Tu – Translated by Vi Bao