In the morning of August 8, at the International Exhibition Center (WTC EXPO) in Binh Duong New City, Becamex IDC officially activated WTC EXPO and opened the BIFA Vietnam 2022. Attending the event was Mr. Nguyen. Van Loi, Member of the Party Central Committee, Secretary of the provincial Party Committee, Head of the provincial National Assembly Delegation, Mr. Nguyen Van Danh, Deputy Chairman of the provincial People's Committee, Ms. Nguyen Truong Nhat Phuong, Deputy Chairwoman of the provincial People's Council, Mr. Nguyen Van Hung, Chairman of the Board of Directors of Becamex IDC, Mr. Do Xuan Lap, Chairman of Vietnam Furniture and Forest Products Processing Association.
To promote the development
The introduction of WTC EXPO is expected to solve the problem of lacking exhibition space and create a premise to promote the development of tourism combining conferences, seminars and exhibitions (MICE) in Vietnam. Binh Duong is considered the brilliance of the southern key economic region, which attracted more than 4,000 FDI projects with a total investment of nearly USD 40 billion, and the per capita income of more than USD 7 million a month in 2021 - the highest in the country. The official event of WTC EXPO activation promises to become a potential destination for the MICE industry and large-scale event and exhibition activities.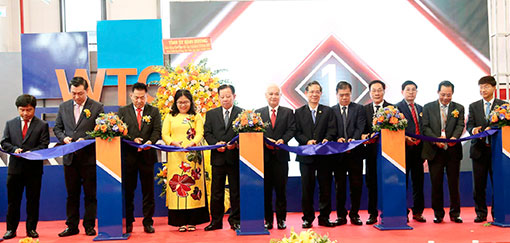 Leaders of the province and departments cut the ribbon to open BIFA Vietnam 2022 officially activating WTC EXPO. Photo: Phuong Anh
Speaking at the WTC EXPO activation ceremony, Mr. Nguyen Van Danh, Deputy Chairman of the provincial People's Committee, said: "Binh Duong is attracting investment and effectively operating key commercial and service infrastructure to step by step standardize the service trading platform. World Trade Center Binh Duong New City was formed, especially, with the completion of WTC EXPO and along with the strategy of attracting domestic and foreign partners to deploy programs of events, conferences, fairs and exhibitions. International exhibitions associated with tourism are the highlight of the province's balanced economic development plan.
WTC EXPO with open, pillarless design, has a total area of ​​22,000 square meters including exhibition halls and outdoor areas of of ​​3 indoor exhibition areas of 15,000 square meters and outdoor area of 7,000 square meters, especially suitable for MICE operations. WTC EXPO is invested by Becamex IDC as one of the leading industrial & urban real estate developers in Vietnam.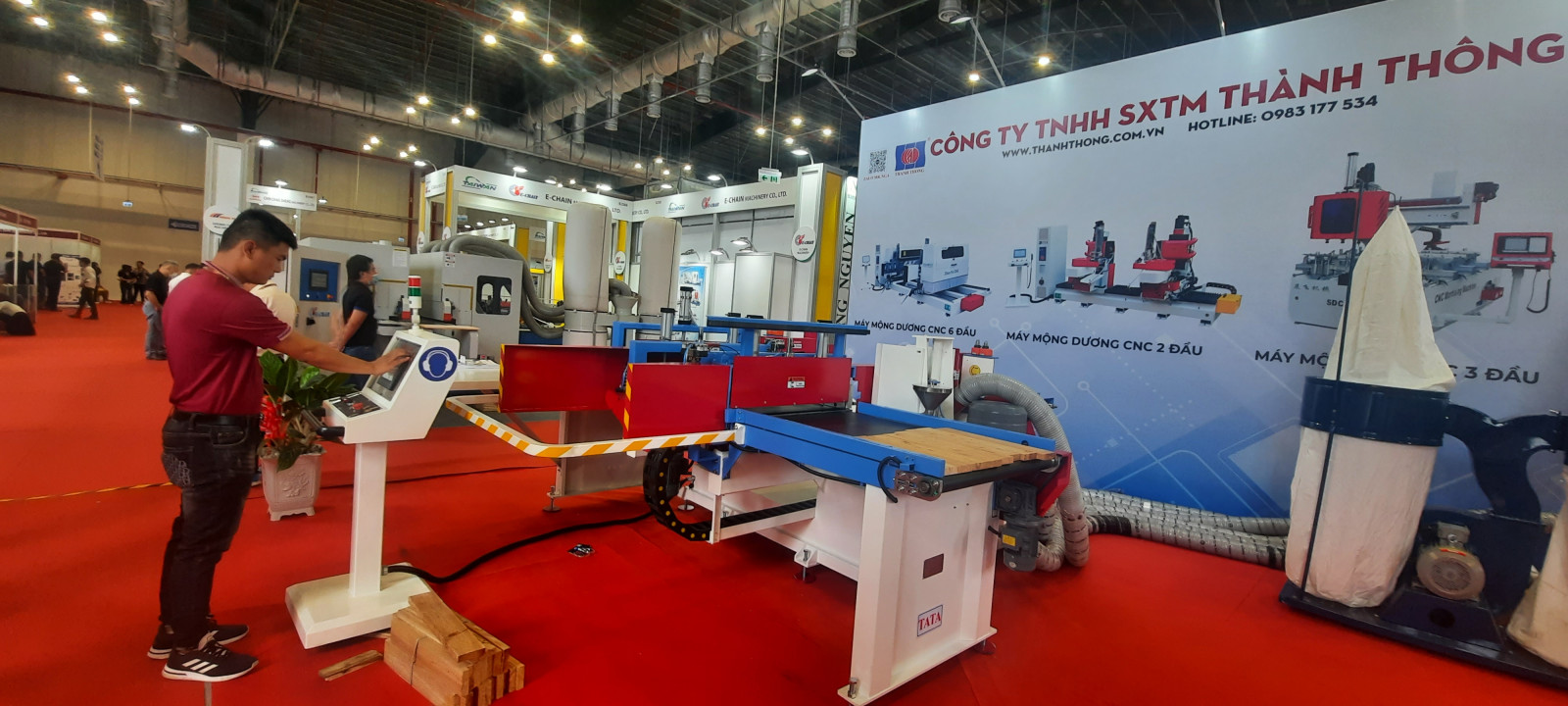 Booth displaying products of Thanh Thong Woodworking Equipment Company in Thuan An city are at BIFA Vietnam 2022
Mr. Giang Quoc Dung, Deputy General Director of Becamex IDC, Chairman of WTC EXPO, said: "Becamex IDC has researched and developed the WTC project in Binh Duong new city with financial feasibility and human resources. abundant, in order to build and develop this area as well as to train human resources related to service industries for Binh Duong and surrounding areas. Becamex IDC is working closely with provincial departments and agencies and international trade promotion organizations to develop professional service teams."
Business connection
BIFA Vietnam 2022 - the largest fair in 2022 in Binh Duong also opened in the morning of August 8 at WTC EXPO. BIFA Vietnam 2022 was organized according to international standards, combining exhibitions of products, services, machinery, equipment, wood processing technology with seminars. The fair is an opportunity for businesses to enhance trade promotion, market expansion, cooperation and technology exchange in the field of wood processing. Exhibition of wood and machine tools has regularly taken place in Binh Duong to become a familiar exhibition for the wood and furniture industry, which is also a strength of the province.
Mr. Do Sy Nga, Director of Thanh Thong Woodworking Equipment and Machinery Company in Thuan An city, said: "As a unique enterprise at the Expo manufacturing CDC machine products in Vietnam, the company specializes in semi-artificial machines using IoT technology with high speed and accuracy. The company's products have been exported to India and South America. Participating in this fair, businesses want to find and introduce to domestic and foreign customers their advanced technology and equipment."
Mr. Nguyen Van Danh, Deputy Chairman of the provincial People's Committee, said: "BIFA Vietnam 2022 is an important event to promote trade and investment of the wood industry not only in 2022 but also for the next years. The fair not only creates opportunities for businesses to exchange information, cooperate in business, further in order to create a vertical chain of links in the industry, from suppliers of raw materials, accessories, and machinery suppliers and technology to commercial manufacturers, providing the opportunity to cooperate and develop together in a sustainable way."
In the context that the economy is gradually recovering after the COVID-19 pandemic, BIFA Vietnam 2022 will be the most prominent event in the wood processing industry, and a good opportunity for businesses to directly survey, evaluate, select many new, advanced and modern machinery and equipment with updated technology in the direction of automation. The presence of more than 100 businesses with more than 700 booths displaying and introducing from countries and territories such as Germany, USA, Italy, Hong Kong, China, Taiwan, Malaysia, Indonesia, Thailand, and Vietnam has shown the stature and practical value of the fair.
Reported by Phuong Le – Translated by Vi Bao