The development reality and strong commitments to support investors have constantly kept Binh Duong in the leading position of provinces and cities in the country as the destination of socio-economic development and foreign direct investment (FDI) inflows.
The destination of potentials
At the meeting with Mr. Robert Wu, Chairman and CEO of Sharp Corporation from Japan on seeking for investment opportunities in Binh Duong, Mr. Nguyen Van Loi, Member of the CPV's Central Committee, Secretary of the provincial Party Committee, and Head of the provincial National Assembly Delegation, affirmed that after the Covid-19 pandemic, Binh Duong has been on a strong development route. In recent years, the province has always made efforts to improve the investment environment along with reforms of administrative procedures and enhanced competitiveness. In 2021, Binh Duong continued to lead the Southeast region and the Southern Key Economic Region in terms of the Provincial Competitiveness Index (PCI) ranking and second in the Provincial Governance and Public Administration Performance Index (PAPI) of the country.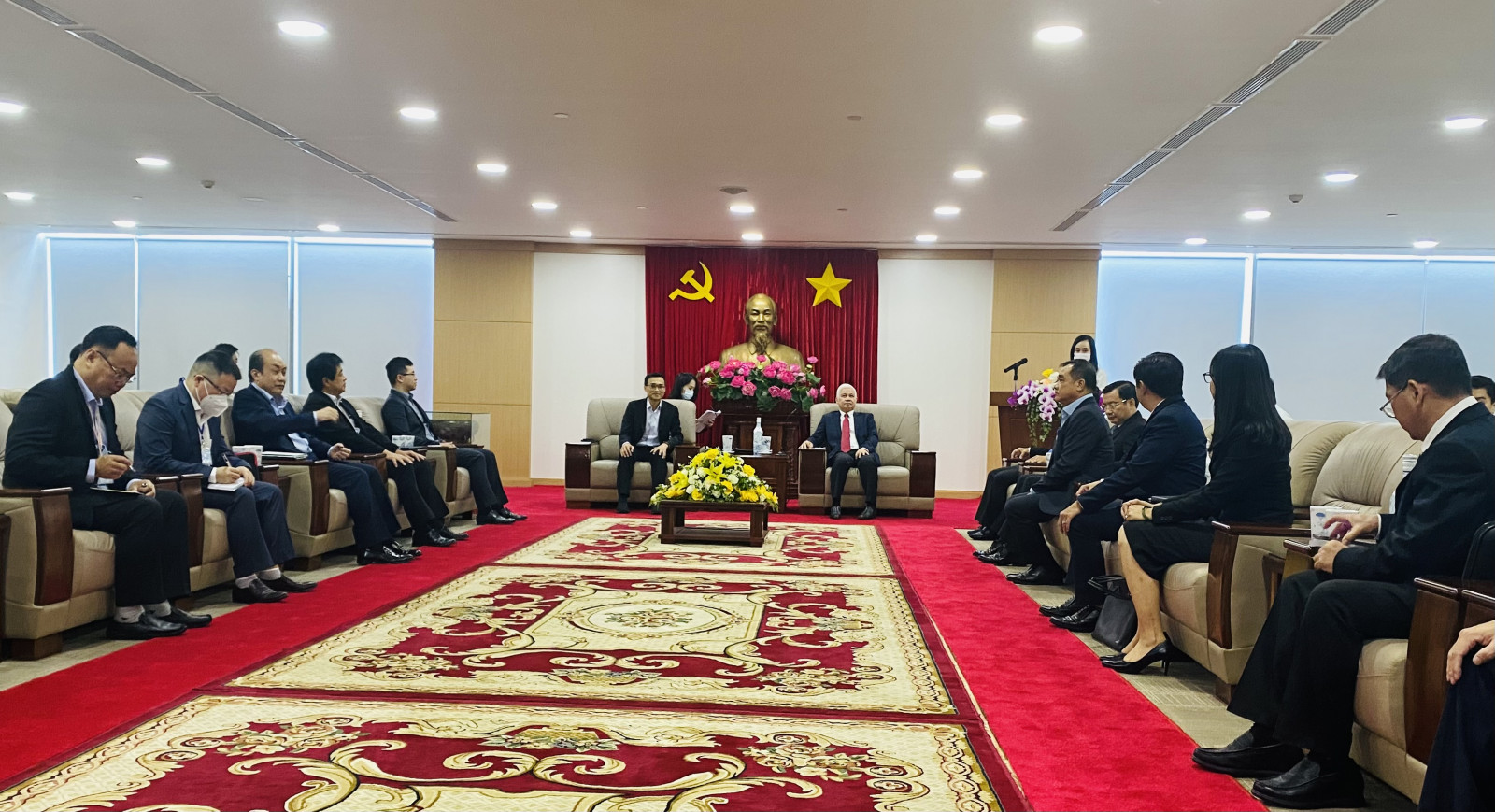 Provincial leaders receive and work with leaders of Sharp Corporation from Japan on seeking for investment opportunities
In recent years, Binh Duong, with an open and attractive investment environment, has always been one of the leaders of FDI inflows. Particularly in the first 6 months of 2022, it has attracted USD 2.53 billion of 34 new projects, 12 projects to increase capital and 87 projects to contribute capital to buy shares. Binh Duong is currently ranked 2nd in the country in terms of FDI attraction after Ho Chi Minh city. Japan currently ranks second among 65 countries and territories having investment projects in Binh Duong with 335 projects, and total capital resources of USD 5.86 billion. The main fields of investment are the production of electronic components, electronic circuits and chips, automobile assembly, iron and steel, supporting industries, commercial services etc. Projects in the province include the big brands of Panasonic, Toshiba, Foster, Tokyu Corporation, Fujikura, Aeon Mall and many more of great progress.
By appropriate development orientation and its own efforts, Binh Duong has achieved some very encouraging results and became the first locality of Vietnam to officially be a member of Intelligent Community Forum (ICF). Mr. Nguyen Van Loi, Secretary of the provincial Party Committee affirmed: "The inherent good relationship of Sharp Group's factories with Binh Duong in recent years, especially during the difficult time of sharing because of the COVID-19 epidemic, has created solid premise for Binh Duong and Sharp Corporation to step into new cooperation. All levels and branches of Binh Duong are ready to support the group in resuming its investment projects in Binh Duong. Departments and sectors will consider and apply the general preferential policies of the government to offer most favorable conditions and strengthen the relationship between the corporation and the provincial authority."
To be side by side with businesses
Mr. Robert Wu affirmed to bring Sharp development to new heights. Sharp has chosen Binh Duong as the first destination when expanding investment in Vietnam and is finding a suitable location for investment in the near future. Mr. Robert Wu emphasized: "Sharp Corporation with more than 100 years of development and 14 years of investment in Vietnam will bring high technology, modern production processes in a green, environmentally-friendly direction along with social responsibility towards community development. Sharp is committed to coordinating with universities to improve local human resources, support technology development, and spend 2% of revenue to promote investment in local development. Sharp wishes to be considered by the provincial authority for support in the field of land, tax, and human resources to maintain investing in Binh Duong according to the criteria set by Sharp. In such investment inflow, Sharp wants to find a location near the airport and seaport for convenient transportation and modern infrastructure suitable with green technology in the direction of environmental protection."
At the meeting, Mr. Vo Van Minh, Chairman of the provincial People's Committee affirmed that VSIP III Ecological Industrial Park has the conditions that closely meet the requirements of Sharp Corporation. Departments and VSIP III will provide the best support for Sharp to invest in Binh Duong. The transportation route from VSIP III to Long Thanh airport is about 1 hour.
"By the fact that Sharp Group invest and deploy factories in Binh Duong, we hope that Sharp will continue to invest in larger and more modern projects. Departments and sectors are committed to offer the best conditions by flexibly applying general preferential policies to Sharp in the near future," said Mr. Vo Van Minh.
Mr. Vo Van Minh further cited the efforts for VSIP Joint Venture Co. Ltd., the investor and the construction unit to focus all resources on leveling the ground and handing over the site to LEGO Group according to the committed schedule. Specifically, by August 31, 2022, VSIP will hand over about 24 hectares of land, and by September 30, 2022, it will hand over the remaining 20 hectares to LEGO Group to build a factory worth up to USD 1 billion - a clear proof of Binh Duong's good implementation of strong commitments to investors coming to the province.
Reported by Tieu My – Cam Tu – Translated by Vi Bao