In the context that manufacturing enterprises in the province are facing problematic purchase orders and exports, the Department of Labor, Invalids and Social Affairs has made efforts to coordinate and review the number of workers losing their jobs or being stopped working to control the situation. Along with that, the Department strengthens connection, more job fairs from now until the end of the year are projected with proposed solutions to help businesses stabilize production operations.
20,000 workers needed till year end
According to the Department of Labor, Invalids and Social Affairs, businesses in the area have created jobs for 11,200 workers since the beginning of the year; however, up to 36,000 employees were affected by their jobs which do not offer them overtime, so their income was reduced, prompting them to take short unpaid leaves. In a meantime, a few lost their jobs as businesses stopped their production operations.
In order for workers not to be greatly affected, the Department of Labor, Invalids and Social Affairs has recently strengthened solutions. Pham Van Tuyen, Deputy Director of the Department of Labor, Invalids and Social Affairs, said that employees ending their contracts are entitled to unemployment insurance benefits. In the first quarter of 2023, more than 18,000 workers in the province entitled to unemployment insurance. Regarding employment demands, businesses in the area, according to the survey, need about 20,000 workers from now until the end of the year mainly in the fields of clothes, backpacks, bags, furniture, and mechanics. The demand for skilled labor accounts for 75%.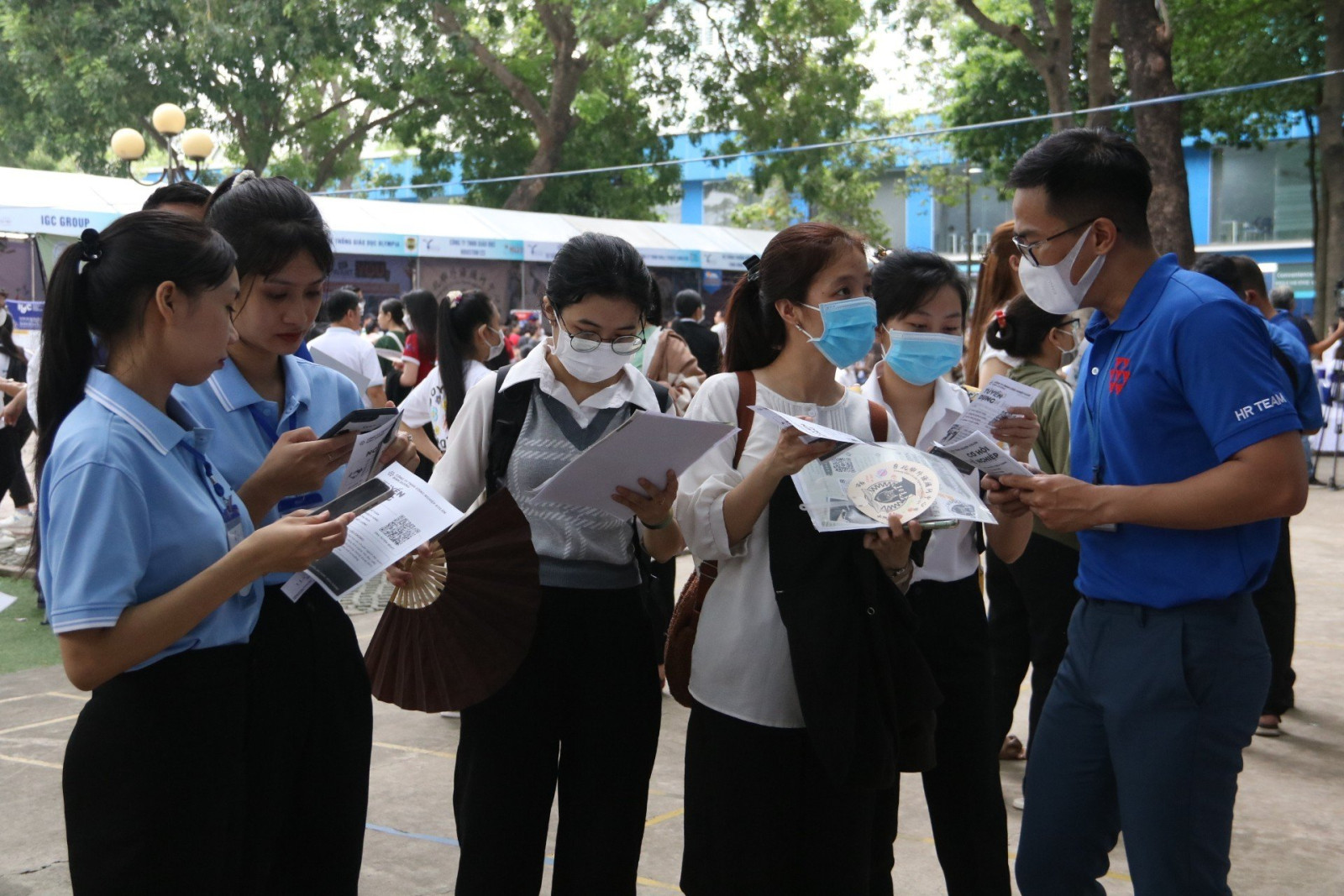 Job fair is held in Thu Dau Mot University venue where enterprises directly interview and employ
The Department of Labor, Invalids and Social Affairs has directed the provincial Employment Service Center to strengthen connections, create jobs, and prevent idle labor. Currently, the center is connecting with hundreds of businesses to find effective jobs for people through the website or social networking sites of Zalo and Facebook and receive resumes within a day. Job connection is also well done by trade unions in the province. Through associations, groups, and websites of Trade Union organizations, many workers found new jobs in the second quarter of 2023.
Doan Van Quyen, a worker at Thanh Hong Company Limited in Song Than III Industrial Park said: "I regularly update from the network to find a job. I worked at a bicycle manufacturing company before in Song Than II Industrial Park, but the job was not stable. Surfing the social network of trade union organizations, I have just found a new job at my company with stable income."
Talking to us, Dao Minh Tinh - Trade Union Chairman of TCL Vietnam Smart Electronics Co. Ltd. in VSIP II Industrial Park said: "Aside enterprises in the wood and garment industry facing difficulties, enterprises in other manufacturing industries are still producing stably. Our company has recently employed hundreds of new employees. Now, employing workers is very easy, just link to the websites of the Trade Union to employ workers. I find that the number of businesses hiring from 50 to 100 employees, or skilled workers in some fields, is still high. Therefore, when facing difficulties in employment, employees must actively find work, relocate or work hard to go far away every day, but there are still many jobs for workers."
To minimize idle labor
In order to minimize the idle labor as well as to retain workers, the Department of Labor, Invalids and Social Affairs is coordinating with businesses, universities, colleges and vocational schools in the area to open job fairs. Recently, the job fair at Thu Dau Mot University has attracted 37 businesses who have opened booths to introduce job opportunities to employees. HR officers of companies directly interview and employ at the site. The employment demand in this phase is up to 1,000.
Besides unskilled and skilled workers, businesses also seek for engineers, machine operators, and officers. Typically, Giant Manufacturing Vietnam Co. Ltd. in VSIP II Industrial Park leave open the positions of general manager assistant, purchasing, accounting staff, human resources officer, legal officer, designer, sample staff etc., opening up many opportunities for people who need jobs with a fairly high income.
On the other hand, demands are on workers for the positions of mechanical engineering, electrical engineering, technology, mechanical maintenance, electrical maintenance, machine operators, warehouse keeper, advertising staff, purchasing staff, accounting staff, administrative staff, forklift drivers, excavators and unskilled workers. Thu Dau Mot University also signed a cooperation agreement with the provincial Young Entrepreneurs Association to coordinate training and human resource development, to support and receive internship students along with job recruitment.
Pham Van Tuyen said that the department has proposed the Binh Duong Branch of 1State Bank to consider allowing enterprises to restructure, extend and keep the debt group unchanged according to Circular No. 01/2020/TT-NHNN of the State Bank of Vietnam; thereby, creating conditions for businesses to maintain capital flows, ensuring operations through hard times. The Department also proposed the Binh Duong Branch of State Bank to fund to create conditions for businesses to access preferential loans and reduce interest rates so that businesses can maintain production and invest in technological machinery and equipment, to propose the government to delay tax payment and reduce corporate income tax in 2023.
In addition, the department also proposed the Ministry of Industry and Trade to strengthen support for businesses to find new customers through trade promotion and market surveys. The solutions, when implemented concurrently, will greatly improve the situation of labor and employment, minimizing the number of idle workers.
Reported by Quang Tam – Translated by Vi Bao