More than 52,000 businesses operating in the province is quantitatively large enough to entrique very high demands for human resources. Catching up with such development trend of the province, vocational education institutions in the province, over the years, have opened more training departments associated with the market, helping students increase their chances of finding jobs right after graduation.
Diversity of training
Currently, many students have thought that the way to university is not the only way to life. The fact has proven that many students after graduating from university find it difficult to find a job or work outside their profession, which is the reason why they switch to college after graduating from high school, or decide to choose a career path after graduating from secondary school to increase job opportunities, and at the same time, shorten the study term.
As we could recall at the end of October, Binh Duong Economic and Technical Intermediate School held a ceremony to award intermediate diplomas in 2022 to 94 students. On behalf of the graduates, Nguyen Thi Huong of Faculty of Economics and Management promised to try her best on her career path to become useful people. She said that before when choosing a major, she studied the needs of the labor market. With the knowledge and professional skills that the teachers have equipped during her studies, she confidently stepped into lifetime career and vowed to contribute efforts and wisdom to what she had chosen to pursue. The school's management board was pleased to announce that, based on the school's statistics, about 97% of students had jobs after graduation.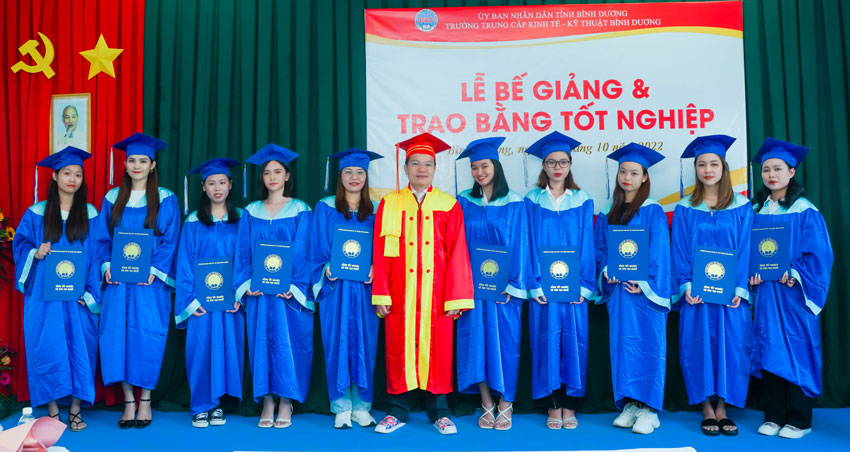 Binh Duong Economic and Technical Intermediate School awards graduation diplomas to students on October 30
The reason why it is not difficult for students to find jobs after graduation is because colleges and intermediate schools have provided training in association with the needs of employers. In order to meet the human resource needs of businesses and the aspirations of learners, schools have added more social training professions in need. Vietnam - Korea Vocational College of Binh Duong has built, developed and adjusted the training program in accordance with the development trend of technology and the actual needs of the businesses. Accordingly, students have 30% of the time to study theory and 70% of practice time. Not only did the students make use of practice on models, equipment and machines in the school, they also regularly visit, practice and work at enterprises on intership.
Similarly, Binh Duong Agriculture and Forestry Secondary School, in addition to maintaining training in traditional disciplines such as animal husbandry, crop and plant protection, land management, also trains necessary social disciplines of business accounting, English, environmental and resource management, applied informatics, and marketing. The training program is constantly updated and supplemented with reality.
Practical
For many years, Binh Duong has well performed the streamline of students after graduating from secondary schools. According to the leader of the Department of Education and Training, every year only 70% of secondary school graduates enter grade 10 at public schools, the remaining 30% go to non-public and vocational schools. And there is a fact that those students who soon switch to vocational training instead of continuing in high school will benefit in terms of time and money.
Nguyen Thanh Long, a student at the Vietnam - Korea Vocational College of Binh Duong shared that when he was a university student of his second year, he realized that he was not suitable for his chosen field of study and decided to switch to the college to easily find a job after graduation.
"Coming here to study, students can practice at the school's practical workshops. In addition, students also have the opportunity to practice at production lines of enterprises. Therefore, I was with the job that I will pursue in the future. This year, I am entering my final year and I believe that it is not so hard for me to find a job after graduating from school," Long confided.
Obviously, in order to meet the increasingly demanding labor market today, vocational education institutions have built training programs with 70% duration of internships, especially the connection with enterprises during training. At Vietnam - Singapore Vocational College, students of the class of 2021 have recently participated in experiential learning (STEM) classes at the school's electromechanical manufacturing laboratory (Fablab). They design and create 3D models, assemble and programme industrial system models, and operate CNC machines combined with automation. The students showed interest because they had access to technology for the first time. The early experience of STEM lessons helps students have a clear view of the field of engineering and technology and motivates them to form ideas and realize ideas in the future.
Now, students who choose to study at vocational education institutions have peace of mind because they can learn theory and practice, practice practice. For students who choose to study medicine at Binh Duong Medical College, they often go to hospitals, pharmacies, and pharmaceutical companies to practice. Maintaining the quality of training, the university actively innovates training contents and programs, and applies training programs of advanced countries to meet the demand for medical human resources of medical facilities.
Reported by Hong Thai – Translated by Vi Bao