Lai Thieu ripe fruit festival has returned with its inherent features. With the organizers' efforts to renovate the festival, this year's "Lai Thieu ripe fruit season" had many new features and attracted the participation of a large number of tourists.
A taste of homeland
Before the opening of the festival, many tourists came to Cau Ngang to participate in a cross-country ruining hosted by Thuan An City Center for Culture, Information and Sports. Taking part in the running to exercise and explore beautiful ways around the orchards here, Nguyen Thai Bao from Ho Chi Minh City had a very rewarding morning. Bao said, the feeling of running on this special route was really nice, because he could enjoy the fresh air, receive free drinking bottles, enjoy fruits right at garden, and run with everyone else to receive a medal proudly.
After finishing the running, Mr. Bao and his family had an opportunity to discover and enjoy ripe fruits just picked from the tree and famous dishes, such as: mangosteen chicken salad, durian grilled chicken, Vietnamese pancakes. Bao said: "There are restaurants that serves tourists right at orchards, thus every year my family comes here to relax and enjoy. The restaurants have many feature dishes such as mangosteen chicken salad, durian grilled chicken, Vietnamese pancake... all are very delicious and fresh".
Tourists buy fruits at the festival.
Coming to this year's festival, besides stalls selling fruits, consumer goods, food etc, locals and tourists also had a chance to visit and learn more about beauties of the land and people of Thuan An at a gallery named "Thuan An - land and people". Nguyen Tan Dung, Director of Thuan An City Center for Culture, Information and Sports, said that there were 100 photos selected by the Festival Organizing Committee to display and serve visitors on this occasion. These are artworks that won high prizes from Thuan An's photo contests over the years.
Nguyen Thi Hien, Vice Chairwoman of Thuan An City People's Committee, said that Lai Thieu ripe fruit festival has been considered one of the traditional cultural festivals of Thuan An for many years. This year's festival takes place with a variety of activities, such as: countryside beauty contest, cross-country running on fruit garden roads, fruit fairs, trade fairs, food festivals "Homeland flavor", and some other activities.
"This year's festival is held not only to serve the needs for sightseeing, shopping, enjoying delicious food, famous fruit specialties of Lai Thieu land, but also to raise people's awareness of preserving orchards, preserving fruit varieties, and restoring the brand name "Lai Thieu orchard" which has been associated with the formation and development process of Thuan An land", Nguyen Thi Hien said.
Garden sound
Not only attracting visitors by the taste of food, but this year's festival also has another specialty, a space of Don Ca Tai Tu and street music. These activities took place at Vam Bung embankment area. Although the weather was not favorable due to heavy rain, tourists and fans with their umbrellas watched street music shows. Many couples also participated in Mixing Band program to sing love songs to each other.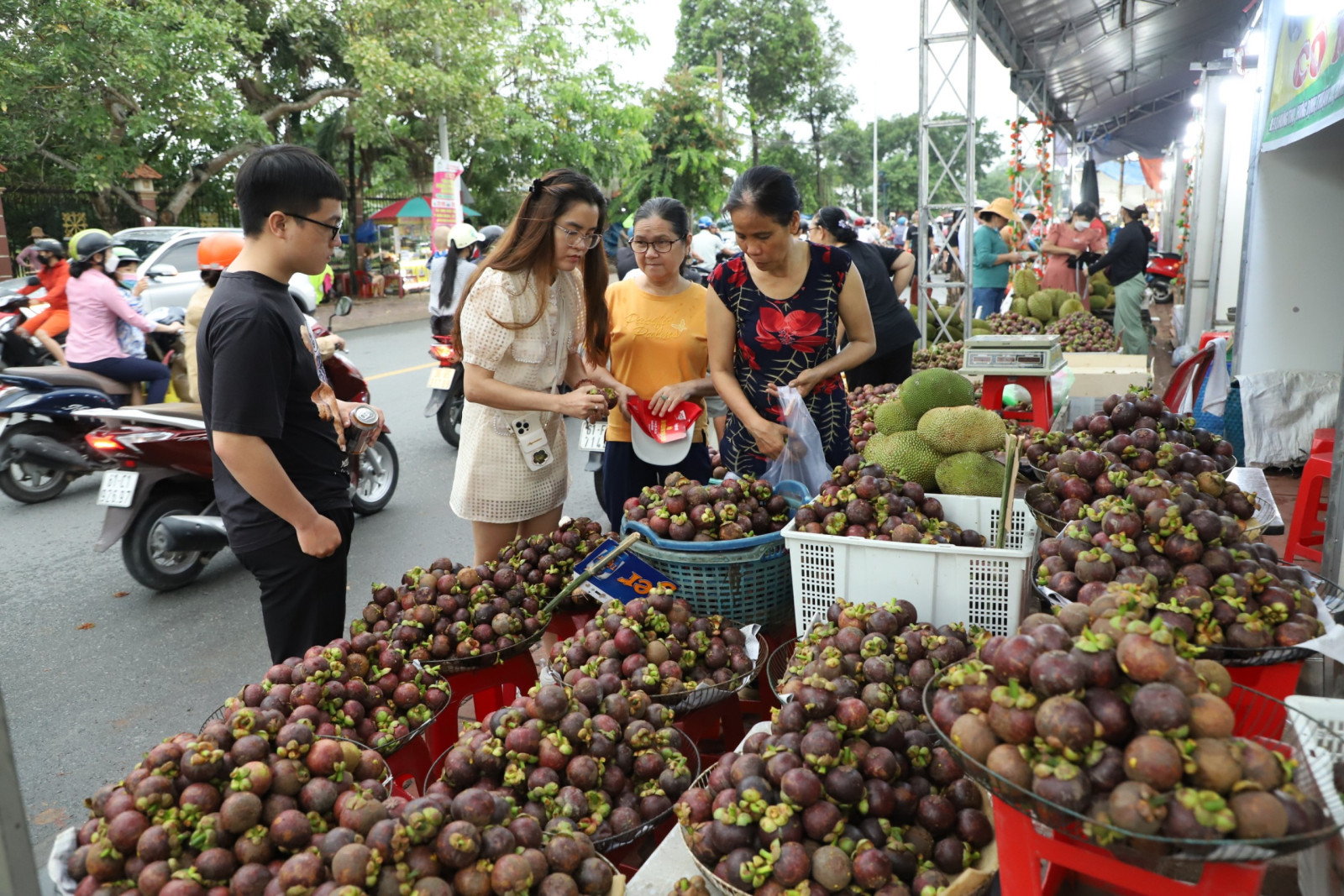 Gardeners contributte to spreading the Lai Thieu brand. In photo: Tourists buy fruit at Lai Thieu fruit season festival.
Also at Vam Bung stage, on the evening of May 23, a large number of tourists and fans enjoyed special performances of Thuan An City's Don Ca Tai Tu Club. This program also induced the performance of Meritorious artist Van Sang and other musicians and amateurs.
Artist Hai Ngan (75 years old) said that he was very passionate about Don Ca Tai Tu, thus when he heard that there was an exchange performance in this festival, he and his wife enthusiastically prepared costumes and drove each other more than 20km to attend the festival. Meanwhile, listening to and encouraged by emotional melodies and lyrics, the couple Nguyen Cam and Huynh Nam, Thanh Le signed up to make performances… Although it was impromptu, these amateur artists sang very well, very clearly and roundly. This was one of the factors that made up the characteristics of this year's festival.
According to the plan, the show would last from 19:00 to 21:00, but because visitors and spectators were still there to enjoy it, the club performed until nearly 22 o'clock. Artist Kim Anh, a member of Executive Committee of Thuan An City Don Ca Tai Tu Club, cheerfully said: "We are really happy to perform in such an intimate, accessible, contagious space. Because this shows that the audience still loves Don Ca Tai Tu very much, the vitality of this traditional music is strong and the audience are ready to come, enjoy, and sing together."
With renewed features, the Lai Thieu ripe fruit festival 2023 has left a good impression in the hearts of locals and visitors. Quality agricultural products, characteristic and close activities have brought locals and visitors interesting experiences through to encourage everybody work together to restore and elevate Binh Duong tourism brand.
Reported by T.Van, H.Thuan - Translated by Ngoc Huynh