Early March 23, Nguyen Van Loi, member of the Party Central Committee, Secretary of provincial Party Committee, Head of provincial National Assembly Deputy Delegation received Edward Lewin, Vice- Chairman of Lego Group at provincial Integrated Administration Center. The event was also attended by Vo Van Minh, Vice-Secretary of provincial Party Committee, Chairman of provincial People's Committee and leaders of a number of provincial departments and agencies.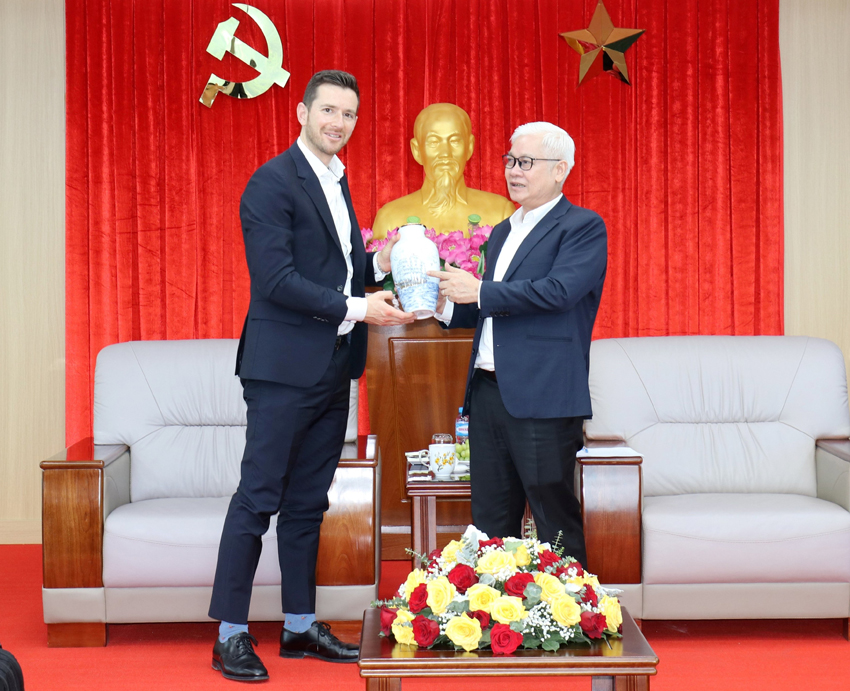 Provincial Party Committee Secretary presents a souvenir to Edward Lewin, Vice-Chairman of Lego Group
At the reception, on behalf of Lego Group's leaders, Mr. Edward Lewin thanked the Government of Vietnam and the authorities of Binh Duong province for creating all favorable conditions for the group in the process of implementing the project. Especially, provincial People's Committee, departments and sectors have fulfilled their commitment to complete land procedures for the corporation to implement the next steps of the project. He hoped that the province will further support the completion of the construction permit procedure because it has not been approved for fire prevention and fighting. In addition, the connection and construction of 110kv power station, deployment of solar power ... are also issues concerned by Lego Group. The group wants the province to support to complete the above items as soon as possible.
Mr. Loi applauded the delegation's working visit while affirming that provincial leaders are ready to listen, share and support investors to overcome difficulties for effective production and business activities. The province has made efforts in speeding up procedures related to the project of Lego Group. Up to now, over 90% of the procedures under the local competence have been completed. Provincial Party Committee Secretary pledged that Binh Duong will focus on quickly solving problems within the local competence, ensuring the progress of the project while believing that the Lego Group's project will be successfully implemented in Binh Duong.
In terms of Lego's proposal, Mr. Minh said that Binh Duong has completed all procedures for land use rights pertaining to the project of the group in March 2023. Regarding construction permit procedures, the Ministry of Public Security must appraise, approve fire prevention and fighting, then carry out procedures for granting a construction permit to the project. The province will further send documents to the Ministry of Public Security and coordinate with the Ministry of Industry and Trade to speed up the progress of fire prevention and fighting appraisal and approval, construction of the 110kv station...
Reported by Ngoc Thanh-Translated by Kim Tin