On August 8, a delegation of Thu Dau Mot City leaders led by Nguyen Van Dong, Member of Provincial Party Standing Committee, Secretary of the City Party Committee, visited pagodas, monasteries and temples in the city on occasion of Vu Lan Festival of Buddha calendar 2,566, solar calendar 2022.
At Hoi Khanh Pagoda, Nguyen Van Dong on behalf of the delegation gave flowers and gifts to Provincial Buddhist Church; and wished the Church and temples, pagodas and monasteries to welcome a peaceful and happy Vu Lan season.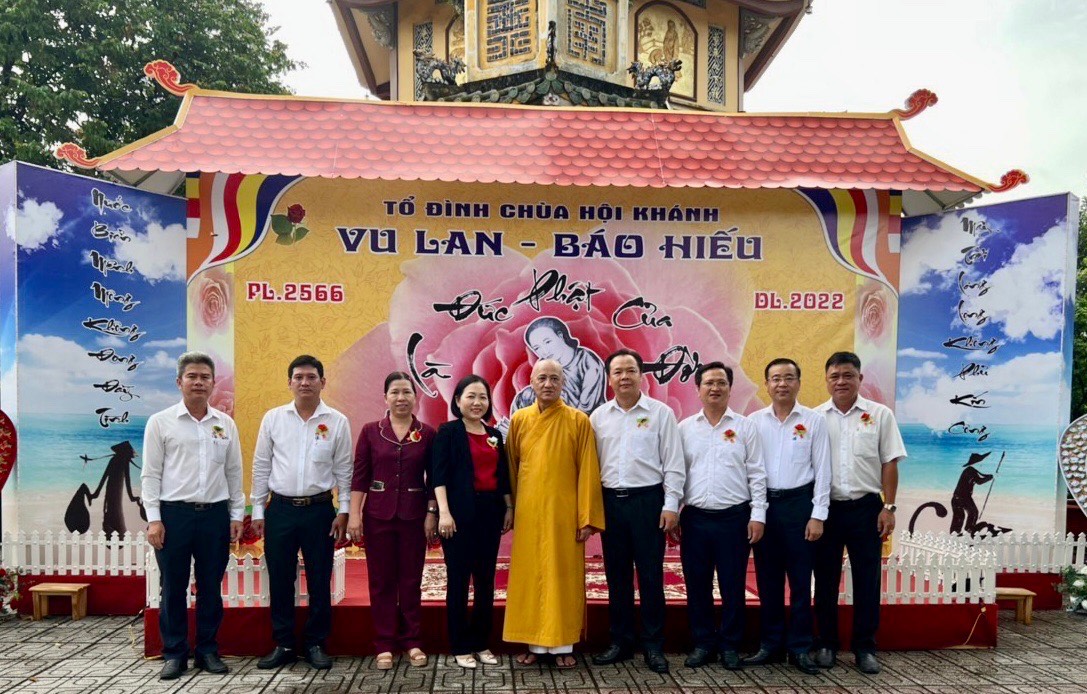 Leaders of Thu Dau Mot City visit and congratulate Hoi Khanh Pagoda on occasion of Vu Lan Festival.
Nguyen Van Dong appreciated the role of monks, nuns and Buddhists in building the great national unity block, mobilizing Buddhists and people to well implement the good moral tradition of the nation, to live a meaningful life, build the image of Dat Thu's citizen who is compassionate, filial and devoted to the society. He also wished that the Provincial Buddhist Church Executive Board, pagodas and monks, nuns and Buddhists would continue to uphold the good traditions of the nation, strengthen the great unity of the whole people, and participate in patriotic emulation movements, well perform the filial piety in the Vu Lan season; respond to the Project on Building an urban cultural - civilized lifestyle with the criterion of "Citizens of 5 exemplary things".
Most Venerable Thich Hue Thong, Head of the Executive Board of Provincial Buddhist Sangha, thanked the city leaders for their attention and visit to pagodas, monasteries and temples. In the coming time, Buddhists dignitaries, monks, nuns and followers will continue to uphold the spirit of solidarity, well implement Party's guidelines, State's laws, contributing to the common development of Thu Dau Mot City.
On the same day, leaders of Thu Dau Mot city organized 7 delegations to visit and give flowers to the remaining 35 pagodas, monasteries and temples in the city.
Reported by Quynh Nhu - Translated by Ngoc Huynh