On the afternoon of September 21, the Foreign Investment Agency under the Ministry of Planning and Investment held the 2022 training conference on foreign investment in the southern region at provincial Convention and Exhibition Center.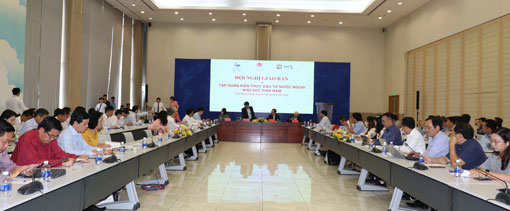 An overview of the conference
The event was attended by Do Nhat Hoang, Head of the Foreign Investment Agency. For Binh Duong, there was Nguyen Van Danh, Vice-Chairman of provincial People's Committee.
The Foreign Investment Agency said that as of August 20, 2022, foreign investors' total newly registered capital, adjusted and contributed capital to buy shares reached nearly US$16.8 billion, including over US$7 billion from the southern region. Among 94 countries and territories investing in Vietnam in the first eight months of 2022, Singapore took the lead with total investment capital of over US$4.53 billion. South Korea ranked second with nearly US$ 3.5 billion. Currently, Ho Chi Minh City leads the country in terms of total foreign investment capital, followed by Binh Duong province.
Concluding the conference, Mr. Hoang suggested localities to have plans to well implement the Government's direction and orientation on investment attraction for the rest of 2022 as well as the following years. Along with that, localities need to further improve the investment climate, improve the quality, efficiency and competitiveness of the economy; develop the ecosystem of science - technology and innovation; innovate and enhance competition in attracting foreign investment; prepare human resources at the quality and quantity requirements for many fields; continue investing in developing a synchronous-modern technical and social infrastructure system...
Reported by Ngoc Thanh-Translated by Kim Tin