According to the 2021-2022 school year plan of Provincial Department of Education and Training, at beginning of this November, provincial students will come back to school after two months of online learning due to the coronavirus. As expected by the department, green zones in northern districts of the province will implement face-to-face teaching first. While waiting for an official decision of the province, these localities are urgently preparing clean and safe schools to welcome students back.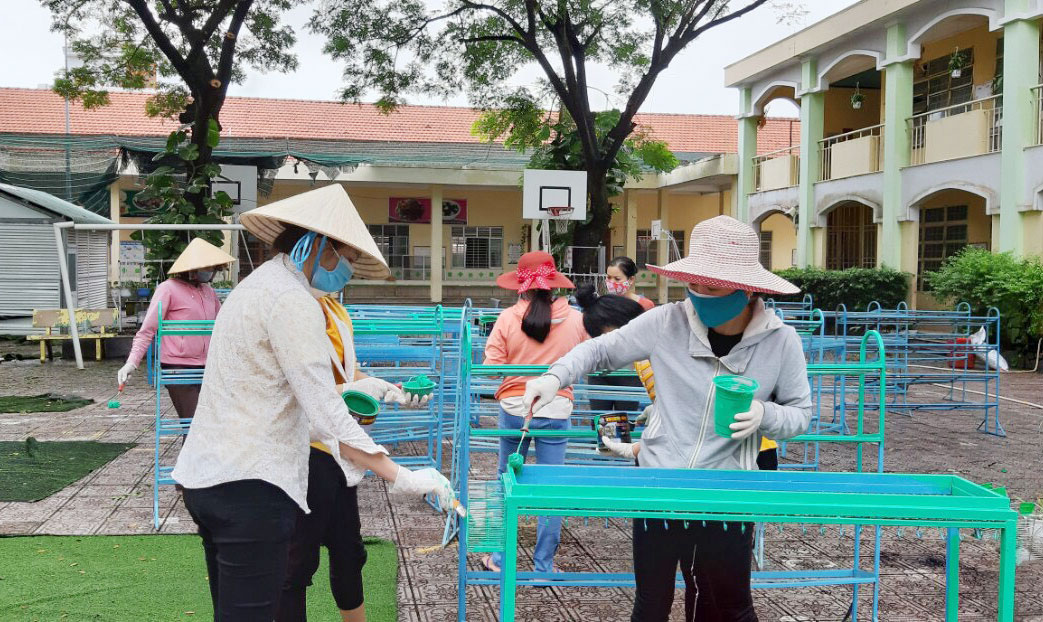 Teachers of Long Binh Primary School in Bau Bang district renovate classrooms to be ready for welcoming students back to school.
Schools are ready
In the spirit of being ready to welcome students back to school when the Covid-19 has been controlled, schools in northern provinces of the province including: Dau Tieng, Phu Giao, Bau Bang, and North Tan Uyen districts, are checking material facilities, making sure it's safe for students to come to school.
In Dau Tieng district, 22 schools at all levels were transferred back to the management of Education and Training Office from September 30. Soon after that, education branch coordinated with the District Military Command and other branches to disinfect, clean facilities, repair and replace damaged equipment... "By October 30 at the latest, all schools must be repaired to welcome students back. We are committed to protecting the safety of students if they can return to school on November 1," said Ta Tan Tuan, Head of Education and Training Office of Dau Tieng district.
As one of the localities that had soon become a "green zone" of the province, Phu Giao district is also ready for the return of students. Currently, teachers here both teach online and take advantage of the time to go to school to clean up classrooms. Although it was strenuous, for the safety of teachers and students, teachers overcame difficulties to complete their teaching tasks and anti-Covid works.
Meanwhile, Bau Bang district still has two yellow zones, which are Bau Bang and Dong So quarters of Lai Uyen town. Therefore, the district's education branch developed plans for face-to-face learning in accordance with the actual disease situation of the locality. North Tan Uyen district has also taken proactive steps to ensure the organization of direct teaching when there is an official decision of provincial leaders. "We consider this a golden time to implement 100% face-to-face learning and only deploy online teaching for contents that are not in the main program, such as: Teaching to improve knowledge, and tutoring weak students, improve knowledge for average students and foster good students", said Nguyen Tan Anh, Head of Education and Training Office of North Tan Uyen district.
Recently, almost all high schools in the northern districts have been used as concentrated isolation areas. Nguyen Canh Thuy, Principal of Dau Tieng High School, Dau Tieng district, said that when the school was returned by the health branch, the school checked and repaired fans, lights, toilets, curtains...; trimmed plants, cleared weeds around the school, and regularly clean up classrooms until students return to school.
To guarantee the safety of teachers and students
Obviously, teachers and students of schools in the province in general and the northern districts in particular are very eager to come back to school so that teaching and learning can be most effective. The localities also determined, when students return to school, the safety factor must be put on top. Dang Thanh Tuan, Head of Education and Training Office of Phu Giao district, said that education branch advised the District People's Committee to let 50% students in 5 green communes to study directly from October 18; the remaining 50% students continue to come back to school from November 1. But students' parents were not assured when their children returned to school on October 18, so the education office stopped this plan.
Facee-to-face learning is the desire of teachers and students when the province returns to the "new normal" state. In areas that have been greened, teachers and students expect this even more. However, children must be really safe as they return to school. One of parents' concerns is that their children have not been vaccinated against Covid-19. Through a survey of schools, parents have been waiting for junior high and high school students to get vaccinated against Covid-19 before returning to school.
The Covid-19 pandemic is long and complicated, affects students' learning. In order for them to feel secure as learning face-to-face, schools hope education and training authority would provide psychological counseling for teachers and students so that teachers and students are no longer psychologically stressed when they have to interact with computers regularly as well as having to stay at home for a long time.
Reported by Hong Thai - Translated by Ngoc Huynh