Images of humane actions done by individuals, families, organizations and businesses in Binh Duong in recent time are clear evidences for solidarity and mutual affection between people in the province. In addition to supports of the State, the contributions and difficulty-sharing acts of the people in the midst of the Covid-19 not only helped each other through difficult days, but also created a great strength, worked together with all government levels to control and stamp out the pndemic.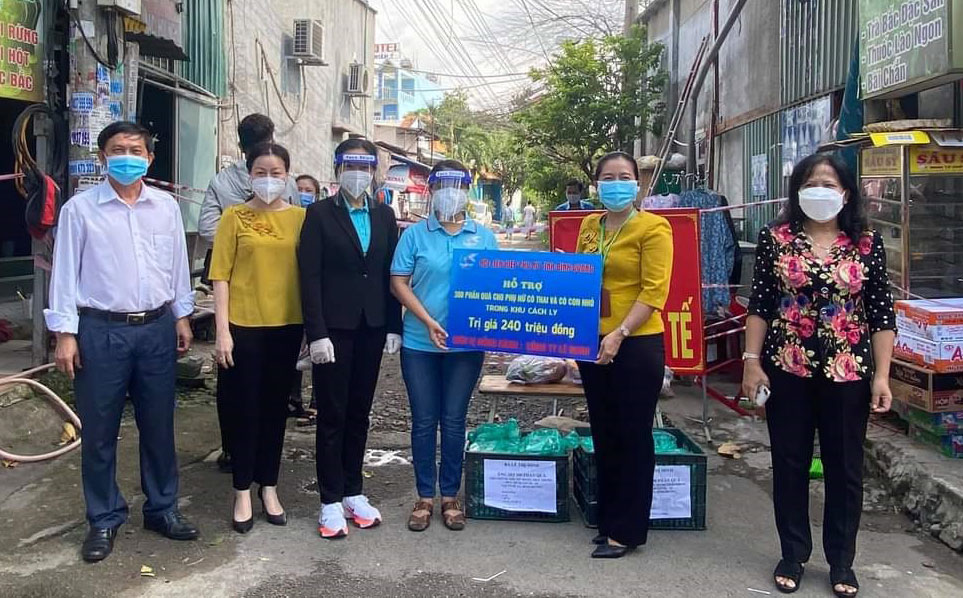 Organizations and individuals in the province actively help persons facing difficulties during the pandemic. In photo: Nguyen Van Loc (left), Member of Provincial Party Standing Committee, Head of the Provincial Party Mass Mobilization Committee, Chairman of Provincial Fatherland Front Committee, and other philanthropists present gifts to disadvantaged people in different areas.
To share difficulties
In any difficult circumstances, the humanity, mutual affection of Binh Duong people are always upheld. Especially in this fourth Covid-19 wave, Binh Duong people's kindness is even more evident, despite numerous difficulties, provincial people always share sweets and sorrows with each other. From all over rural to urban areas, everywhere are beautiful and compassionate images.
In order to work together and fight the pandemic, people have unanimously "stayed at their home" for a long time, so daily-life activities face some difficulties, especially to the poor and workers in lodging houses. In addition to financial and material support of many organizations and businesses to disease prevention and control work, many volunteer individuals and groups have also taken part in this work, promptly spread the mutual affection spirit in the community.
From beginning of June 2021, Le Thi Minh, Director of a company in Tan Hiep Ward, Tan Uyen Town, has not been afraid of difficulties, temporarily putting aside all her works, and together with her staff voluntarily assisted needy people. Not only did she directly cook meals and deliver to frontline forces fighting against the disease and people in quarantine and lockdown areas, Minh also connected with many truckloads of necessities from the Central region to support provincial people, ordered more shipments of tens of tons of food, meat, fish and vegetables to send thousands of gifts to residents in blockade areas.
The disease was raging, Minh continued to donate medical equipment and supplies to medical facilities; put into operation one "VND0" ambulance to support people in need of emergency, serious illness... The more she worked, the more she came to needy people, the more she felt she need to share. Minh said: "I can't stop, I just keep sharing and sharing. We have to love each other more, hold each other's hands tighter, and do with our hearts to help each other get through this difficult time."
Since Dau Tieng district implemented social distancing order, Nguyen Hoang Duy Ngan, Leader of Dau Tieng Charity Vegetarian Group, and his members have actively called upon resources and donations to support people in the area. Ngan said, with the motto of "Do not let anyone left behind", the members spent all their time, organized each vehicle, prepared each meal, each bottle of water etc. with a desire to contribute their efforts, coordinate with local authorities to promptly provide necessities for difficult situations.
It is impossible to mention all, thousands of volunteer people in the province have supported and protected workers facing hardships while the province has been straining to fight against the pandemic.
To energize
The Covid-19 has not ended, difficulties are numerous, but day by day, Binh Duong is still spreading images of charity and humanity. There are many elderly people who have used their savings money to support the disease prevention and control work. There are children in kindergartens, primary schools who volunteer to smash their piggy banks to support needy people. And there are people who, even though their lives are very tough, they do not hesitate to give back their support gifts they have just received to help people having more difficult circumstances. All of their deeds come from a kind heart and with just one purpose, which is to soon defeat the pandemic and bring a peaceful life to everyone.
The complicated development of the Covid-19 has greatly affected people's lives, especially people with difficult circumstances, workers in lodging houses have to stop working to prevent and control the disease. While straining to fight the disease, the Party, authorities, Fatherland Front and mass organizations have been mobilizing more resources in society to support people in need. With the support and contributions of many benefactors, all levels, branches, mass organizations - social organizations in the province have carried out many meaningful activities to take care of people's lives in social distancing days. Many locations opened to share free rice, "VND0" markets and shipment have been carried out in many places by Red Cross in collaboration with mass organizations to go to every small alleys to provide food and necessities for needy people.
Nguyen Van Loc, Member of Provincial Party Standing Committee, Head of the Provincial Party Mass Mobilization Committee, Chairman of Provincial Fatherland Front Committee, said that during this fourth wave, Binh Duong faced many difficulties and challenges. But the spirit of mutual affection, unity and joint efforts to fight the pandemic of all people in the province has been strongly raised, and realized by many voluntary and supporting activities at all levels and people classes. The consensus and contribution of people from all walks of life has spread powerfully among the community, generating a great strength, making a very active contribution to the disease prevention and control, helping Binh Duong quickly prevent and pushed back the Covid-19, bringing life back to normalcy.
Reported by Hong Thuan - Translated by Ngoc Huynh