In the first session of the 11th Binh Duong Provincial Congress of the Ho Chi Minh Communist Youth Union, tenure 2022-2027, the delegates at three discussion centers contributed many enthusiastic ideas to the draft document of the 11th Provincial Youth Union Congress, the 12th National Youth Union Congress.
Education quality continues to be improved
Contributing ideas to "Solutions to innovate education work of the Youth Union; strengthen the protection of the Party's foundation; fight against wrong and hostile views in the new situation", delegate Le Anh Cua, Secretary of An Long commune Youth Union (Phu Giao district), said: "In order to improve the quality of propagation and education of the Youth Union in the coming time, all levels of Youth Union need to step up political and ideological education; especially the implementation of Directive 05-CT/TW.
It is necessary to improve training, fostering of propagation and communication skills for propagation staff in a methodical manner, helping them to be capable of well performing their duties. Besides, the Youth Union needs to capture public opinions among youth union members. Education and propagation should have a specific plan according to each content and each period; must reform the content and form to have a closer and more suitable way to the youth; propagation forms must be diverse and attractive according to age group…".
For the topic "To improve the quality of the organization and construction of the Youth Union, Youth Union participates in the construction of the Party, government and socio-political organizations; models to expand the united fronts to gather young people in Binh Duong province", the discussion atmosphere was lively with many good ways of doing things in localities and units. In addition, many delegates expressed their candid opinions about the work performance process in order to building up a strong Youth Union organization.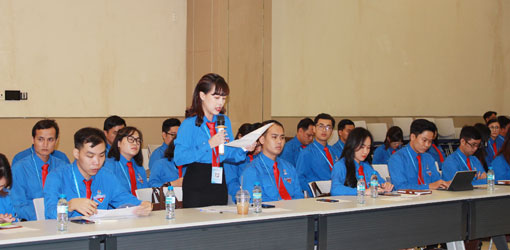 Delegates contribute many enthusiastic ideas to strengthen union work and youth movement in the new tenure.
According to delegate Lam Hoang Thuy Trang, Secretary of Di An City Youth Union, besides some good results gained in building a strong Youth Union organization, there are still certain limitations, such as there is a shortage of human resource in specialized agencies of the city and ward-level Youth Unions; the quality of Youth Union staff is not guaranteed; Youth Union staff changes frequently, leading to untimely training and retraining of skills and professionalism.
To remedy these shortcomings, in the coming time, Youth Union needs to continue to implement some solutions, such as continue to review its system to detect positive, excellent, talented elements to foster and create a human resource; advise the Party to renew recruitment method, focus on attracting students that have excellent performance results at youth organizations. At the same time, the Youth Union needs to innovate the content and form, improve the efficiency and quality of training, equip staff at all levels with knowledge and professional skills, to meet the requirements of capacity in the new situation…
To unify, gather young workers
The issue of establishment and development of Youth Union organizations in non-State-owned firms was also discussed by the delegates. According to delegate Pham Thi Ngoc, Deputy Secretary of the Provincial Agencies and Enterprises' Bloc Youth Union, in the coming time, it is necessary to renew and strengthen the leadership of the Party, work closely with authorities at all levels and socio-political organizations for the development of union members and establishment of Youth Union organizations; be flexible in propagation, introduction, raising awareness about youth organizations and associations among business owners and young workers, in order to unify, gather young workers, establish youth organizations and associations in non-State-owned firms; regularly carry out surveys, investigations and statistics on young people in non-State-owned firms; strengthen information, dialogue, contact, help business owners solve difficulties to create favorable conditions for youth organization's activities; improve the quality of youth activities at non-State-owned firms; uphold the role and responsibilities of the Youth Union in developing Youth Union membership, youth organizations in firms...".
To arouse a desire to make contribution
At the 2nd discussion center, with the theme "Arousing the desire to dedicate and promote the intelligence, innovative and creative spirit of the youth, improving the quality of young human resources as Binh Duong orients towards becoming a smart city", the delegates also contributed many practical ideas.
Accordingly, delegate Nguyen Tuan Anh, a specialist of Provincial People's Committee's Office, said: "In order to foster a young workforce in the new era, it is necessary to establish many information channels to provide training for young people, especially young workers, in foreign language and computer skills. Because building a smart city must go hand in hand with building smart citizens. At the same time, it is necessary to raise the level of legal knowledge and prepare integration skills for young people".
Meanwhile, delegate Nguyen Van Linh, Youth Union Secretary of Kim Thanh A Company (Thuan An City), gave his opinion on building a smart city: "Need to open more foreign language clubs (English, Japanese, Chinese); building science and technology skill clubs so that young people can do practice, learn and improve their skills in foreign languages, integration, science and technology, digital technology…
After listening to constructive comments from the delegates, chairs of discussion groups directly exchanged and clarified; at the same time, acknowledged and absorbed the ideas to be used as materials to develop Youth Union's work and youth movement in the new tenure; contribute to the education, care and protection of the legitimate rights and interests of teenagers, children in the province, contributing to the development of a prosperous and sustainable Binh Duong.
Reported by Ngoc Nhu - Translated by Ngoc Huynh