During Workers' Month 2022, Di An City organized many entertainment activities to take care of both material and spiritual life of workers in the area. The improvement of workers' meals, limiting labor accidents, payment of rent support under Decision 08 of the Government are being well performed by enterprises with local authorities.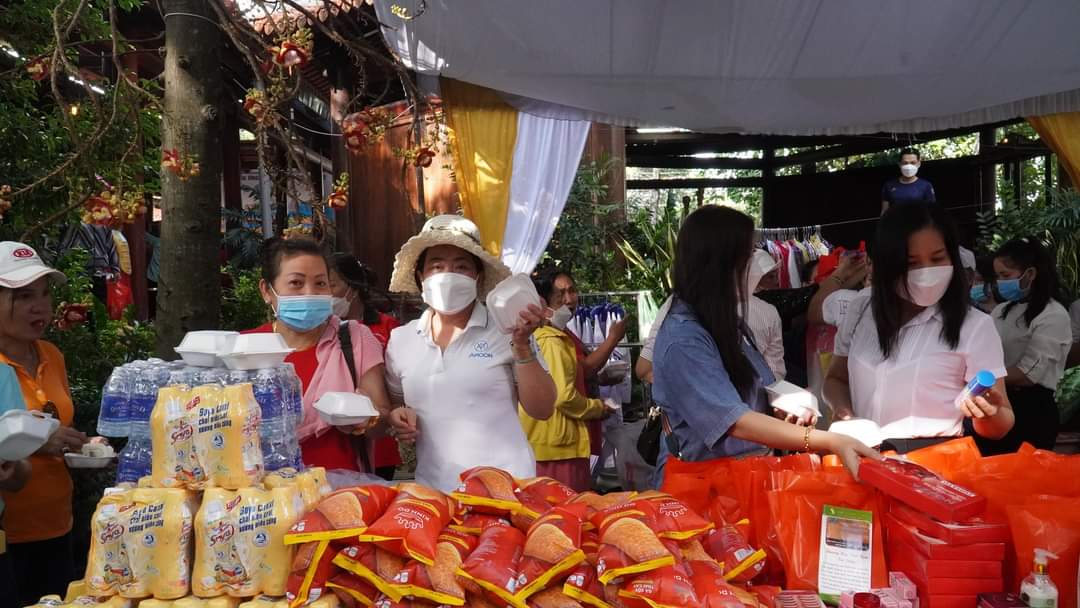 Di An City Women's Union opens a "0VND market" to take care of hundreds of disadvantaged workers in the area.
Material support
After the launching ceremony of Workers' Month 2022, from the first days of May, Labor Confederation of Di An City coordinated with businesses in the area to visit and give gifts to workers, who have occupational accidents, difficult circumstances, were affected by Covid-19. The City Labor Federation coordinates with the authorities at all levels and employers to organize sessions to listen to thoughts, aspirations and issues of union members and employees in enterprises; offer legal advice for workers at enterprises and lodging houses. Depending on the conditions of each enterprise, grassroots trade unions advised employers to choose appropriate forms and activities to thank workers for their companionship and commitment; to recognize that workers are the precious capital of an enterprise.
Vo Thanh Du, Chairman of Tan Thanh Dat Company's Trade Union (Tan Dong Hiep ward), said: "In the past, workers were not really cared for, but now employers have paid more attention. Our company always considers workers as precious capital, take care of regular regimes, such as to guarantee worker income of no less than VND 10 million/month, allowances and regimes for sick and seriously ill workers. We made lists of dozens of disadvantaged workers to visit and give gifts to them. Besides, the company hosted football and volleyball tournaments in response to Workers' Month."
Labor Confederation of Di An City also coordinated with People's Committees of wards, Red Cross, Women's Union, and businesses to organize many "0VND booths", discounted goods, to present clothes, and necessities to take care of hundreds of workers having particularly difficult circumstances. Therefore, thousands of poor workers were able to purchase discounted goods. Nguyen Van Yem, Chairman of Tan Binh ward People's Committee (Di An City) said that the ward had a large number of workers taking up temporary residence here to work; hence the care of workers' lives, guaranteeing social security and order in the area is always the top priority of Party and People's Committee of the ward. During Workers' Month, the ward People's Committee checked cases of disadvantaged workers to give dozens of gifts of necessities.
"The ward also coordinates with the city's officials to propagate the law among workers in lodging houses. The content focused on real stories to help workers be more aware of everything, build up a healthy lifestyle.
I directly informed residents and workers at lodging houses if their circumstance was too difficult, may go to People's Committee of the ward and ask for help. After verification, if it is the right person who needs help, the ward will have a way to support," Yem said.
Pham The Hien, Chairman of Di An City Labor Confederation, said that during the first week of the 2022 Workers' Month, there were hundreds of units in the area registering to carry out practical care activities for workers. In general, the companionship from enterprises, the cooperation and contribution from departments, branches and local authorities is very high with a common goal of caring for workers better.
To reduce accidents, improve meal quality
Besides giving gifts, launching sports and entertainment movements for workers, Di An City also focuses on propagation work to reduce labor accidents in the area. Pham Van Bay, Vice Chairman of Di An City People's Committee, said: "The city People's Committee directed Labor Confederation to collaborate with enterprises and related branches to intensify information and propagation about this issue; to have a program to inspect, supervise and encourage emulation movements on occupational hygiene and safety in the area; improvement of meal quality for workers must be more concerned. People's Committees of wards in the city must coordinate with businesses, Office of Labor, Invalids and Social Affairs to speed up the process of giving rent support according to Decision 08 of the Government, not to let workers have to wait long."
In order to improve the quality of worker's meals, many companies have replaced placing orders for worker's meals from outside providers by building a kitchen at company to cook meals for workers and ensure nutritious meals. Tran Ngoc Vinh, Trade Union Chairman of Thien Nam Investment and Development Joint Stock Company (Binh Thang ward), said workers' meals could not be underplayed. Currently, each meal of the company's worker costs about 25,000 VND and guarantee full nutrition. Every day, the kitchen must notify the board of directors about menu of the next day's meal. In order to set up a modern kitchen process as today, many years ago, the company consulted many kitchens in the province, then developed its own way in a more modern, cleaner direction, absolutely do not employ outside food providers...
During Workers' Month, Di An City also promotes the emulation movement of good labor throughout the city; propagates and encourage trade union members and workers to unite, make efforts, be creative, promote technical initiatives, improve labor quality. The city has also contributed hundreds of worker's initiatives to the program "One million initiatives to overcome difficulties, create and resolve to overcome the Covid-19 pandemic" launched by the Vietnam General Confederation of Labor; at the same time, timely praise, reward and encourage emulation movements throughout the city.
Reported by Q. Dien, P. An – Translated by Ngoc Huynh