By the efforts of those who have a special passion for running, running routes in Binh Duong have become very familiar to many runners across the country. It is also a way to promote the image of a friendly and hospitable Binh Duong.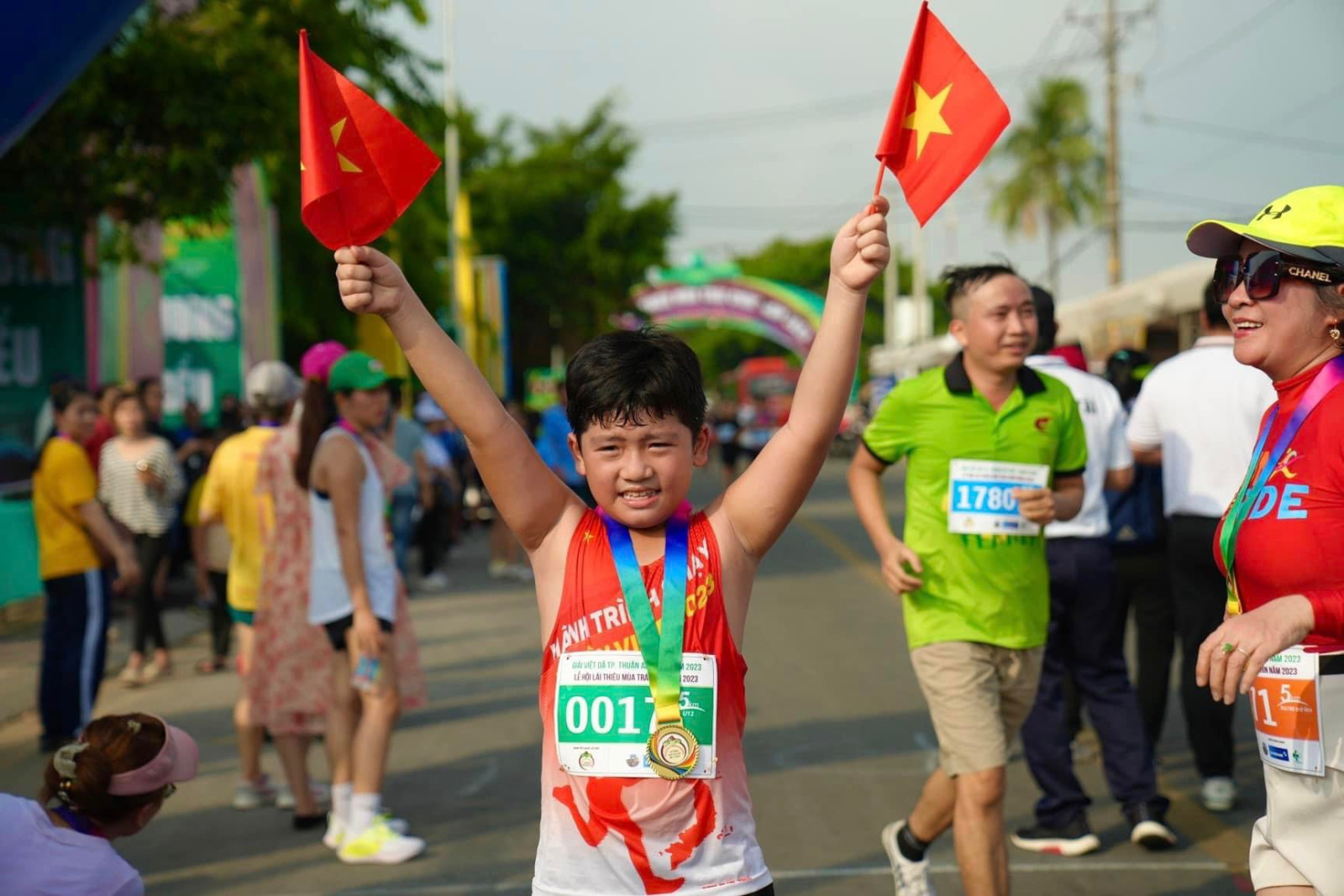 A young runner rejoices after completing a 5km distance at the Open Cross-country Running Competition of Thuan An City.
When the BDRC Half Marathon Binh Duong 2023 was a great success in March, many free playgrounds were established soon after and created really meaningful running festivals for runners. Two latest free running tournaments, which gained much success, are the 1st Ben Cat Town cross-country running tournament 2023 and the 1st Thuan An City Open cross-country running tournament 2023.
At the Tournament of Ben Cat Town, in the first time it was organized, the competition attracted more than 700 runners inside and outside the province. Meanwhile, the cross-country running in Thuan An city, held on the occasion of Lai Thieu ripe fruit season festival this year, attracted more than 1,700 runners from all over the country, exceeding the initial expected number of up to 500 people. Although these are completely free tournaments for participants, when they reach the finish line, players are awarded medals according to their running distance. This is a great effort of people, who have a special passion for Marathon, and they themselves are happy to tell each other about the generosity of the organizers.
According to many runners, the organizers could have sold Biz to participants to collect a large amount of money. This amount can be used for charity or many other programs. However, for the big purpose to help introduce the image of friendly Binh Duong to friends all over the country, introduce beautiful running routes to runners from many regions, the "free" factor was put on top. This is also the best way to promote Binh Duong's image to friends everywhere.
Reported by H.Nguyen - Translated by Ngoc Huynh