On the days of May (Workers 'Month 2022), all localities in the province have focused on taking care of employees. Thousands of gifts, "zero dong" supermarkets, market-days with products sold at original price were opened by enterprises to take care of employees. Provincial leaders, Labor Unions at all levels also paid gift visits to workers with extremely difficult circumstances…
Animated activities
The pandemic has passed, but consequences from it for employees are quite heavy. Many families have lost their wives, husbands, and there are orphaned children. Many families have fallen into difficulties after many months of overcoming the pandemic. Therefore, since early May, leaders of authorities at all levels of the province, especially provincial Labor Confederation have mobilized resources towards employees.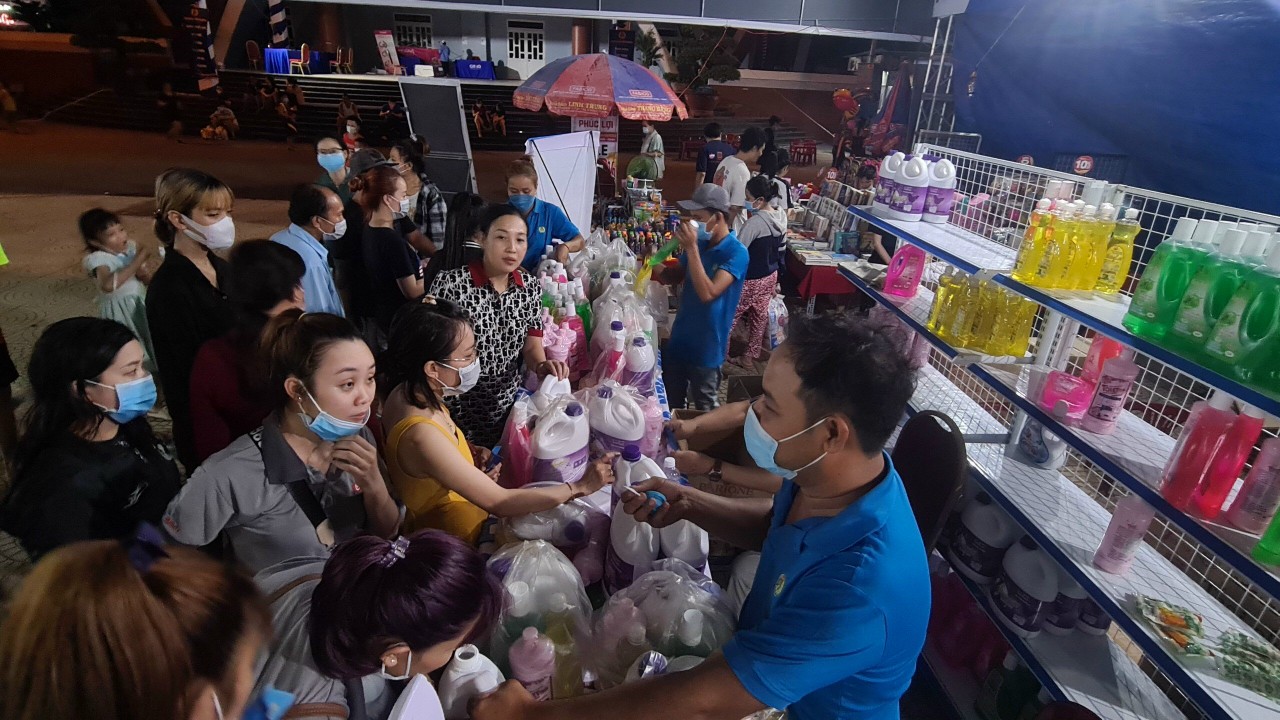 Workers are very happy to visit and shop at the 30 - 50% discount booths organized by provincial Labor Union during the Workers' Month 2022
Attending the activities during the provincial Workers' Month 2022, Ngo Duy Hieu, Vice-Chairman of the Vietnam General Confederation of Labor said: "It can be said that during the difficult period of the pandemic, along with the efforts by leaders of authorities at all levels in the province, enterprises and people also offered great support to workers living away from home. Binh Duong also always has practical and effective care models and programs for employees, including the model of social housing construction for employees. I really hope that after the Workers' Month 2022, Binh Duong will continue taking care of employees in all aspects".
Through the proposal of provincial Labor Union, provincial People's Committee has just approved a policy of supporting disadvantaged workers with 5,000 gifts worth VND1 million each in cash. Leaders of the province and provincial Labor Union also paid gift visits to workers with difficult circumstances. Le Van Han, from the Mekong Delta province of Soc Trang, a worker of Akamax Company in VSIP 1 is one of the families with tragic circumstances. He was hit by a workplace accident 8 years ago with a leg amputated, becoming a burden for his wife and children. Not stopping there, during the last pandemic period, his wife died, due to the pandemic. His son was also hit by a workplace accident, with an arm lost. "With contributions from the company where I work, trade unions at all levels, provincial People's Committee, my family gradually overcome initial difficulties. It is not only material, but also has great spiritual value. My family is very grateful", Mr. Han shared.
Many families like the family of Han have received timely assistance, but workers in the province have still faced many difficulties. Therefore, provincial Labor Union at all levels and local authorities in the province have continued promoting activities taking care of workers. Nguyen Kim Loan, Chairwoman of provincial Labor Union said: "During the first 3 weeks of Workers' Month, provincial trade unions at all levels have implemented many practical activities to take care of employees. In addition to the working budget of trade union, provincial People's Committees and trade unions at all levels have also mobilized enterprises and trade unionists to support difficult cases.
Enterprises and localities joining hands
Over the past few days, activities to take care of workers 'material life, including opening "zero dong" market-days, giving gifts, and visiting employees with difficult circumstances were deployed regularly in localities such as Ben Cat town, Thu Dau Mot city, Thuan An city...Recreational activities such as art and sports competitions were also opened, creating useful playgrounds for employees. In addition, activities of listening, understanding, sharing, free medical examination and treatment consultation, emulation and reward for employees were carried out. Le Nguyen Thanh Binh, Chairman of Ben Cat town's Labor Union shared: "As of now, it is difficult to statistic specific figures on the cost of giving material care and creating playgrounds for employees. Through mobilization of trade unions at all levels, each trade union local has different care ways such as giving money, gifts, organizing tours, selling goods at original prices…for employers. Besides, local authorities have also significantly contributed to employees in this May".
With more than 7,000 employees, Shyang Hung Cheng Vietnam Co., Ltd. in Thuan An city organized many practical activities for employees over the past time. Particularly, the company's trade union local held a discount shopping festival, gave hundreds of milk bottles to female workers who are raising small children with total value of up to hundreds of millions of VND, organizing football and volleyball competitions for men and women...Mai Thanh Tuyen, Chairman of Shyang Hung Cheng Vietnam Co., Ltd.'s trade union local said: "The items sold to workers in the company's precinct are all very essential necessities with discounts from 30% - 50% per product. However, this is a source of quality and reputable products from enterprises invited by the company."
Accompanying employees during the Workers' Month, each enterprise in the province has implemented a program to take care of employees, thereby contributing to giving better care for employees in localities. Many enterprises, namely Sao Viet Co., Ltd. in Dong An Industrial Park, Yazaki EDS Vietnam Co., Ltd. in Di An city, Vietnam Uni-President Co., Ltd. in Song Than II Industrial Park, General Footwear Co., Ltd. in Thuan An city, Shyang Hung Cheng Vietnam Co., Ltd. in Thuan An city, Thien Nam Investment and Development Joint Stock Company in Di An city, Binh Duong Nutrition Food Joint Stock Company in My Phuoc Industrial Park…have organized practical activities to take care of employees during the month.
Possibly speaking, with contributions by many enterprises, units and localities during the month of sentimental attachment, the lives of workers with difficult circumstances are gradually improved, helping them get more motivation to rise up and soon stabilize their lives.
During the Workers' Month 2022, provincial Labor Union in collaboration with provincial Red Cross Society organized tens of "zero dong" market-days taking care of 26,000 workers' families with difficult circumstances. Provincial Support Fund for workers with extremely difficult circumstances will give VND 1.28 billion for 123 cases with fatal diseases across the province.
Reported by Quang Tam-Translated by Kim Tin