Received information about 4 cases of Covid-19 being quarantined and treated in Ho Chi Minh city but having epidemiological factors related to some locations in Binh Duong, the provincial Center for Disease Control (CDC) mobilized total strength and divided the forces into 4 teams to directly conduct investigation for quick tracing, localization, and temporary quarantine of some areas where the patients had visited.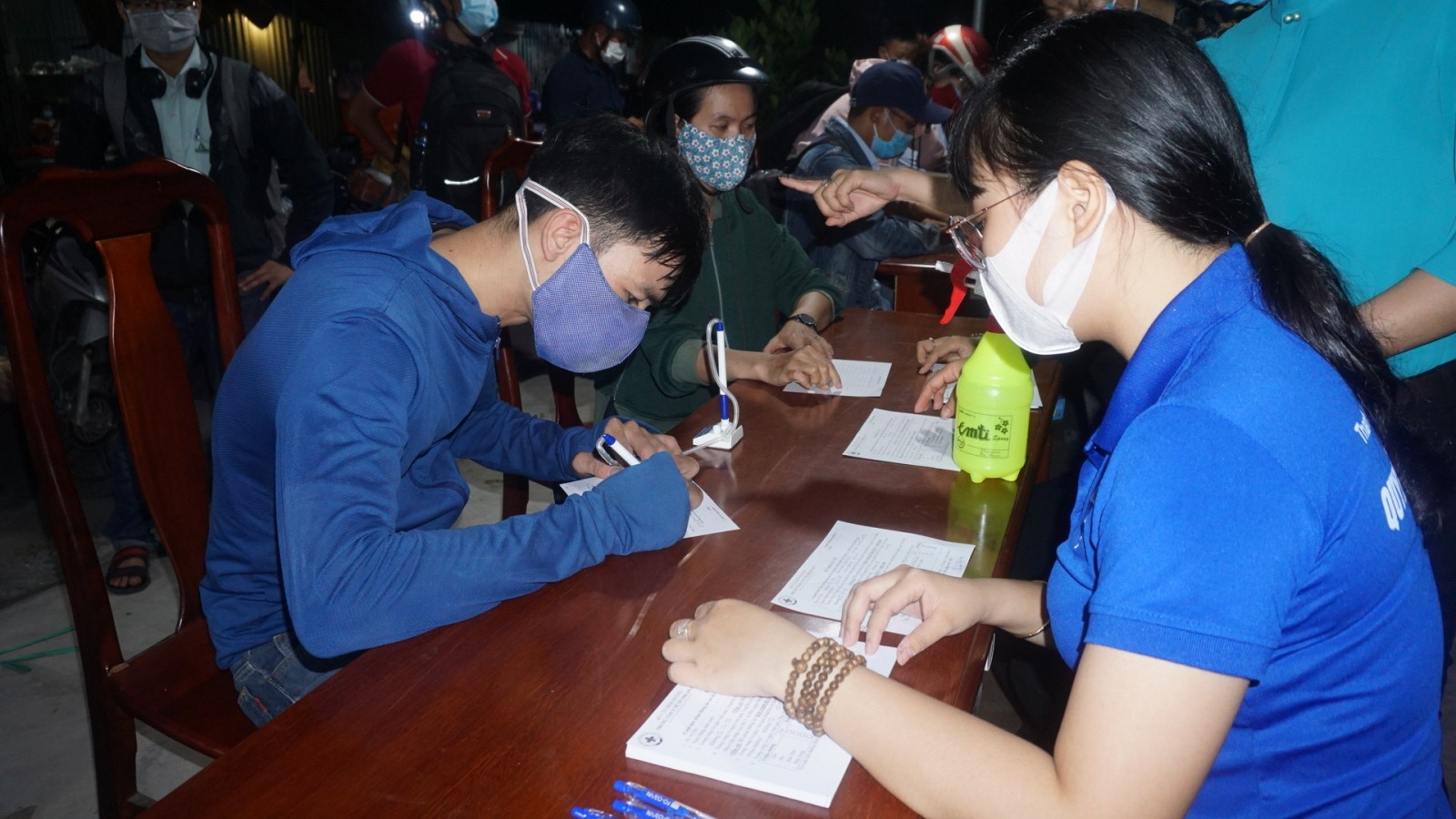 Residents of Marina Tower at Vinh Phu ward in Thuan An town are declaring medical status in the night. Photo: Minh Duy
Tracing the exposure cases through the night
Immediately after receiving information from the Pasteur Institute in Ho Chi Minh city, the Center for Disease Control of Ho Chi Minh city and the medical declarants, 4 cases of patients infected with Covid-19 had been isolated for treatment at the hospitals. In Ho Chi Minh city, CDC has coordinated with health centers of districts, towns and cities to verify, investigate and trace the related cases overnight.
Present at Marina Tower apartment building of Vinh Phu ward in Thuan An city, where a Covid-19 patient rented accommodation, we recognized the fast response team of Thuan An city working actively and urgently. The ambulances and medical staff took turns going in and out of the apartments to transfer related cases to concentrated quarantine at the Centralized Quarantine Area of Thuy Loi University. The disinfecting spray team has been on the scene before, spraying and disinfecting the areas where the F1 lives and places related to the traveling timeline.
Meanwhile, the CDC officers were also present in a timely manner to assist the city Health Center in investigating and tracing the F1 and F2 epidemiological cases, implemented temporary medical quarantine zoning at Marina Tower apartment building and took samples for testing of F1 cases, and responded to the list of 3 F1 cases in Ho Chi Minh city. Dr. Huynh Thi Nguyet Phuong, Director of Thuan An city Medical Center, said that thanks to her experience in investigating related cases in apartment buildings, the city's health sector had quickly traced, localized, promptly isolated the related cases. In order to facilitate the tracing, the center actively had cooperated with local forces, CDC, and building management personnel to extract cameras for tracking cases of F1 and F2 contacts. By 7:00 p.m. on the same day, the Center had made a list of all related people to quickly isolate and collect samples for testing. The Center is still investigating and tracing the related cases.
Medical staff of Thu Dau Mot city and Ben Cat town had also stayed up all night to trace and investigate the epidemiological cases. As soon as it was informed of the epidemiological factors of a patient infected with Covid-19 in Hoa Loi ward of Ben Cat town, the town's health center immediately focused on maximizing human resources in zoning, tracing and screening people related to the case.
CDC staff and doctors took samples overnight for F1 cases and some F2 cases related to infected patients. As of dawn on June 4, relating to a case of Covid-19 infection in Ho Chi Minh city (working at Gilimex Company at Binh Thanh ward of Ho Chi Minh city), the Center took samples for testing on 16 cases of F1 and 71 cases of F2 related to the Covid-19 infected case in Ho Chi Minh city.
Continual tracking and zoning
Currently, the epidemic situation is complicated while Binh Duong borders Ho Chi Minh city, so the tracing and screening of cases are important steps in Covid-19 prevention and control. Speaking at the recent meeting of the provincial Steering Committee for Covid-19 Prevention and Control, Mr. Nguyen Hoang Thao, Deputy Secretary of the provincial Party Committee cum Chairman of the provincial People's Committee asked localities to immediately focus on maximizing human resources to locate, trace, screen and take samples for testing as soon as the list is available; at the same time, people are propagandized to join in and coordinate with the authorities in tracing and promoting the role of the community Covid-19 prevention and control team to residential areas to screen and contact the related cases. The epidemic situation may also develop complicatedly, prompting localities to take the initiatives to immediately prepare medical supplies and equipment to be ready to deal with the worst case scenarios.
In fact, during this epidemic, in order to continue to implement measures to prevent the spread of Covid-19 to the community, the health sector directed the expansion of epidemiological investigation and made a list of all people who had been in close contact and related to the patients so as to quickly carry out tracing and medical quarantine. The health sector also requires medical units to organize daily close monitoring of the health situation and organize medical quarantine and take samples for testing according to regulations for all cases of close contact and possible exposure related to the patient. On detecting any cases of fever, cough, sneezing, runny nose, fatigue, chills or difficult breathing, immediate quarantine is administered on them at a medical facility and take samples for testing. Previously, the sector had also requested localities to strengthen the reviews, inspection and close supervision of the implementation of procedures and regulations on supervision, medical quarantine, and Covid-19 testing not to let it spread in the quarantine areas or to the community.
Reported by Kim Ha – Translated by Vi Bao