In the morning of May 15, the Standing Committee of Binh Duong provincial Youth's League and the provincial Pioneers' Organization held a conference to summarize the work of the Ho Chi Minh Pioneers and education of teenagers and children in 2017-2022 tenure and the traditional meeting of all-time cadres working in the organization on the occasion of the 81st anniversary of the founding of the Ho Chi Minh Young Pioneers from May 15, 1941 to May 15, 2022.
During the 2017-2022 term, the task of being in charge of the Ho Chi Minh Pioneers on caring for and educating teenagers and children in the province has had many innovations and diversified activities in skills education and traditional education system and take care of disadvantaged youths and children. The Ho Chi Minh Pioneers at all levels in the province built 236 "Small Plan" houses, 50 "Red Scarf" houses, conducted new construction and repairs of nearly 200 children's play areas and spots. Besides, 100% of the team organized for the children to visit with gifts to help families, war invalids, martyrs, Vietnamese heroic mothers and many others.
At the conference, the delegates discussed a number of matters to improve the quality of activities, care and education for teenagers and children in the coming time.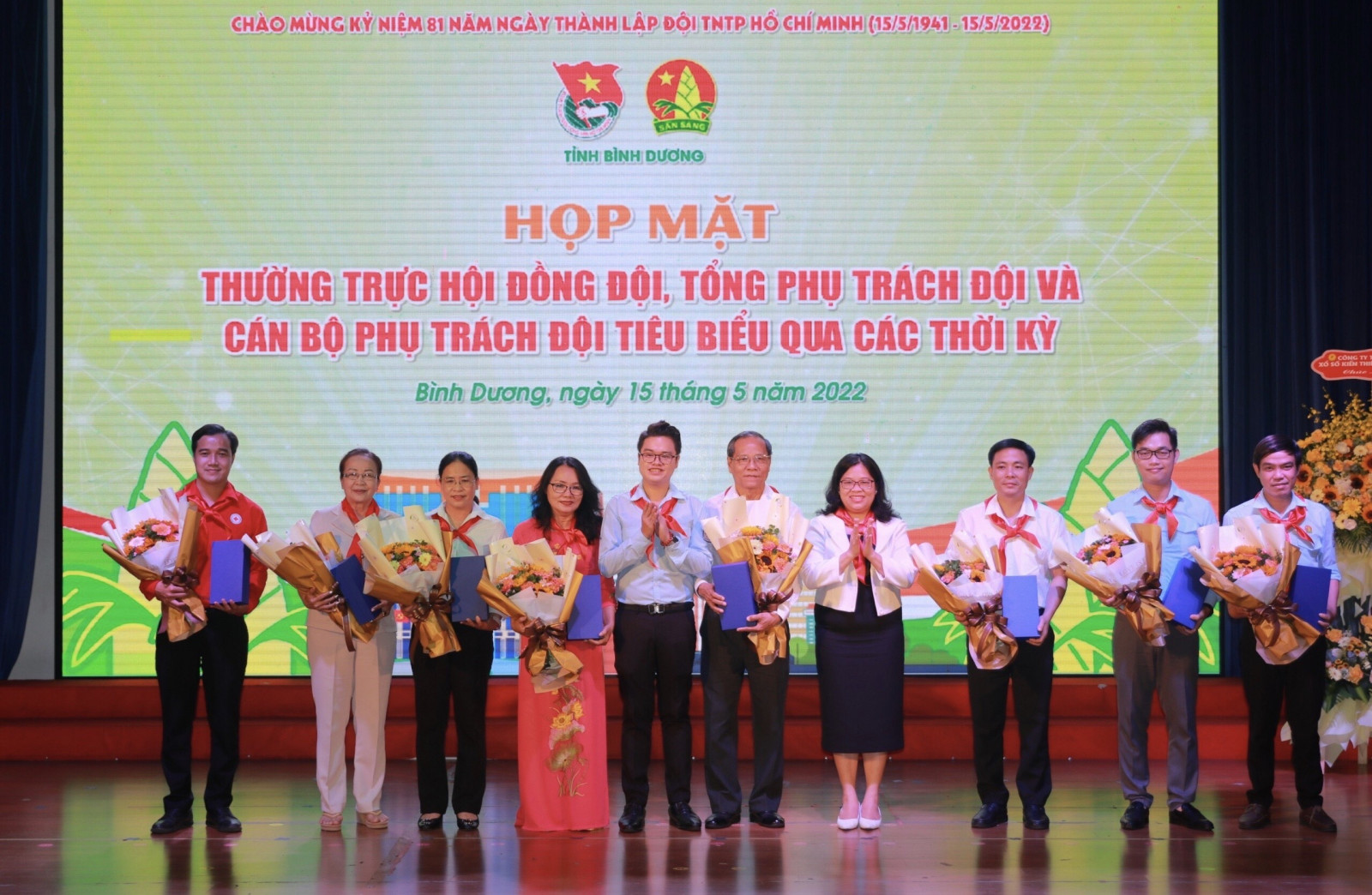 Leaders of the provincial Ho Chi Minh Pioneers give flowers and gratitude gifts to the provincial Pioneers' officers of all-time
On this occasion, the provincial Ho Chi Minh Pioneers gave gifts of gratitude to the Chairman and Deputy Chairman of the all-time provincial Ho Chi Minh Pioneers. The provincial Ho Chi Minh Pioneers in collaboration with Binh Duong Lottery One Member Limited Liability Company awarded the symbolic board to implement the project of "Red Scarf" worth VND 100 million to help disadvantaged children in Bau Bang district.
Reported by Nhu Y – Translated by Vi Bao