The Vietnam Union of Friendship Organisation (VUFO) organized a ceremony in Hanoi on March 25 to mark 52 years of bilateral diplomacy between Vietnam and Chile.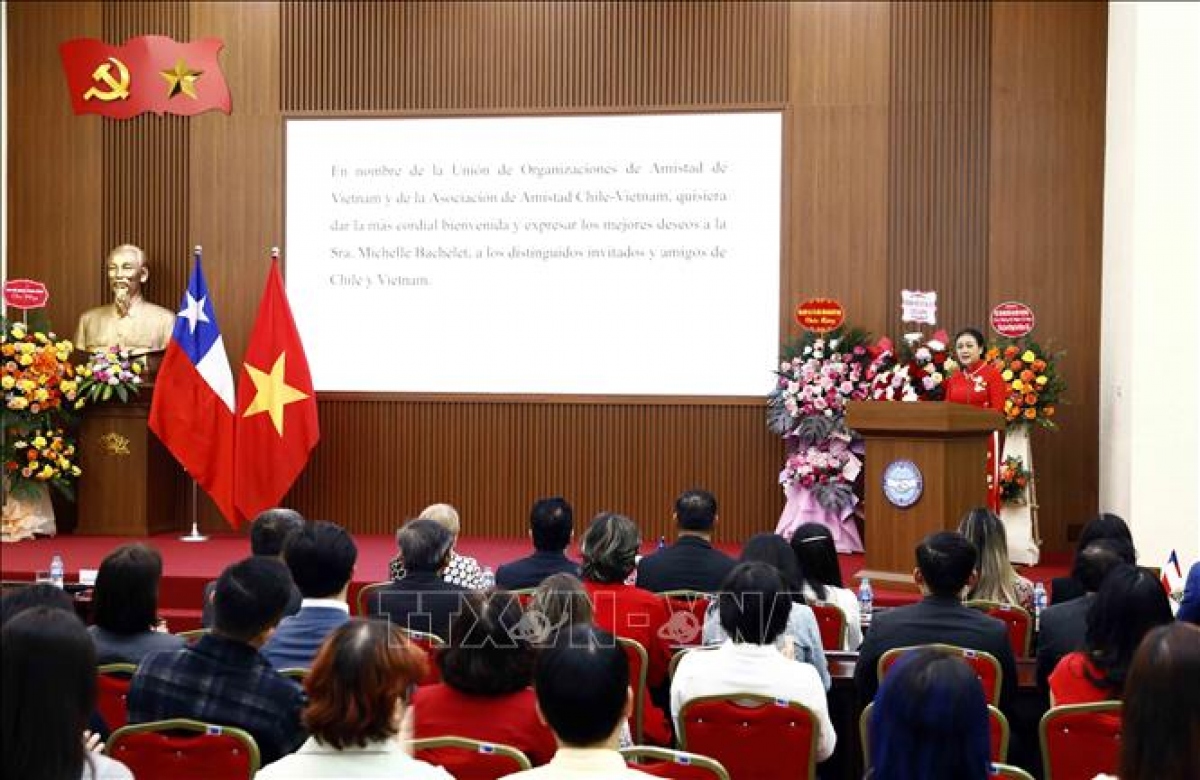 The Vietnam Union of Friendship Organisation (VUFO) president Nguyen Phuong Nga reviews major milestones in Vietnam - Chile relations
In her opening speech, VUFO President, Ambassador Nguyen Phuong Nga, highlighted major milestones in the Vietnam – Chile relations, and expressed her belief in the bright prospects of bilateral ties in the future.
The Vietnam Union of Friendship Organizations and the Vietnam-Chile Friendship and Cooperation Association will actively coordinate closely with the embassies of the two countries and their Chilean partners to organize exchange and cooperation activities to enhance mutual understanding and promote cooperation in all fields between the two countries, she said.
Deputy Foreign Minister Ha Kim Ngoc took the floor, noting 52 years ago on March 25, 1971, Vietnam and Chile officially announced the establishment of diplomatic relations, opening a new chapter for the two countries' relations.
Over the past 52 years, he said the two sides have recorded many important cooperation achievements, including establishing the Comprehensive Partnership in 2007, signing the Bilateral Free Trade Agreement in 2011, initiating cooperation mechanisms, and together joining the Comprehensive and Progressive Agreement for Trans-Pacific Partnership (CPTPP) in 2018. They have regularly conducted many reciprocal visit exchanges to build up trust and deepen bilateral relationship.
Two-way trade between Vietnam and Chile has grown considerably, reaching US$2.15 billion in 2022 alone, up 9% year on year. Cooperation agreements in various fields have been effectively implemented, bringing about practical benefits for the two countries.
In addition, the two sides have closely coordinated and supported each other at international organizations and multilateral forums.
Vietnam is looking forward to welcoming Chilean President Gabriel Boric in his upcoming visit to Hanoi which is expected to further deepen the Vietnam-Chile relations, stressed Ngoc.
Former Chilean President Michelle Bachelet stated that bilateral cooperation has been promoted in many fields and there is still room for further development. She expressed her hope that the relationship between Vietnam and Chile would develop not only between the two countries' governments and legislatures, but also between their localities and people.
The Chilean people and I personally will always stand alongside Vietnam to maintain and promote the relationship between the two countries, so that people of the two countries will enjoy a better life, said the former Chilean president.
VOV