On March 24, in a program "Binh Duong: Launch - connect - develop new", leaders of Binh Duong province and other provinces and cities: Tay Ninh, Binh Thuan, Thai Binh, Nam Dinh, Ha Tinh, Binh Phuoc, Khanh Hoa, Thua Thien Hue, Thanh Hoa, who visited an industrial - urban - service model developed by Becamex IDC in order to replicate this successful model. At the same time, Binh Duong's leaders shared 25-year experience in transforming the development model. ​ Nguyen Van Loi, Member of the Party Central Committee, Secretary of Binh Duong Provincial Party Committee, Head of Provincial National Assembly Delegation, chaired the meeting.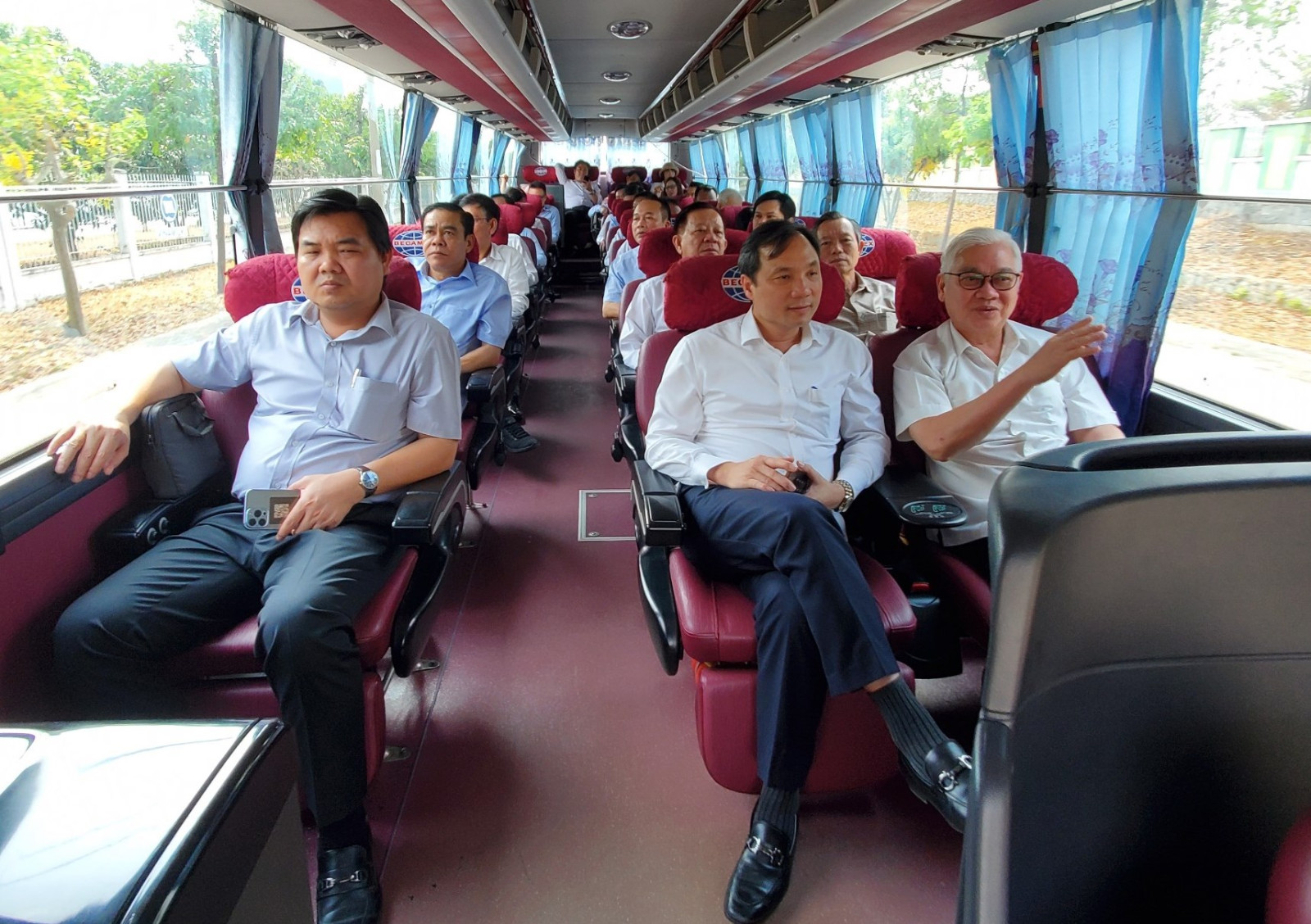 Binh Duong provincial leaders and leaders of other provinces and cities visit the industrial - urban - service model of Binh Duong.
New development step
The delegation visited and learned about Binh Duong New City with the WTC Tower office - conference - commercial complex, bank street... Accordingly, Binh Duong New City from the very beginning has been positioned to becoming the new political center of Binh Duong, becoming a city of science, education, finance, and high-quality services, a destination for international trade and commercial activities, the heart of creating the driving force to promote the attraction and development of surrounding industrial zones, and becoming the focal point of spillover, in order to upgrade the urban area of Binh Duong, with the goal of soon turning Binh Duong into a city directly under the Central Government.
Next, the delegation visited Bau Bang Urban Industrial Park. Here, the delegation heard an introduction about the industrial park operated by VSIP with complete and synchronous infrastructure. With the goal of developing into a strong industrial center in the north of the province, Bau Bang district is currently an attractive destination, attracting domestic and foreign investment.
Next, the delegation visited Dinh Hoa social housing area. and learned about the investment, construction and development of social housing in the province. Accordingly, with the goal that industrialization and urbanization must go hand in hand with stabilizing social security, ensuring good material and mental lives for employees. With remarkable results of construction implementation, Binh Duong became a good example of the country in social housing development. During the visit, the delegation also came to the expanded VSIP 2, a model industrial park.
Leaders of other provinces and cities highly appreciated the development model of industrial park - service - urban area in Binh Duong; and expressed the admiration for the socio-economic development, especially the vision of Binh Duong leaders; traffic infrastructure planning; VSIP industrial park model.
Cooperation, companion
After 27 years of establishment and development, the model of VSIP industrial park has been replicated to 9 provinces and cities, with 13 projects (Bac Ninh, Hai Duong, Hai Phong, Nghe An, Quang Ngai, Quang Tri, Binh Dinh, Can Tho, Binh Duong), with an area of about 11,100 hectares, an average occupancy rate of over 70%, attracted about 880 investors, with a total capital of 17.9 billion USD, create jobs for nearly 195,000 workers. The Government, ministries, branches, and localities that have invested in VSIP projects appreciate the effectiveness of this model.
Speaking at the meeting with leaders of other provinces and cities, Nguyen Van Loi said that this is a very special meeting to Binh Duong province, Becamex IDC and VSIP to share experience and discuss a meaningful topic, which is to jointly implement and replicate the industrial park development model of Becamex IDC, VSIP, according to the direction of the Prime Minister.
Nguyen Van Loi said: "During the development of Binh Duong in the past 25 years, the role of Becamex IDC, VSIP is very large, this presence is decisive, hopefully this model would spread to other provinces. However, in reality, there are always difficulties and challenges in the development process that require local authorities to always stand side by side with Becamex IDC, VSIP to turn ideas into realistic models, to bring about the most effective".
Speaking at the meeting, leaders of provinces and cities congratulated the achievements of socio-economic development, national defense and security, Party building work, and political system building of Binh Duong province over 25 years; believe that Binh Duong will continue to make new development steps, make an important contribution to the economic development of the country.
Phan Van Dang, Permanent Vice Chairman of Binh Thuan Provincial People's Committee, assessed that Binh Duong province's leaders over the years have had an overall vision on planning work, especially planning on transport infrastructure, open space for development of Binh Duong in the future; in which Becamex IDC is the leading unit, plays a pivotal role in making important contributions to the development of Binh Duong. He expressed his impression of the development of VSIP, Becamex IDC. He hoped that Binh Duong provincial leaders, Becamex IDC would cooperate with his province to speed up the progress of VSIP industrial park project in Binh Thuan. Pham Dinh Nghi, Chairman of Nam Dinh province People's Committee, hopes that in the coming time, Binh Duong province and Becamex IDC will support and create favorable conditions for VSIP projects to soon be deployed in Nam Dinh.
Nguyen Van Hung, Chairman of Becamex IDC, said: "Sembcorp Corporation has a global marketing team. Over the past 26 years, Becamex IDC and Sembcorp have cooperated and overcome challenges and difficulties together and develop together. Currently, although there are new challenges, the two sides are determined to overcome. If you only have a lot of capital, but you don't have the determination of the local government, you will not be able to overcome it, the determination of the local government to get involved is the decisive step leading to success. That is the experience in Binh Duong".
Reported by Phuong Le - Translated by Ngoc Huynh