The year 2020 full of difficulties and challenges for production and business is going to end. Up to the present time, many enterprises have begun to recover their production and business due to brighter market prospects.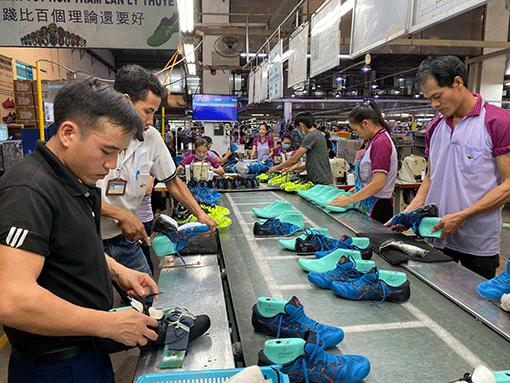 Production activities at Dong Hung Industrial Joint Stock Company (Song Than 1 Industrial Park, Di An City).
To overcome difficulties
According to industry and trade authority, the well-controlled Covid-19 has created bettter conditions for production and business activities to recover and maintain economic growth. In Binh Duong, all levels and sectors have implemented comprehensive solutions to help enterprises improve production capacity, develop markets, and promote exports. The business community has actively expanded their market, is flexible in finding new sources of supply and other alternative raw materials in the country. In addition, enterprises have taken advantage of opportunities from FTAs with many countries and territories in the world; thus the province's import and export turnover was not much affected by the market.
According to information from Binh Duong Furniture Association (BIFA), in Oct 2020, export turnover was estimated at 674.3 million USD, up by 6.5% MoM. Accumulated 10 months, export turnover was estimated at 4,373.8 million USD, up 12.7% YoY, accounting for 19.6% of total export turnover of the province.
Two industries having great difficulty during the Covid-19, textiles and leather footwear and handbags, also started to flourish as enterprises have received many orders at year end. In Oct 2020, textile export turnover was estimated at 300.5 million USD, up by 9.7% MoM. For leather shoes and handbags, in Oct, export turnover was estimated at 174.0 million USD, up 9.3% MoM.
Although these growth numbers are lower than the same period last year, it is a respectable accomplishment and determination of provincial leaders, administrative levels, industries and enterprises not to step back in the face of challenges, innovation in management in goods export activities.
Motivation to reach further
Lim Chiew Seng, Director of White Feathers International Company (My Phuoc 2 Industrial Park), said that so far the company had overcome relatively well impacts of the epidemic and accelerated production, because the number of orders is increasing. The company's sales in 2020 is forecast to increase by about 1.5 times compared to 2019. In last days of the year, production activities at this company were bustling, workers work overtime to deliver goods timely to partners. Mr. Lim appreciated efforts in disease and epidemic control of Vietnam and Binh Duong province to create favorable conditions for enterprises to develop production and business.
According to BIFA, orders for wood materials as well as wood products for export of large enterprises were planned for the next half year. Nguyen Liem, Chairman of Directors Board of Lam Viet Joint Stock Company, was exhilarated with the successful transition of exports to the US market to sustain production; he assessed that the Covid-19 created a chance of growth for timber industry, especially kitchen cabinets, bathroom cabinets, but also posed many risks. "The Vietnamese wood industry has many advantages to enter the US market, but the risk is also high. Because this is a big market and very strict in tax evasion and commercial fraud. Enterprises need to have a strategic direction and take immediate actions to protect themselves when detecting commercial fraud", Mr. Nguyen said.
The prospect is also very bright for enterprises in mechanical engineering industry when the quantity of orders has started to stabilize again. Tran Thanh Trong, Chairman of Provincial Electromechanical Association, said that so far many enterprises had taken orders, including exporters. This is really a good sign for businesses to return to production cycle after a long time affected by the epidemic.
Reported by Tieu My - Translated by Ngoc Huynh