It is expected that on May 31, provincial People's Committee will organize a meeting between provincial leaders, Youth Union members and workers to more obviously understand about workers 'lives, employment, income and health, thereby putting forward solutions to help them get a better life and long-term attachment to Binh Duong. Before the meeting, provincial Labor Union conducted a survey with 2,100 workers in many localities, thereby having a more realistic view of workers' lives at present.
Income still low
A survey of over 2,100 employees living and working in the province, 72.8% of whom have worked here for 5 years or more showed that the majority of employees wanted to work and have long-term attachment with the locality, but were not really secure because of low income, precarious life. Among them, up to 42.1% could not afford to cover their monthly expenses and 52.5% with enough money to cover monthly expenses. There were only 5% of workers with partial accumulation and 0.4% with accumulation. The majority of workers were severely affected in all aspects of their lives. Among them, there were 70.3% lost their health, 53.6% with income reduced, 18.5% lost their jobs for a long time.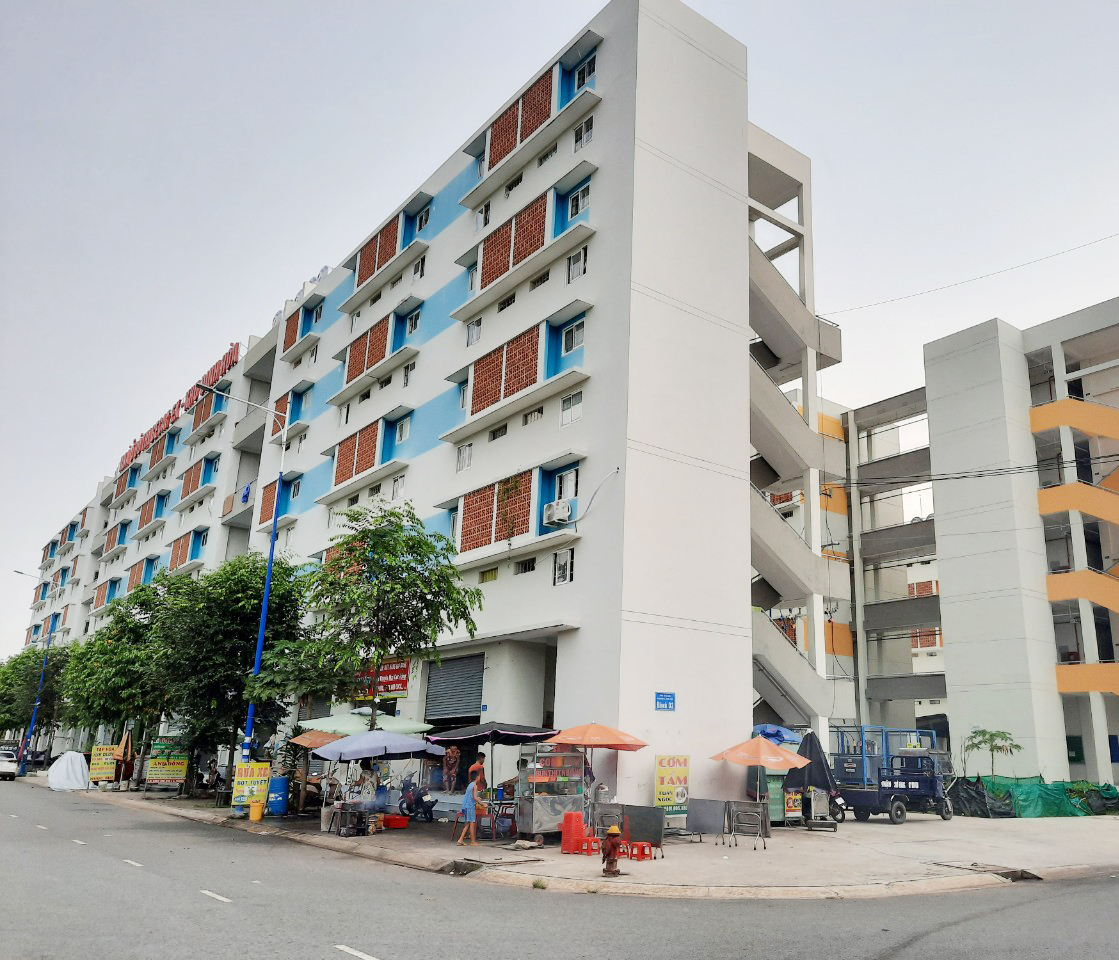 Dinh Hoa social housing area is full of conveniences, helping employees soon stabilize their lives
The result of the survey also showed that up to 90.6% of employees wanted to have long jobs with enterprises and nearly 80% wanted to have long attachment with Binh Duong. They said that their current wages were still low and there were up to 91.3% expressing a desire of increasing their salary. They also said that the prices of commodities increased, but their wages did not increase, leading to fluctuations in ideology. They were worried that their current level of income and expenses will not be able to stay in Binh Duong. Therefore, up to 56.6% wanted the local functional sector to have control measures in order not to increase the prices of goods.
Nguyen Kim Loan, Chairwoman of provincial Labor Union said that the survey showed that the income of workers in general was still low while the prices of essential goods increased rapidly, making them get more difficult. This is a matter of concern. The local authorities at all levels need to have solutions to stabilize the local workforce, ensuring that employees have a stable standard of living with partial accumulation.
Provincial Labor Confederation proposed that the province should have many mechanisms and policies to take care of workers living away from home. In addition to building social housing for workers, the province needs to build more kindergartens, places for cultural activities to meet the learning and entertainment needs of workers and their children, and continue reforming administrative procedures to create favorable conditions for employees while there are policies to support and take care of the health of employees affected by Covid-19 pandemic...
Hope of housing
The survey also showed that up to 41.2% of workers wanted the province to have more support policies on housing. In addition, provincial Labor Union also conducted an electronic survey on the demand for buying and renting social housing among employees through trade unions at all levels. Only after a week of issuing the notice, the unit received the attention of thousands of employees. This shows that workers' demand for housing is very great.
Luu The Thuan, Head of provincial Labor Union's Department of Propaganda and Education said: "The concern of workers is the rapid increase in urban land prices in recent years, leading to their inability in owning land to live and work in peace and contentment". Employees wanted to have access to social housing by buying or renting at preferential prices, and have other capital support forms for buying houses. The social housing areas need to be located near concentrated industrial parks with attached utilities.
Mr.Thuan added that provincial Labor Union has conducted a survey on buying or renting social housing among workers under the direction of the province, thereby partially grasping the thoughts and aspirations of employees in buying or renting houses so that the province will continue investing in building social housing projects in the coming time, helping employees feel secure to have long attachment with Binh Duong.
In general, the surveys of provincial Labor Union in recent days have reflected workers 'difficulties for timely support, helping them have a more stable life in the coming time.
To help employees get houses and stabilize their lives, since 2011, the province has implemented the local social housing program. Each apartment has an area of ​​​​25sq.m-30sq.m, with the selling price ranging from VND90million-VND180 million, with loan support and payment by installments within 15 years.
Reported by Quang Tam-Translated by Kim Tin